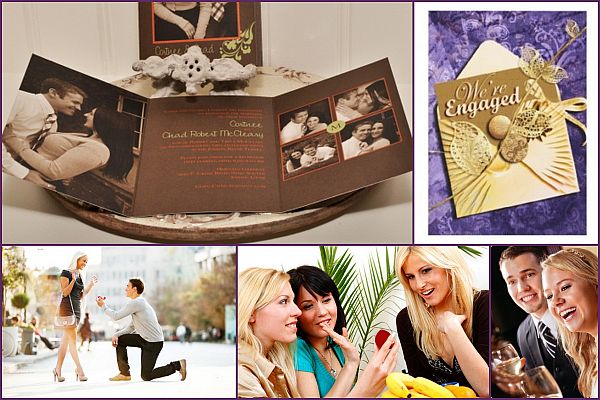 Every woman waits for the day when she could announce to the world that she is engaged. It is the happiest time for everyone and a childhood dream to a girl. Your day has finally has arrived and would like to make a grand declaration about it. Well your chance comes now as provided below are a list of ways you can get the ones you love and a lot more to know about the man in your life. A proposal surely means the world to the girl; it is accepted to make the most of technology and any other means of communication at this point of time. After you overcome the thrill of proposing your lover or get proposal from your lover for marriage, the next step is to announce your engagement.
1. Telling your parents and the rest of the family
The first people to know about your decision to get married to your partner, and announcing your engagement is your family. You can ask your partner to join you for dinner at your home, and both can break the good news to your respective parents and other family members. Your family can also help you plan your engagement party. Though it was the custom to tell the bride's family first, these days there are no such rules to be followed. As for your closed relatives, it feels good if you go and meet them in person and invite them for attending your engagement.
2. Announcement by newspaper
One of the most traditional ways to announce the engagement is to get it published in the newspaper. This can be done by placing the announcement with your and your partner's photos, and if desirable, other details like your job professions and places you both reside. If you are planning to throw an engagement party, you must not forget the venue, time, and date of the engagement. You can also cut the paper announcement and store it as one of your valued treasures as nostalgic remembrances.
3. Announcement at a party
You can give a party inviting your friends and relatives and other important people and announce your engagement. This can be the most exciting way to make your relationship public and see the pleasant surprises on the faces of your near and dear ones. Make sure you invite the same people whom you want to attend your wedding as well. This would be a big chance to mingle with your partner's friends and family relatives as well.
4. Announcement through mail
One of the traditional ways, announcing your engagement is writing a letter to all your near and dear ones. This gives a personal touch and everyone would feel happy and valued, specially to take time off in today's hectic lifestyle. You can also send meaningful engagement cards and mention your engagement in the card.
5.Through matrimonial websites
This is a very modern approach. If you have met your partner through a matrimonial or similar website, you can announce your engagement through the same website. You just have to create your account and mail it to those whom you want to invite. However, remember that not all of your acquaintances would have computers or would be computer familiar; hence you need to make all aware once again through a more reliable method.
6.Through e-mail
In today's times, email is the best way of communication. You can announce your engagement electronically and introduce your future spouse to the people you know by sending a photo of you both together.
7. Making use of social networking sites
This is the most modern and convenient way of letting your friends and relatives know about your engagement. Nowadays people are constantly using social networking sites like Facebook, Orkut, or Myspace. You can update your status and inform them along with photos. In case you are planning an engagement party, you can also enable an invite and request your guests to accept it.