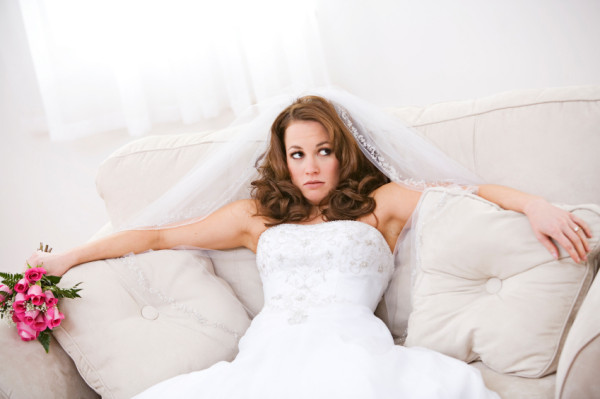 Wedding is one of the most important days of an individual's lives. You ensure a fool proof planning to avoid any mistakes at the wedding. Nevertheless, 'to err is human'. Here is a list of 10 most common wedding mistakes couples usually make. Read on and make a note of them for your wedding.
1. Lack of passion
Most of the time, people who are tying the knots, just stand quietly and let the day pass by. It need not be like this. It is your wedding day and you need to enjoy it thoroughly. All have gathered to celebrate your day and to make it memorable for you. If you go back to your wedding and all that you remember is how long it took for a particular tradition, it would not be worth it. Feel the celebration mood and be happy. Enjoy your wedding and have fun in each moment.
2. Spending fortunes
Do not spend fortunes in sectors that you won't feel important. There will be plenty of advices starting from lights to cake. Just pay for only those which will make you happy. I am not against the gala wedding, but wasting money is the term no one likes. Keep some for your honeymoon too.
3. Forgetting the theme
If you are having a theme wedding then do not forget to choose the things which matches the theme. If it is Ibiza, don't bring camels. People often forget the theme and add things of their own which may be an exquisite but mismatching things are never loved when you see the picture some time away. Do not play hip hop unless you really want it to be R&B themed. Wrong music always destroy the theme
4. Missed the booking dates of the show makers
Remember to book the officiate and your DJ. They are the people who make the wedding lively. Having a rough officiate destroys the fun associated with the wedding and it all becomes like running a protocol. Select the DJ appropriately. Inform him/her before the wedding itself, the choice of songs you would want to be played. Though, you might not list down every song but you can let him/her gather an idea of your liking.
5. Not thinking about the weather
People often forget weather while planning the date. There is no point wedding in scorching summer or in drenched rains. It is not only disastrous in terms of makeup but it destroys the whole theme and fun of the wedding. You will wish that whatever happen, the day need to pass fast and it won't.
6. Forgetting the food
Food is the main event of wedding. Spending a fortune on the dress and keeping guests unhappy with low quality food is not advisable. Book you caterer first. Do not forget to have Vegetarian section as most of the time one or two of your friends will choose to be vegetarian that day and will complain throughout your life.
7. Getting drunk and missing the fun
Most of the days before the wedding, you would be having one or the other parties either hosted by you or your friends. But make sure that just before the wedding day, you do drink a lot. You need to do a lot on your wedding. If you would not be able to get rid of the hangover, it is sure that you would mess up your wedding.
8. Forgetting the guests
Even if it is your wedding, you need to respect your guests. Most of the time, wedded couple get busy with themselves and miss attending the guests. Do not make them stand for hours for food or family photographs. You need to have enough space for arranging dinner as crowded dinner parties are never fun. If you have to jostle for your food, then it is better to opt not eating there. If you have invited a lot of guests, do not forget to cater them personally whenever you have time.
9. Forgetting your other half
Most of the time, either it is groom or the bride who do the planning. Everyone knows life is very busy but taking out an hour everyday to discuss out the details won't harm. There are several things that go into planning and it is always a good idea to keep another person for opinions and advices definitely reduces the chance of mistakes.
10. Don't forget it is your wedding
Don't get involved in smaller details. Remember you need to feel fresh and happy about the wedding. Spending a lot above your budget and getting in debt will definitely reduce your happiness about the whole wedding thing. You need to get focused on what's good and what's bad. You need to understand that worrying too much won't help.