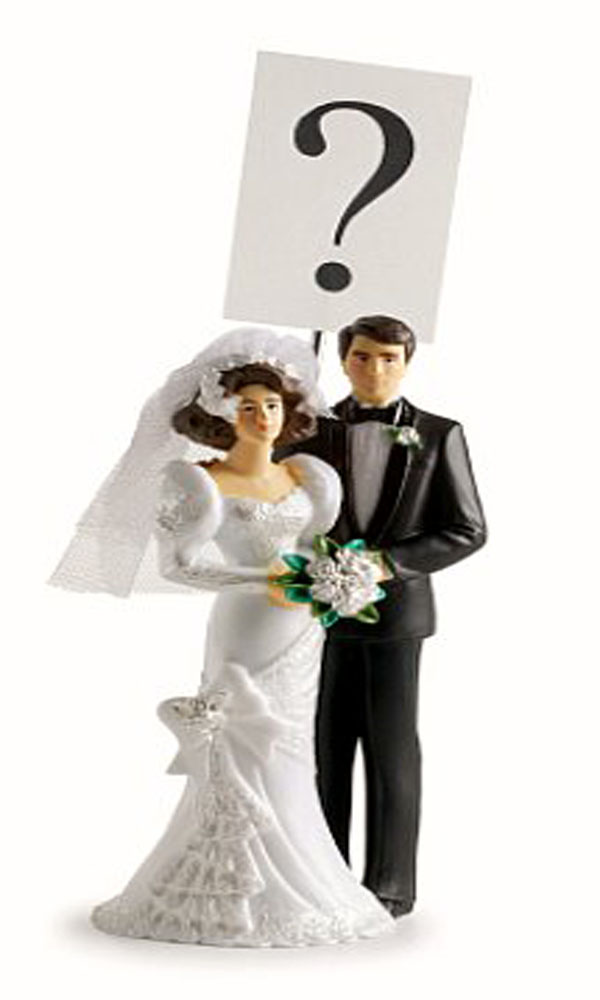 Everybody wants their wedding day, to pass by perfectly. While all have helped you plan and put together everything for a perfect wedding, you still have some pre- wedding questions on your mind. We have put together, 10 such questions, you might be wanting to ask. Read on and avoid any last minute awkward situations.
1. Right time to remove veil
Everyone knows when to wear the veil, but no one tells when to remove it. If you are able to carry it off, its completely alright to wear it all through the reception but just in case its uncomfortable for you, there are two appropriate times to remove it. First would be to let your bridesmaid remove it immediately after the ceremony. Have the hairstylist tell her how its done so that it doesn't distort your hairdo. Second time would be after the first dance when your guests are busy eating. Don't know what to do with it once its off? You can either tag it up bridal suite or just let it sit on a chair.
2. Guest arrival at the reception venue
While after the ceremony you and your husband would happily sweep off perfectly as 'Just Married' in your Rolls Royce towards your reception, you have to consider how your guests are going to do that too. If you want everyone to drive down on their own, tell them in advance so that they can car pool. Else you hire a stretch limo, or a vintage trolley. Limo way too fancy for you? You can let all your guests come together as a team and cruise them in an affordable school bus. In fact if you want, you can tag along in the ride bus too!
3. Helping me with my dress while I do the essential stuff

Yes, this question is as important as much as it is ignored. Whether you need someone or not totally depends on the dress you are wearing. While you 'll need someone to hold your dress if you are wearing a sprawling ball gown chances of needing that extra pair of hands are reduced if you are donning a silk sheath. Moreover, it completely depends on personal choice. If you are too embarrassed to do your thing in front of someone, you can always go ahead and manage on your own.
4. Appropriate way to kiss at the ceremony
Yes, we all know this is the happiest day of your life and you are all emotional to marry the man you love and all you can think off is start making out frantically, but please spare the guests with that. No one seriously wants to know your physical compatibility. At the same time don't restrict your kiss to a mere peck too. Keep it natural and do what you feel like doing. Just make sure it doesn't last more than 10 seconds and their is no visibility of a tongue whatsoever.
5. Cutting the wedding cake

Usually the cake cutting is happens post the dinner. Either you, your DJ or orchestra leader can announce its commencement. But if you have guests who wish to leave early, it is advisable to do the cake-cutting at the beginning of the reception, preferably before the first dance. Make the first cut into the bottom layer of the cake with the groom's hand placed over the bride's. Then the groom makes a solo second and feeds the bride. Then its the bride's turn to do the same.
6. Keeping the engagement ring safe at the ceremony

As for the wedding ring, you can put it on your right hand or let someone hold it for you. You can definitely put it on during your reception. You can put it on during your ride to the venue or just before the announcement. For those having a Jewish wedding, you can wear the engagement ring and then exchange some stone-free wedding bands to keep up with the tradition. The reason why the band is worn on the left hand is because that hand is closest to the heart, making it an appropriate place.
7. Lifting the veil
Though many brides don't want the veil during the entire ceremony or have it flipped back throughout, but for a traditional wedding, wearing a veil is necessary to keep up with the customs. But, if you don't want to wear it all throughout there are two alternatives; either your dad can lift the veil when he gives you away or the groom can do so just before the kiss.
8. Right place to stand while the ceremony begins

Place yourself in a church facing the altar. Then the bride stands on the left and the groom stands on the right. Their guests should also sit accordingly. For mutual friends here's the tip: sit on the side which has less people. Exact opposite is followed for Jewish weddings.
9. The best way to greet my guests

If you don't want to stand after the ceremony and keep your guests waiting in a single file, greet them during the reception on their tables during the first course.Yes, make sure you don't skip your meal too! Also, it will be very courteous if you make a short thanksgiving speech to all your guests for being a part of your special day and also to anyone who chipped in money for the wedding. Though you shouldn't replace this speech with your personal interaction with everyone, this would be a great way to let them feel what their presence means to you.
10. Can First dance happen barefoot?

While it is completely okay for guests to let themselves go and abandon the heels for the dance floor, things are different when you are the bride. Moreover, you are even wearing a formal dress. So, rather than going barefoot, you can bring in some comfortable footwear for the dancing. For summer weddings, have a basket full of flip-flops for your guests to easily slip into before they hit the dance floor. There is just one alternative if you completely want to ditch those shoes; have a beach wedding!