Can you even think of coupling your expensive and gorgeous wedding attire with an everyday bag? You will surely not look fashionable if you do so. Neither can you buy a big duffel bag to couple it up with your wedding dress. Then, the only option to accessorize yourself completely for that perfect wedding day look is to get hold of a sleek and chaste clutch bag. Clutch bags are extremely functional in being the accurate companion of a wedding gown but at the same time provide enough room for your cash and other valuables. Here are ten exciting wedding clutches to choose from
1. Maiden's mirage clutch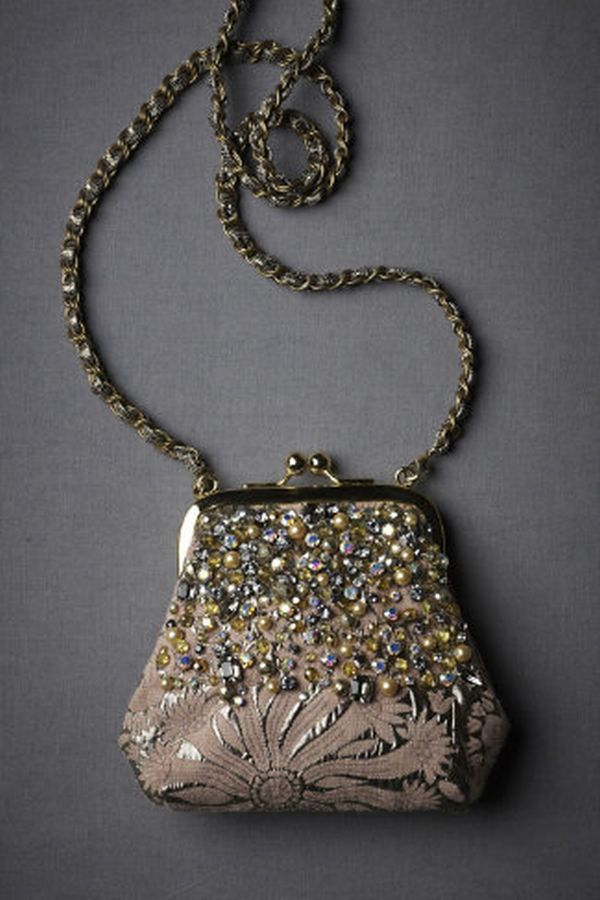 The greatest attraction of this clutch bag is its rich look, which has been imparted by the use of beads, rhinestones and ornate embroidery all through the same. The brocade base material of this bag and the gleaming metal kiss lock on top does justice to the look of the clutch bag. It is an Italian product, made by Rada, comprising of rich leather lining for durability and has an inner pocket to accommodate your valuables.
2. Tasha crystal floral clutch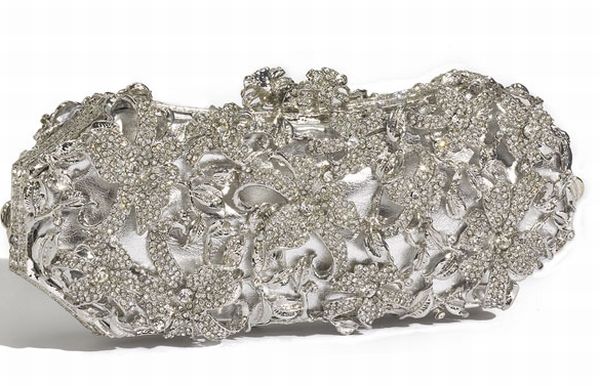 If you are looking for a sleek clutch bag that will go well in a royal wedding too, then you must go for this one. The metal and rhinestone handwork all though the external surface of the bag resemble shiny, blooming flowers. The drop in strap made from metallic chain gives you an option to hang it across your shoulders or grasp it in your fist. The kiss lock on top with magnetic enclosure ensures the security of things kept inside it.
3. Liberty print peacock clutch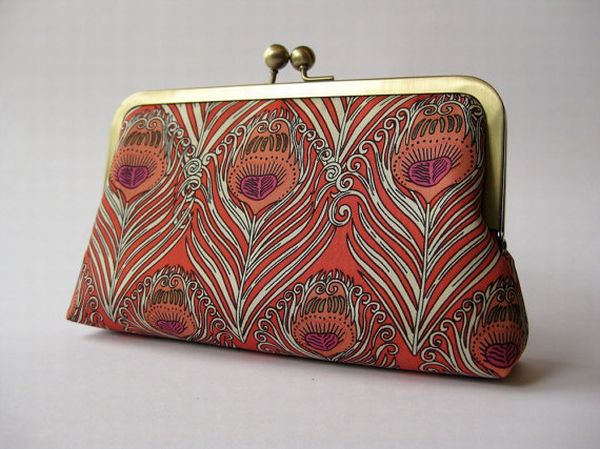 If you love animal and bird prints then you must be fascinated by how beautifully peacock prints have been incorporated into a wedding clutch bag like this one. Liberty, the London based bag maker has used silk dupion as the base fabric to suit the prestigious mood of the event. Peacock prints in combination of blue, red and purple has been screen printed on the base. The look is further accentuated with a gold colored metallic frame and kiss lock and fleece lining.
4. Chrysanthemum petals silk lined clutch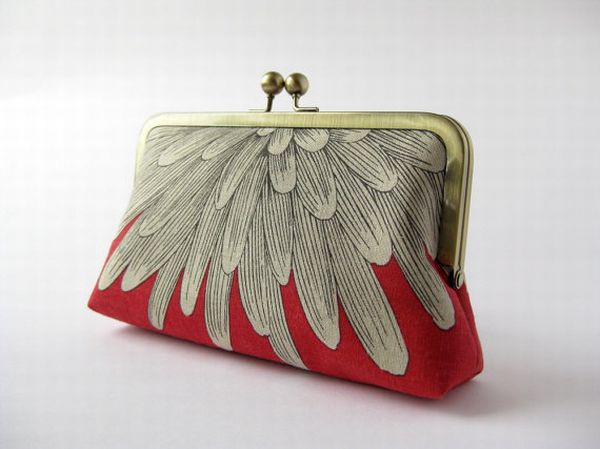 Floral design with a modern twist is the theme of this clutch bag. Pure linen in vermillion red is the base fabric of this clutch bag, on which chrysanthemum petals in cream, black and white combination have been hand painted. An antique gold metallic frame runs all through the top portion of the same with a kiss lock. 100 percent dupion silk has been used as lining. It is a product made in Ireland.
5. Rhinestone bridal clutch purse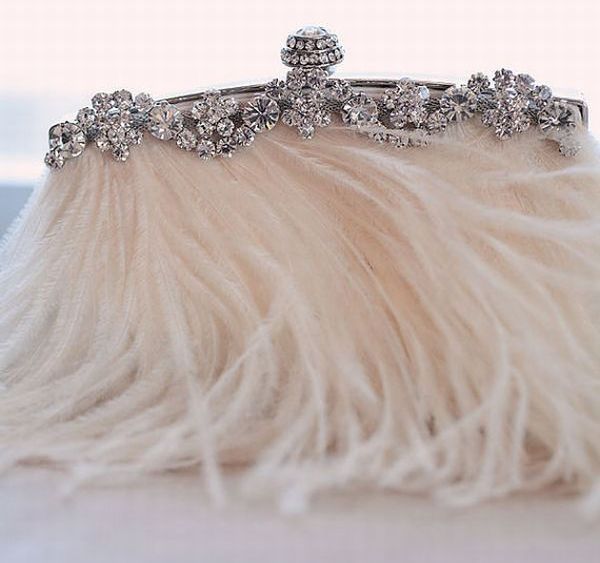 This clutch bag suits perfectly well with a fairytale wedding theme. Cream colored ostrich feather is stitched on to ivory satin base. It is further embellished with rhinestones and pearls and comes with detachable long and short chains. This tiny bag opens wide enough to accommodate lots of things.
6. Anya hindmarch rossum woven leather clutch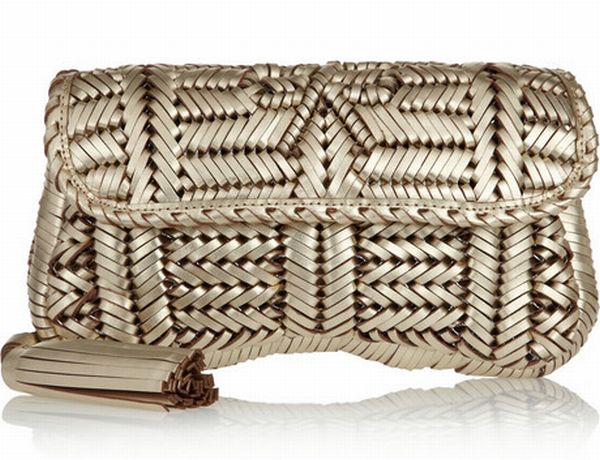 This rhinestone studded clutch bag is extremely elegant in its look. The designer have made it such a way that it can be worn both as a shoulder bag and a handbag. This durable bag is big enough for all your valuables and is made from silk satin.
7. Red floral wedding clutch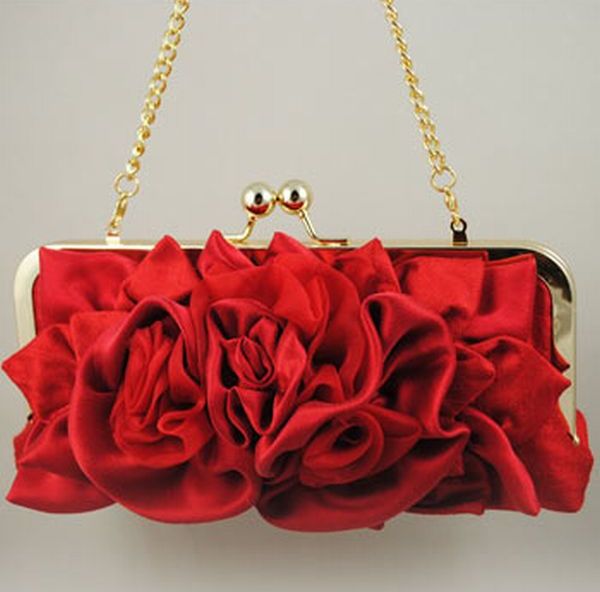 Red roses in this designer wedding clutch bag from USA suits perfectly well with the romantic ambiance of a wedding. The blood red colored silk base has been further decorated with bright crimson roses made from silk organza and charmeuse leaves. The gold metal frame on top further accentuates the vintage look of this clutch bag.
8. Vintage cream silk bridal clutch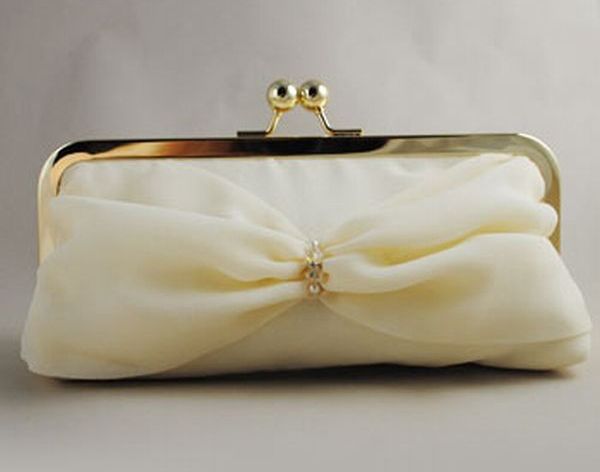 You will look very feminine with this silk chiffon bridal clutch bag. The silk charmeuse surface with polyester lining inside are the notable features of this clutch. The metal frame on top with clasp resembling the claws of a giant lobster and the shoulder chain match perfectly well with the prestigious look of the bag.
9. Tube glitter twill clutch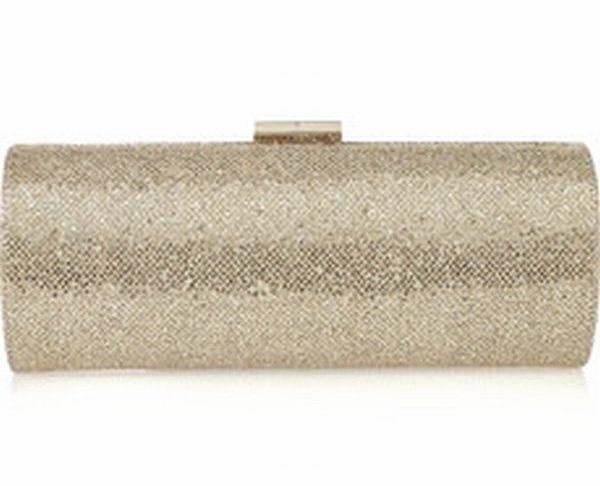 A perfect accessory for the evening party of a wedding, this clutch bag, designed by Jimmy Choo features a jet black base in which sparkling handwork has been juxtaposed nicely. The twill clutch on top has a golden finish to complement the look of the bag. Fully lined golden leather adds durability to this bag.
10. Glint ruffle clutch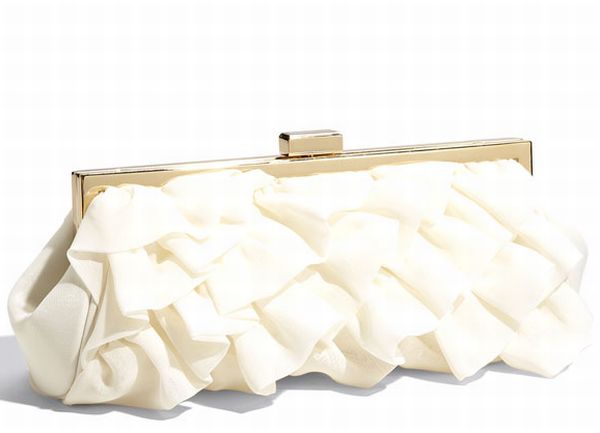 This beautiful bridal clutch bag from Glint features romantic ruffles throughout the entire surface of the same. The metallic chain in serpentine contour drops down to 24" from the shoulder tip. The slim and rectangular shape has enough space in the form of a number of interior wall pockets to accommodate lots of your valuables together with clasp closure on top to keep them secured inside.