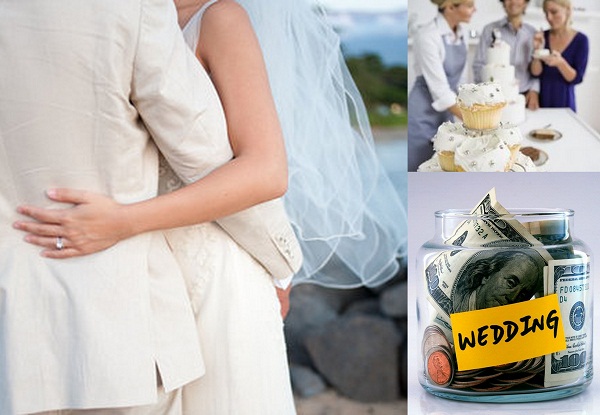 Weddings are the best time pf the year, especially when you are the bride and the groom. You have a lot on your plate and it has to be taken care of within a budget. That could be a highly stressful time for you as a couple. The bride wants to have a million things at the wedding to have it perfect, but due to shortage of funds, everything is not possible. Know how to have a superb wedding on a low cost and have your guests and yourself mesmerized by what little money can do. Remember money does not buy you happiness, getting married should be all about having an prim and proper wedding without troubles hanging on your head.
1. Plan an off season wedding
A big step towards planning a low cost wedding is to plan it at off season. You can dramatically cut your wedding costs by this single move. Most weddings are planned between May through October. So try to plan your wedding in some other month apart from these six months. Also, if you schedule your wedding before lunch, it can help you cut costs further.
2. Rope in your friends and family
Rope in all your close friends and family members for the wedding preparations and planning. Ask that friend of yours to click photographs for the entire wedding. His ego will get a boost and he will also like to showcase his talent at such a huge opportunity. Your cousins and friends can help with decorations and food preparations. Make small teams for each responsibility and appoint the most experienced person as leader of the group.
3. Cut on wedding dress
The wedding attire is again one of the most expensive affairs. If you are determined to cut the unnecessary wedding costs than be vigilant at the time of buying the wedding dress. Rather than going to plush showrooms or designer houses, scout for other cheaper options for your wedding dress. You can get reasonably good gowns on websites like eBay at very reasonable rates. You get to see many comments by previous readers also and hence can comfortably make a choice without any apprehensions.
4. Just invite close friends and family members
If you meticulously plan the list of invitees you can save on many heads in your wedding. A long list of guests is just not compatible with a low cost wedding. When you cut on unnecessary guests, you can save money by hiring a small place for the ceremony and by paying much lesser for the catering costs.
5. Prepare your own wedding invitation
Rather than hiring designers for designing your wedding card get net savvy and find out some beautiful card designs and finalize one for yourself. You can get creative by changing the color scheme and backdrop of the card. If the number of cards is not huge, then you can also consider printing them on your own computer and printer. With some expert advice from your friends, you can print fabulous and customized cards for your wedding. It will also help you cut costs to a great extent.
6. Shop with your eyes and ears open
As you shop things for the wedding day and later for your new home, stay vigilant. Move around, compare the prices of various vendors and finally buy things from where it comes at the cheapest price for you. Your transportation costs and other factors must also count in while making these preparations.
7. Buy in bulk
When you buy food articles and decorative pieces like candles, flowers, etc try buying them in bulk at wholesale prices. Try to buy such decorative items that you will be able to use later also in your new home and during your honeymoon for romantic baths and candle light dinners. You can also consider hiring start up businesses for catering and dances as these new people want to establish their credentials hence they work hard and charge lesser than the established businesses.
8. Wedding Insurance
While it may seem to be an unnecessary expenditure but still it is highly recommendable that you go for a wedding insurance. By insuring your wedding you save yourself from lots of troubles later. You can always relax and enjoy without being too anxious about safety and well being of the invitees and entire wedding preparations.