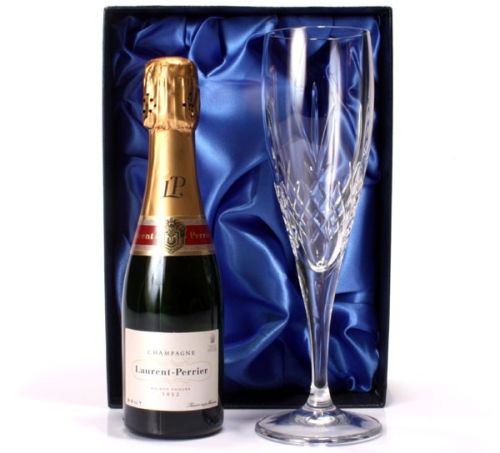 Weddings are such exciting and memorable events. Everybody is in a swell mood and helping each other all throughout. The best man is very special for he is the groom's right hand man at every step on that day. His job is thrilling yet quite arduous. So, he has to be thanked in a rather extraordinary way. Gift him something he cherishes forever. It is complicated to find just the ideal gift for him. But fret not, for we here are putting an end to your dilemma because we have quite a range of unique gifts to be given to him.
Miniature champagne and personalized flute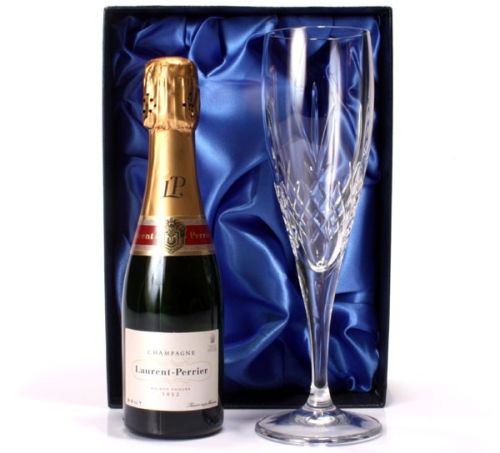 This stylish set contains a spectacular cut champagne flute made out of crystal. The flute also has a translucent panel where you can etch a special message of your pick. It all comes in a stunning silk-lined gift box and is the perfect present for someone who takes pleasure in savoring some wonderful bubbly.
Why gift: Rejoice in the festive spirit by gifting the best man this fine bottle of Laurent-Perrier champagne. This exotic French champagne is of excellent quality and the tiny little bottle holds 200ml of the top quality stuff.
Price: $71.20
Buy here: thegiftexperience
Best Man Medal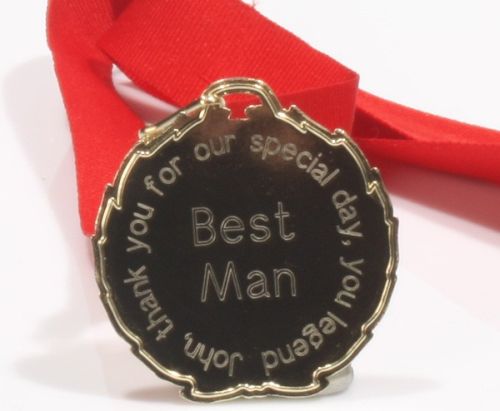 The medal has a gold veneer with intricate designs around the border. The star on the frontage amplifies the perfection of the medal. You can personalize it with a much cherished message of up to a hundred words on the gap around the edge. The medal is fastened to a crimson ribbon and comes in a beautifully packed gift box.
Why gift: Your best man most certainly is worthy of a medal for being there for you on your d-day. So go ahead and gift him this incredible custom-made Best man medal to preserve as a souvenir for this extraordinary event. It will look amazingly intimate when he hangs it around his neck after giving his best man speech.
Price: $ 18.99
Buy here: Thegiftexperience
Best Man Hip Flask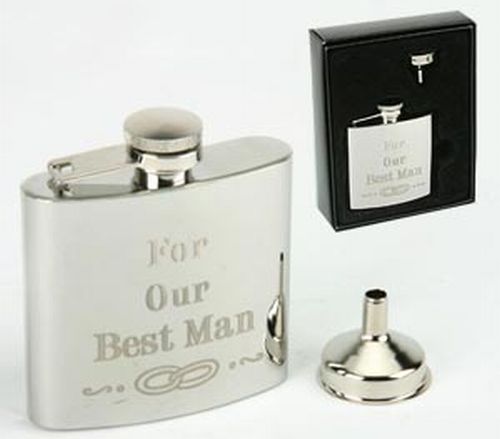 The flask is going to be a great keepsake with the words "Best Man" etched on it. It is 10cm high, 2'5 cm deep and 9cm wide and holds four fluid ounces. It also possesses a very simple to pour funnel and hinged screw top.
Why gift: Demonstrate your gratitude to your best man with a tasteful stainless steel hip flask. He has done a great job and he needs to be thoroughly appreciated. This unique flask is a perfect combination of impressive appearance and practical utility. This hip flask is going to be one of his favorite possessions and is predestined for many an escapade in the great outdoors.
Price: $31.60
Buy here: Thegiftexperience
Best Man Pocket Watch with Personalised Gift Box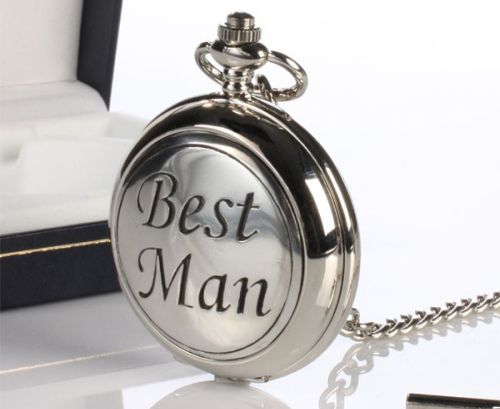 The front of this exceptional fob watch has the words "Best man" engraved in black. It has a quartz device to run it and has a battery life of just about three years. What makes it more extraordinary is its personalized gift box. The lovely velvet lined box will have a message embossed of your choice which will indeed thrill your friend.
Why gift: Time will be imprinted in memories forever when you present this beautiful pocket watch to your best man. It has this neat yet classic look which enhances its appeal a lot. Your friend can carry it everywhere he goes, he will have a great time.
Price: $79.13
Buy here: Thegiftexperience
Personalised Red Wine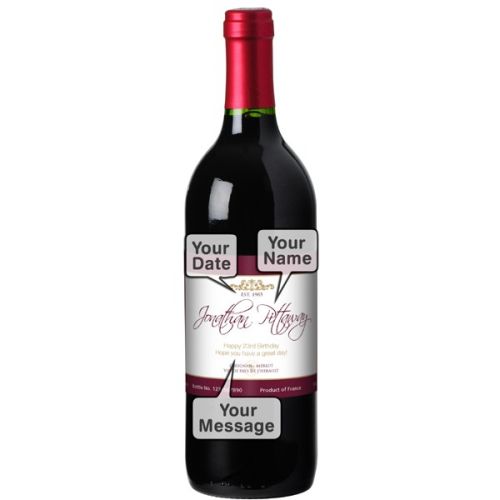 His happiness will double when you give him that beautiful bottle in a gift box lined with smooth satin. There is a personalized gift card containing the recipient's name and private message. There will also be the vintage year which is being celebrated engraved in it. The best part is that there is a fabulous variety of personalized labels, eight to be precise to pick from.
Why gift: Imagine his happiness when you give him his own custom made French Red Wine. What better than to raise a toast to wonderful memories through your splendid gift. It will come along with a plush silk rose and a yummy box of chocolate truffles just to sweeten the experience a bit more.
Price: $26.91
Buy here: Thegiftexperience
Personalised Retro Electric Guitar Cufflinks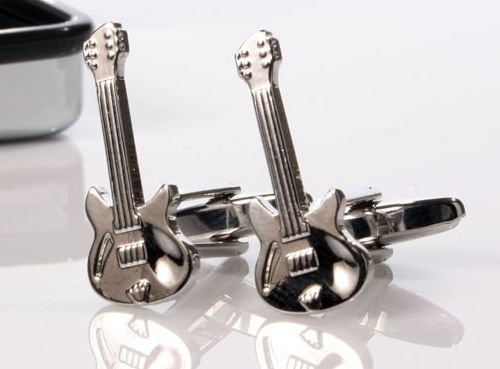 These fantastic silverplated personalized retro electric guitar cufflinks will bowl your best man for sure. The finishing is perfect and it becomes even more remarkable when it has a personal message engraved in the silverplated gift box. The lengths of the guitars are 2.5 cm each and they really seem to be great gifts.
Why gift: If he is a guitar player, he will love it all the more and if he is not, I am sure he will now get fully inspired. The guitar cufflinks will put the last touches of a retro guitarist when he desires to be so.
Price: 28.43
Buy here: Thegiftexperience
Engraved Pint Pewter Tankard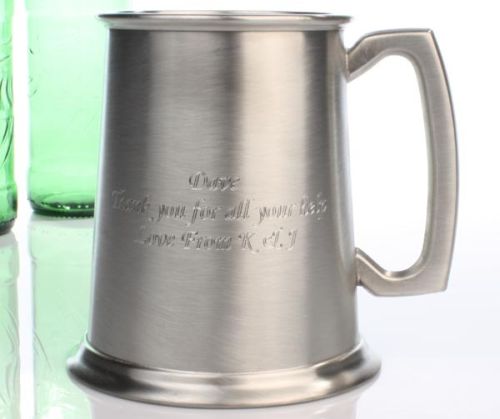 This personally hand cast Pint Pewter Tankard in silver grey is going to be an everlasting fixture in your pal's watering hole. Leave your personal endorsement by engraving his name and a personal memo of maybe three lines or so.
Why gift: It is a great way to thank your best man by making him remember you while drinking his favorite drink. Don't forget to tell him that cleaning this little marvel is very simple. Just wash it with lukewarm foamy water and wipe it with a soft cloth. Never ever put it inside the dishwasher please.
Price: 55.43
Buy here: Thegiftexperience
Personalised Zippo Lighter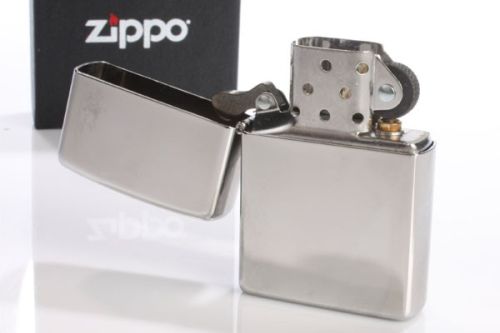 This classy and authentic chrome Zippo lighter has a conventional flip top cap and can be refilled with lighter fluid just by pulling out the focal body.
Why gift: Light up your best pal's life with happiness by presenting him this stylish Zippo lighter. This is a fabulous idea for actually anyone who enjoys a little smoke now and then. Personalize it with a special message, name and date making it the ideal thing to carry at all the right events.
Price: 47.44
Buy here: Thegiftexperience
Usher shot glasses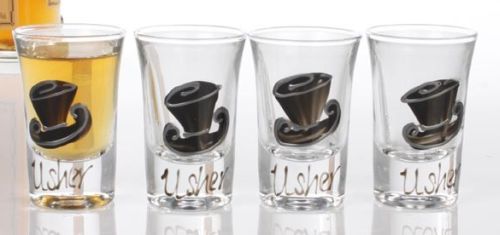 What is better than gifting your best man a four pack of hand painted shot glasses. The glassware can be washed and cleaned anywhere, anyhow, so they can be used anytime. They are all specially gift packed with the painter's initials on the bottom of each glass.
Why gift: This is to kick start the joyous mood with high spirits and fondness at full brim. This is the right way to say your thank you to the man who was there when you needed him the most. Each glass holds 3.5cl, so it is the right quantity to get that awesome shot.
Price: 23.68
Buy here: thegiftexperience
Personalised Best Man Mug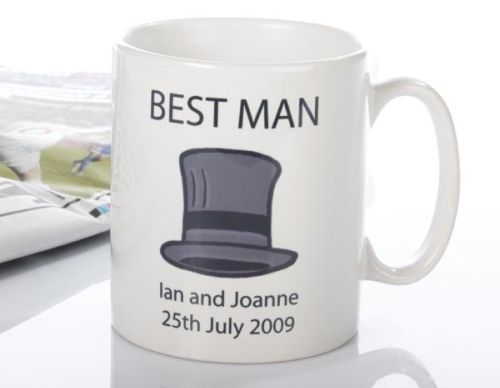 The mug has a top hat grey in color and the words "Best Man" is written on the top. It is handy as well as quite cute to look at. You can etch your names and the wedding date beneath that of course. The mug is 3.5 inches long and 3 inches wide. You can even add a special message on the back of the mug.
Why gift: Your best man has done quite a good job in your wedding and you have to thank him for his sincere effort. Give him this custom made ceramic mug as a token of appreciation .He is always going to remember your wedding day with a smile on his face.
Price: 12.65
Buy here: Thegiftexperience