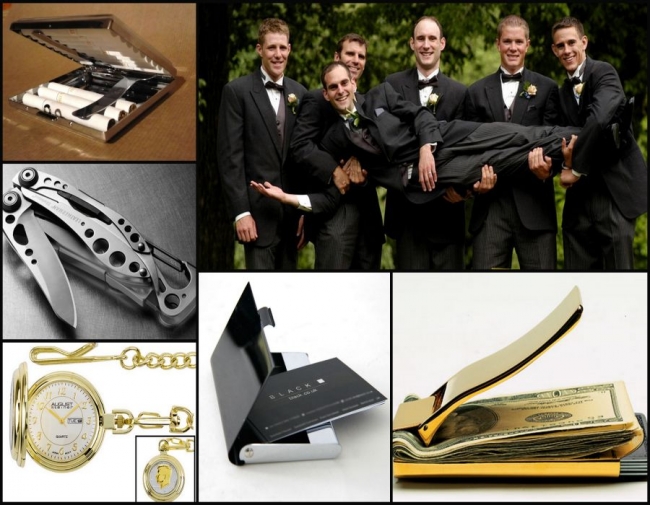 Your groomsmen are the best buddies who have been there with you in all problems. When the most important day of your life come, they will be there with you once again standing by your side when your take the plunge. In return to their long time friendship and for all the support they have given you, it is your duty to give them a memorable thing as thanks. At the time of wedding occasion you can thank him by giving a best groomsmen gift. Try finding unique and fun groomsmen gifts during the wedding party which can make your friend happy. However to find a best gift for your friend can be quiet challenging hence to help you out here is the list of thing which you can gift them.
1. Pocket watches
Such type of gift is one of those which no one would think to buy themselves. However when somebody gifts it then it is rewarded as sophisticated one. A pocket watch is a combination of old fashion twist on a modern item. Pocket watch is the best gift to give as it can be carried everyday in pocket or can be used for special occasion.
2. Flasks
You can surely give a flask to your friend on the wedding day or bachelor party. There are many designs available in the market out of which you can choose the best one for your friend. The most popular flask these days is stainless steel which is modern and can be engraved with groomsmen's monogram. Another unique design is the leather flask which comes in black leather that makes it a perfect groomsmen gift.
3. Glass mugs
There are many glass mugs available in the market which comes in different sizes with13 oz or 25 oz. It can be good choice to gift groomsmen if they don't like flask. A glass mug is popular these days and it can be used for sports drinks, beer, water, soda or any other kind of beverages. There is small 13oz. size which is best for ring bearer. You can personalize the glass mugs by engraving initials, names and titles in one or two line which can be memorable gift for them.
4. Golf Themed Gifts
Such type of gift is extremely popular. Golf is something which everyone at least once in life must have enjoyed with their friends. Some even enjoy a short round of gold with best man and groomsmen before the wedding ceremony starts. For celebrating such precious moment, gifting a personalized gold towels or golf tools can be good idea. You can also personalize golf ball for the perfect memento.
5. Money clips
This is another unique gift which you can give to groomsman. Money clips are available in variety of price range. The basic silver plated money clips comes under $20 where as there is 14K solid gold money clip which comes for $400. This is one sophisticated gift to give your friends. Sometimes wallet can be too heavy to carry. If guy have money clip then he can put license, cash and even credit card so that there won't be extra burden on him. You can personalize it by writing a short message.
6. Cigar Case
This ultimate unique gift is for the person with redefined taste. You will find many styles of cigar case available in the market. You can also personalize them in your own way. A small wood case along with cigar cutter can be a good one to give.
7. Leatherman multi-tool
Guy's basic choice is anytime technology and gadget. Leatherman tool is one such gift which no guy will ever hate to use. You can gift full size pliers with the Fuse or Wave. There are many different models of Leatherman tools which are available. Get the one which fits in your budget and personalize it and give to the groomsman.
8. Pocket Knife
Another ideal gift which you can give your friend is a high quality pocket knife. Pocket knife comes in variety. You can select from single blade to multi-tool which can fit any personality. You can personalize it and gift it to your friend.
9. Personalized Barbeque Cooler Kit
If your friend likes to cook or is good in grilling then this gift is best for him. He can use it during heavy-duty picnicking, tailgating or even camping. In this kit there is a back zippered pocket with tablecloth, tongs, stainless steel grills brush and a spatula.
10.Business Card Case
If your friend is a business man or hard worker then such gift is best for him. There are many types and colors of business cards case available in the market. Some are silver plated while some are gold plated. You can personalize it by engraving his name and his role at the wedding.
Source: Allbestarticles