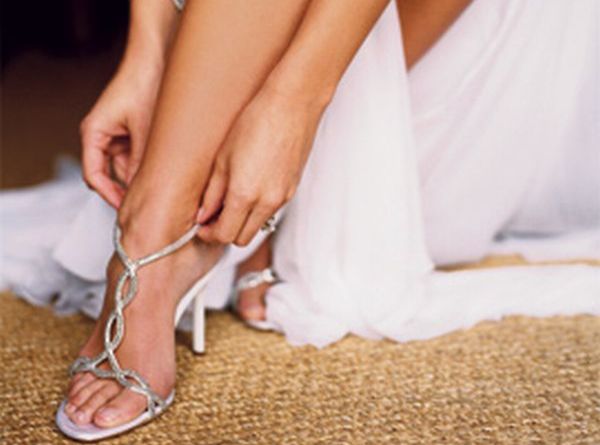 Choosing the wedding shoes is a tedious task. There is a large selection available from silver stiletto sandals to ivory wedding shoes to white wedges or flip flops. Whatever your choice is, it has to match you your wedding dress, all the other accessories, and the overall looks. They come in a wide variety of shades, sizes, and materials. Some of them are truly elaborate, metallic, colored, covered with accents, and set on heels. There are simple models for those who want to be simple and elegant with just a few straps. If you want some guidance to choose the best bridal shoes, read through the following 10 tips.
1. Comfort is number one
Since you will be wearing the shoes for the whole day and all through the ceremony and other important events, you have to be very comfortable in the shoes. If they are tight or do not fit you well, it is better to get another pair. Some may look very stylish, but may not be comfortable. So, do not go by looks alone. Comfort is the most important factor to keep in mind.
2. Select what you love
If you have already decided to wear a particular style of shoes then look for that kind. Do not change your mind in between because you may end up buying the wrong pair. Remember that the shoes you buy should be comfortable too. Buy a pair such that it can be used in future too.
3. Buy the shoes with your dress
Shoes are not given importance like other items for your wedding. So most people choose to buy them in the end when everything else is ready. When you buy the shoes in the end, you may have to bring them back and look for another pair according to the shade of your dress; or they may simply not be suiting your wedding gown. The best thing to do is to buy them along with your wedding dress so that you do not have to go through such hassles.
4. Pair the shoes with your dress
Some brides may not remember this fact and wear some expensive pair of shoes for the wedding. Though they may look good and be expensive, the pair of shoes may not match well to the wedding dress. This can bring down the whole effect and reflect poorly on your taste. So, choose the shoes according to your dress. If you are wearing a white dress then buy a pair of white shoes and if the dress if off white, then a pair of ivory colored shoes will match well.
5. A theme for shoes is necessary
Most of the brides love to buy the shoes according to their wedding theme. This can add value to your overall looks and personality too. It also reflects upon your taste. Your wedding day is special. So you have to wear everything special to make a difference and stand apart.
6. Wear compatible shoes that go well with the surroundings
When you buy different pairs of shoes for different occasions, remember that each pair should be fit for the occasion. If you have planned for the reception in a countryside, choose flats and wedges because they are the best for muddy areas. If it is a beach wedding, try to wear flat sandals. If the wedding is at some exotic location choose from stylish heels.
7. Pick the correct length of heel
Whether you require heels for the wedding shoes is your choice. But if you are sure that you want heels, then pick the right size that you are comfortable with. Avoid trying to experiment with sizes or shapes that you have not tried before. You may find it extremely difficult to walk.
8. Have a healthy shoe budget
This is the perfect occasion when you have to freak out in stylish shoes. So have a healthy budget for your shoes. You may need to buy different pairs for your wedding day, for the reception, and for the honeymoon. These are times when you have to look your best and splash out.
9. Practice makes perfect
If you buy the shoes along with your dress you can do a trial walk at home. Wear the dress and the shoes. Practice walking with the respective dresses. If you are not comfortable, it is better to change the shoes as soon as possible. This will help you to maintain your poise on the special occasion.
10. Treat your feet
Before the big day schedule a pedicure for your feet. They may be very tired and sore after all the shopping and other wedding preparations. Give them a nice treat so that they look perfect before slipping into the best pair of shoes on the special occasion. Let your feet be glowing with neat cuticles, soft skin, and painted nails.
Via: Weddingideasmag