In modern days, brides have become more eco conscious during the wedding. To save our planet by way of recycling is the best thing to do. Many people are following the green trail with eco-friendly wedding. Eco-friendly gowns are increasingly gaining steam among brides-to-be. To find such perfect gown isn't as difficult as it used to be as more designers have started making eco-friendly dresses. If you are looking for such eco-friendly dress, then take a look at the following green wedding dresses that have become popular nowadays.
1. Wholly Jo's bridal dress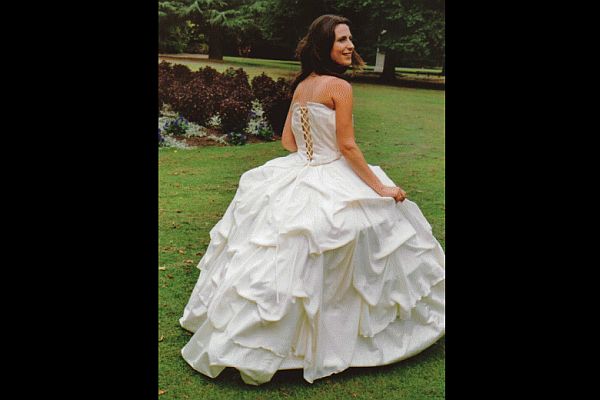 One of the popular ethical wedding gown designers Wholly Jo's has come up with the new concept of bridal dress which is completely eco friendly. It is completely unique and includes features like superb fit, excellent quality, enhances your body shape and suits all weather. The idea behind designing such a dress is to make a beautiful gown for the bride at affordable price. To make sure that brides feel really special on their wedding day, each dress is made completely unique and enhances those womanly curves. He also claims that some old wedding dresses can be recycled into new ones for the next generation with some new designs. Wholly Jo's designs gowns from fair trade, organic and cruelty-free products.
2. Organic wedding gowns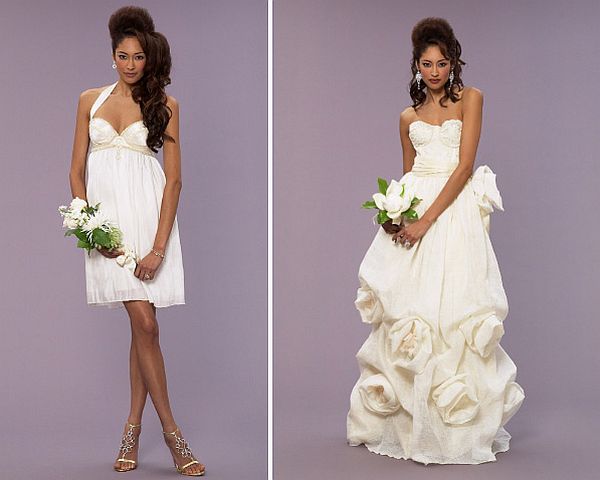 Organic wedding gowns are another good example of recycling. The design is timeless beauty, simple elegance and the ability to be worn more than just on the wedding day. It is made of cotton embroidery, fine gauge organic cottons, fluid bamboos and hemp silks. Such gowns are custom designed. The company undertaking such gown production is based in Asheville, NC.
3. Lynn's silk wedding gowns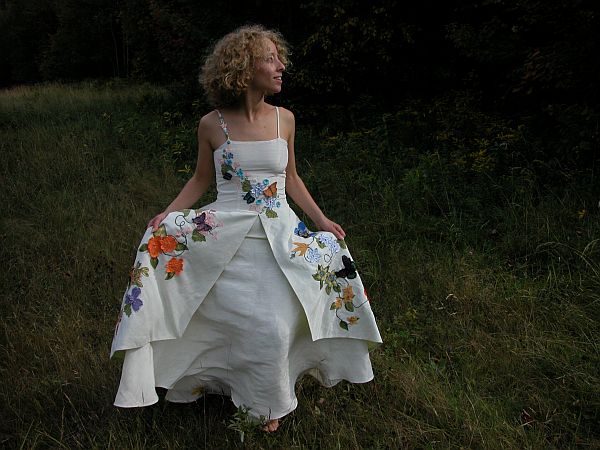 The gowns designed by Lynn's company have a trendy cut across with a hand-stitched animal scene on the back. This stitching is beautifully done and does not look awful. It does not look like a huge animal with bug-eyes that continuously stares back at you. It has got beautiful design and comes with great design concept. The wedding gowns and jackets made by the designer are the right combination recycled and sustainable materials, which include both the fabric and accent. These gowns give a classy look and you can wear it whenever you want. Each gown is made in such a way that your local tailor can easily bring changes in it, so that it fit you perfectly for the perfect day.
4. Sanyukta's wedding gowns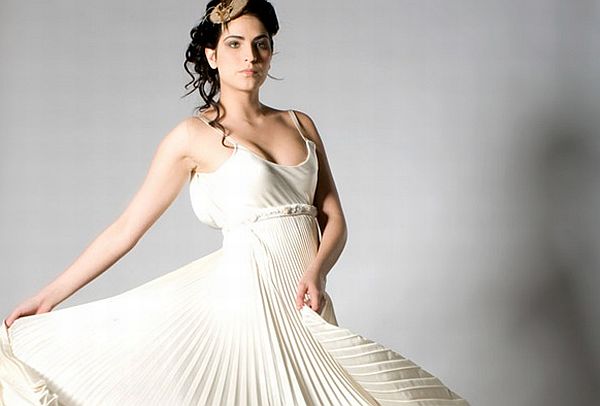 Sanyukta Strestha is a London based designer who is known for unique line of dresses, wedding gowns, hats and other couture which are made of sustainable fabrics like bamboo, soy, hemp silk, banana, etc. Most of the raw material is sourced from foothill of Himalayas. Creations made by Sanyukta are eco friendly, which are available at affordable prices. Other than wedding gown, you will also find different designs made for a multi-functional wear, which you can wear in two or more different styles.
5. Cheap chic wedding dress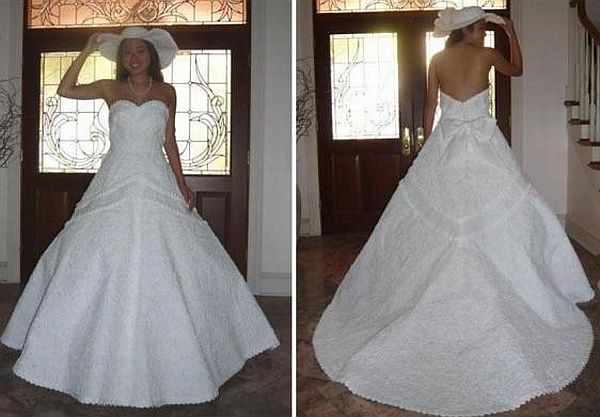 The chic wedding is designed by Ann Kagawa Lee of Honolulu, Hawaii who also became the winner of cheap chic wedding contest. In this contest, Ann Kagawa Lee made this amazing concept assembled of bathroom tissue with glue, tape and great commitment. It is another best example of eco-friendly gown.
6. Recycled LED lit wedding gown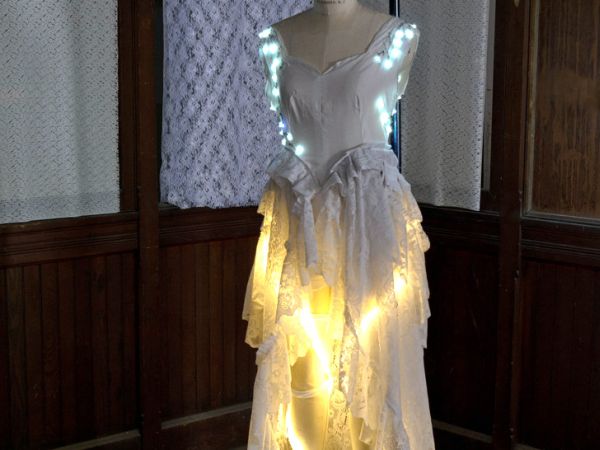 This is one new concept introduced and designed by Matthew Reading, a student from Maryland Institute College of Art. It is a good example of recycling with unique concept of adding light to the dress to make it more elegant. The gown is fashioned from white reclaimed cotton. It also comes loaded with heat sensors and LED lights. The designer also made sure that the outfit dress can be washed and worn without affecting electronics course. The gown also features simple bodice with a fuller lace skirt and includes sensors that respond to temperature and light.
7. Toilet paper wedding dresses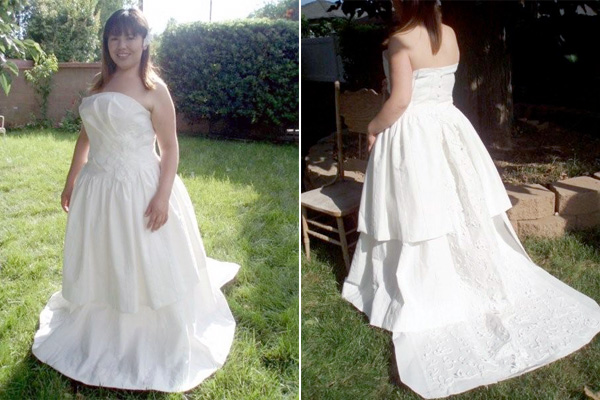 This gown is another good example of perfect combination of fashion and creativity that too at affordable price. It is designed by Susan Brennan with the help of toilet paper and glue. To highlight the appearance, she also included feathers and flowers in her gown with four rolls of paper. The gown is designed in such a way that it saved electricity, water, money and other resources that are getting over.
8. Eco-friendly wedding dress by Rai-Lynn Broach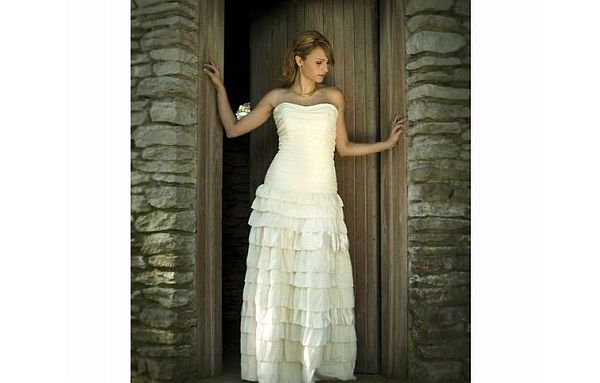 This gown is designed by Rai-Lynn Broach from Threadhead Creations. This awesome looking gown is made of peace silk and hemp and is completely eco friendly. The fabric like hemp offers great comfort and proper fitting. This becomes a a perfect wedding dress to put on for a eco-conscious bride as this is skin friendly as well as completely biodegradable. Moreover the design of the dress in itself is very modern and exquisite.
9. Morgan Boszilkov wedding dress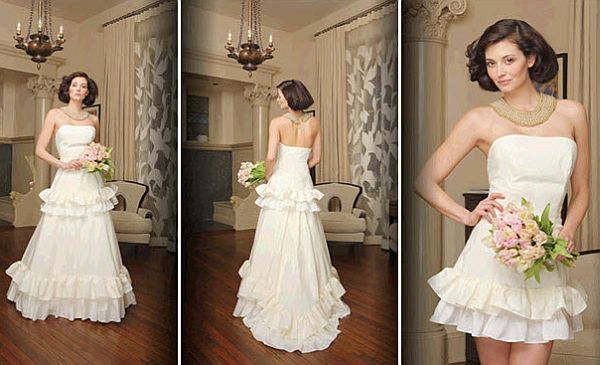 This innovative gown is a short dress that comes with a matching skirt to wear beneath. This skirt is removable, which is an added feature of this gown and give your dress new look. This gown is made a hemp silk blend. The ruffles on the dress of peace silk blend are repeated at the bottom of the skirt. This A-line dress is extremely flattering and one cute dress worth adorable.
10. Harper's organic wedding gowns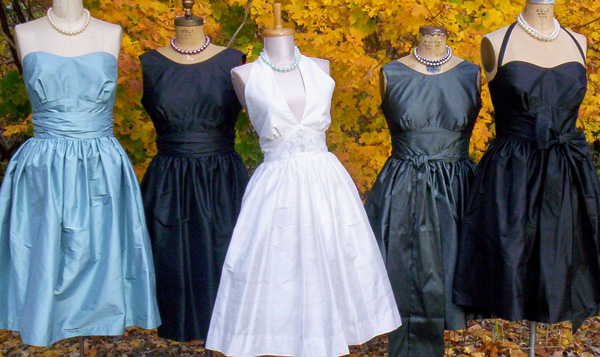 This gown is another good example of eco-friendly concept. It is made up of natural and organic fabrics. Some gown can be refashioned of old and vintage wear. This eco chic design is waste-reducing and cost-saving option for your wedding day. So just go ahead for ordering these wedding gowns if your wedding day is soon approaching. Once you experience the comfort and the benefits that these gowns come with, then you will surely recommend any would-be bride to follow the green way!