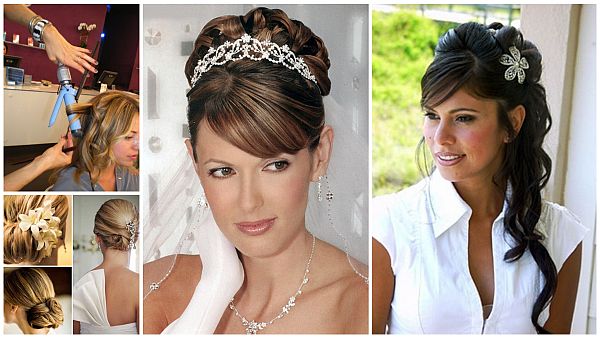 Looking gorgeous on her wedding day is every girl's dream, and why not? While a lot of planning (as well as time) goes into buying the perfect wedding trousseau, girls forget about their hair do in advance. However, it's an extremely important part of your wedding look and must not be left to the last days. The best tip is to keep your wedding hairstyle simple and manageable since experimenting with a new style may spoil the look. Or if you have a new style in mind, then it's best to try it before the big day. Having perfect hair is not an easy task especially if it has to be maintained at all cost. Find out more about getting the hairstyle you desire for your D-day.
1. Professional beauty salon
Book a well-known, professional beauty salon to consult for your look at least 3 months prior to the wedding date. It is important to start a healthy hair nourishment routine, months before the day so there are no last minute nuisances. You must know your hair type and follow the treatments accordingly. If your hair is dry and damaged, do the protein treatment to repair it as per expert advice. Start the gloss and deep condition treatment two weeks before the wedding date. It is also important to trim the hair after treatment.
2. Latest trends
Puffy hairstyle is the latest trend, but there is a possibility that the style may not go with your wedding dress. If that's the case, try simple manageable curls that will make you look pretty with the wedding gown. Finding out the latest trend completely depends on you. You should know what suits you and how. The main part is to find out what would go best with your dress and your veil and also your make up. If you feel you need to let loose your hair, do not go by the fashion. You should feel beautiful at the end of the day.
3. Layer cut
The best hair cut suitable for a wedding is obviously layer cut with a preferred length. It makes for not only great clicks but looks good from all sides. Also, the hair cut is easily manageable and does not need retouching often. You could choose from a variety of layered haircuts that best suit your hair type and length. The small curls, if done in a proper manner can give you a royal look. You could also have bangs if you want, or just have pin ups which have a design on them. Straightened out hair also look wonderfull ad essentuates your features, if you are plump you would look slimmer.
4. Hair accessories
You can give some imperial touch to your wedding hairstyle by sporting an attractive crown, cathedral-length veil, stylish headband decorated with some pearls, showy combs, etc. But make sure you do not put all of these in your wedding hair as it can create complexities later. It's best to choose one or two styles so you feel comfortable. You could either go for a pinup veil or a comb veil depending on your style of dressing and hair style. You should be able to place them decently on your hair, in order to spoil the hair style.
5. Avoid any chemical treatment
The most important advice is to skip any type of chemical hair treatment on your wedding day or even a day before. Finish all deep conditioning and glossing treatments a week prior to the wedding date. You can also give stylish color strands to your hair if you like, but again at least a week in advance. On your big day, you just need to get your recommended hairstyle with the help of your beauty consultant and look stunning!