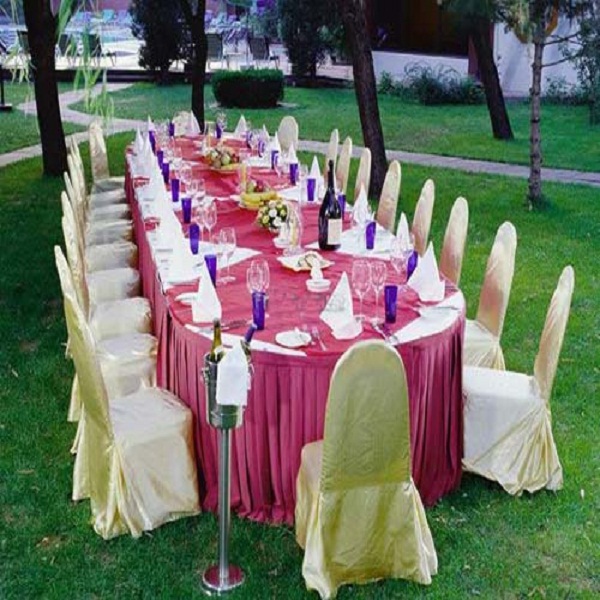 Outdoor weddings are beautiful, romantic and a dream for many. Getting married outside in a beautiful setting such as mountains or oceans, natural backdrops of trees and surrounded by friends and family can make for a lovely celebration. However, hosting an outdoor wedding requires planning and attention to details as it comes with caveats and pitfalls. Although you will have no control on the nature, here are some tips to plan a successful outdoor wedding.
1. Warn your guests
Once you have decided the location, find out what the weather will most likely be during the time of your wedding. As each season will have its own drawbacks do not leave your guests uncomfortable. Make sure you warn them about the expected weather so that they can prepare themselves accordingly. Additionally, you also arrange to make your guests comfortable, for instance, for a warm location, try and rent electric fans and on the other hand if it will be cold make arrangements for enough blankets and rent portable heaters.
2. Have a backup plan
As it is difficult to predict the weather, it is a good idea to have a backup plan. An ideal outdoor wedding location is the one that will also offer an indoor location as just in case it rains. A tent can also be an option, but only in case of light to moderate rain. While renting one be sure it is sturdy, has thick and heavy sides.
3. Problems with the acoustics
One of the most common problems of an outdoor wedding is of acoustics. Often guests are unable to hear the couple reciting their vows or the words of the officiant. Especially if you have planned your wedding at the beach, keep in mind the rushing wind and roaring of the waves while renting the sound system.
4. Decorations
Though most of the decorations are provided by the Mother Nature like flowers, trees, a lake or a hilltop view, you may want to beautify a little. For which, you can opt for a wedding arch to offer a focal point at the ceremony. It can be left simple or can be embellished in flowers and ribbons. An arch with flowers will also provide an amazing backdrop for wedding photos. You can ask the florists to decorate the same or you can do it yourself. Once the ceremony is over, you can place the arch in your garden as memory of your special day.
5. Be sure about the food
Investigate that the caterer you hire have an outdoor experience and they plan for the food that will work well in the outdoors. In addition, in case it will be a warm weather, non-alcoholic beverages are necessary to quench people's thirst.
6. Be prepared for a sun
While setting up the outdoor wedding, prepare for the ceremony to take place in a way so that the sun remains at the back of the guests. For instance, in case of a morning wedding, position the seating in a manner that your guests face the west as the sun rises from the east.
7. Get proper permits
The most important thing while planning an outdoor wedding is seeking permits. Contact the department of your city park or any other local government body concerned and check about the rules related to candle lighting, trash removal, and pre-wedding photography.
8. Proper Lighting
While planning your wedding at night at an outdoor venue, ensure that there is adequate lighting, but not very bright to keep the mood in place. Candles lanterns, fairy lights, or flaming torches are a good way to have romantic lighting without bothering your guests with harsh lights.
9. Outdoor photographer
While choosing a photographer for your wedding, look around for the one, who is experienced enough in outdoor photography, as outdoor wedding shots mostly requires some form of special lighting. After all, you do not want to takes chances. Do you?
10. Finally the bridal wear
Outdoor weddings generally take place when the weather is hot and the sun is sure to shine. For which you need to be sure that the bridal gown is quite light weighted. This will ensure that you are overall comfortable, your make up stays on, and the flowers do not flag.