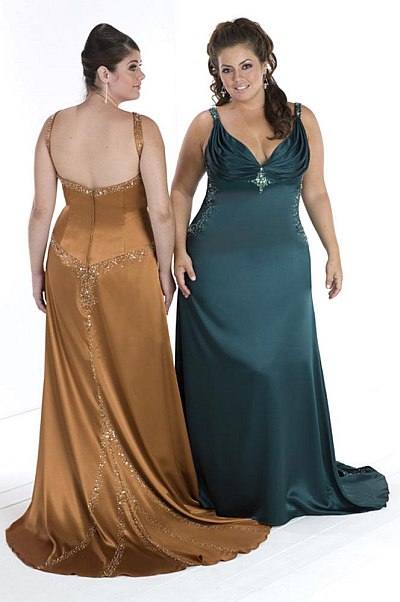 Playing the prestigious role of a bridesmaid is an important affair for any one. As a bridesmaid, you will be put under the scanner. You may not realize it at that time but that is how it's going to be. And we know in such a case, you would wish to look your best. However, do not let your plus size figure become the ball and chain for you. Trust us you have got a beautiful body. It's just that God has been a bit more generous while sculpting you. If you want, you can carry any attire better than those skinny models walking down the runway. But only if you wish. You are perfect and just need a few tips to let your beautiful self shine in its full glory. Don't dread the occasion and do not fall victim to your own apprehensions. Get up, dress beautifully and startle them all.
First of all, you need to know your body type. Many dresses look good on mannequins, models and when in the hangers but they might not look exactly the same on you. It might surprise you but market is flooded with varieties of dresses for extra curvy women. You just need to go for the right pick.
Before going out to purchase a dress, measure yourself properly. Wear a well fitted bra and measure your bust size using a cloth tape. Then measure your waist, which is almost an inch above your navel. Finally, measure your hips across their widest part. Note down these measurements and take them with you to the shop. The idea behind this is to get the best possible dress which fits you. If your stats are slightly irregular, buy a dress which fits the largest part of your body. You always have the option of alternation later on but remember you cannot stretch down a fitted gown.
Another important thing is to closely examine the shape of your body. You might have narrow hips or broader waist or narrower bust. Take note of these details and follow the following tips:
If you have a large waist
If you have large waist but narrow shoulders, you can balance them with a shrug or a wrap. You can also choose dresses with broadening, horizontal necklines.
Wear an A-line or a princess silhouette dress to balance it out.
Shapely legs can be accentuated by selecting a dress with handkerchief hemline or whose hem is higher at the front than at the back.
Divert the attention from your waist or tummy to your neck or face by wearing really interesting pieces of jewelries. Big chunky jewelries are the best bet to do that.
If you have thighs and hips larger than your bust
Try to emphasize the middle part of your body and waist area by wearing a belt or a sash.
To help elongate your body shape, wear a dress which is light in color at the top of the body and darker at the bottom.
Again try to draw everyone's attention to the face, neck and shoulder by wearing bold accessories.
Wear a broad horizontal neckline dress or a shrug or a wrap to give the illusion of a wider upper body
If you have the bust, waist and hips of almost the same size
Choose a dress that defines your waistline and gives you shape.
Go for a dress with fitted bodice, belt or sash to give the illusion of a more defined and slimmer waistline.
Empire waist gown are the best you can choose as they give a curvier definition to the busts. The attention is drawn to the upper part and the rest for the dress falls on the thighs and hips camouflaging their shape.
Pair up a skirt with godet inserts with a fitted bodice top. This emphasizes shapely legs, hips and thighs.
If you have a bulging tummy
To flatten your tummy for the occasion, wear a body shaping underwear.
An empire waist gown will hide the bulges of your tummy while attracting attention on the upper body part.
To create curves and emphasize your waist, wear an A-line dress with boning or a fitted bodice.
While these are some points that can really help you out, the most important thing that will set straight all the problems is your own confidence and comfort. Whatever you wear should reflect that you are the best person who can carry it. If you do not want to show flesh, go for some sober dress with short or sheer sleeves. If you think you have nice legs, wear a cocktail dress, maybe something from the 1950s. You can further add a shawl or shrug to complete the look. Lately, gothic trend too has gained popularity. Pick a vintage style dress which has brocade or may be a layer of black lace over jewel tone satins, purple, green, deep blue or red.
After you have taken all these points into consideration, you are all set to go out and spend your bucks on a nice dress which will not only make you look pretty but also make you feel one. To help you out further, we have chosen a few dresses for you. Go through these and find the best one that suits you:
1. White embroidered organza gown
Price: $296.00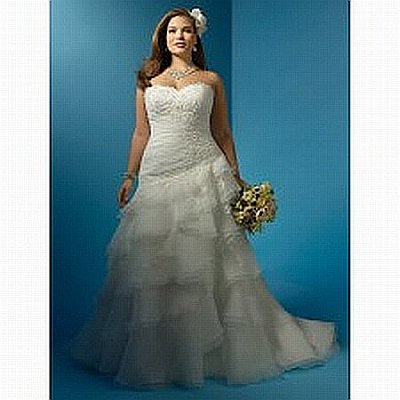 This stunning white dress will take the lime light away from the bride. You are sure to look like a princess who just stepped out from a 'four horse drawn chariot'. The A-line will flatter your body and give it a shapely look. It features a gorgeous tiered organza skirt and a lace bodice which is beautifully and delicately embroidered.
USP
The stunning vintage look is enough to make anybody fall for it.
Pros
The sweetheart neckline has been very sweetly and softly cut and looks very demure.
The entire look is very feministic.
2. Lacey short bridesmaid's dress
Price: $216.00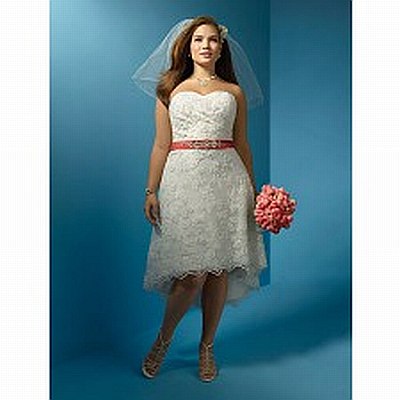 This lacy short dress looks very chic. The dress features stunning beadwork and a universally approved sweetheart neckline. The waist is close fitted to give the hourglass fitting. The sash which adorns the waistline has bead work on it which is handcrafted. The contrasting color of the sash and the gown looks stunning.
USP
Exquisite work of crystal beading, pearls and sequins which cover the whole gown and an asymmetrical hemline for a unique look.
Pros
The zip up back ensures that it is as closely fit to your body as possible. It is fully lined too for a clean look.
If you have nice legs, this is the dress to wear and flaunt them.
3. Hand beaded taffeta gown
Price: $252.00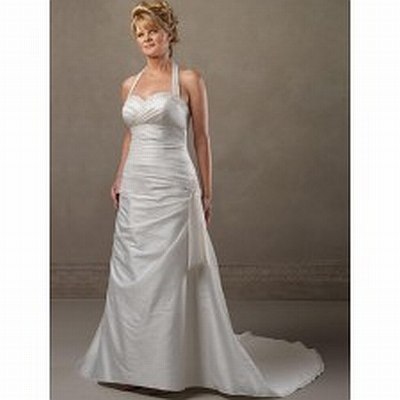 This lovely gown looks elegant while at the same time exuding sensuality. This gown is in taffeta. A full length skirt hangs effortlessly down to the floor. The dress features a chapel length train so that you can walk like a princess while still being at your comfortable best.
USP
A sweetheart neckline is best to define your feministic aura. Topping it is rich hand beaded halter strap that falls over your shoulder like a magnificent piece of jewelry. The beaded lace is accentuating the beauty of the neckline.
Pros

Empire waistline is one of the dress's biggest assets with a surplice bodice.
The pleats are asymmetrical and look very lovely and elegant.
The A line silhouette of the dress will balance heavy hips.
4. Strapless plus size taffeta dress
Price: $259.00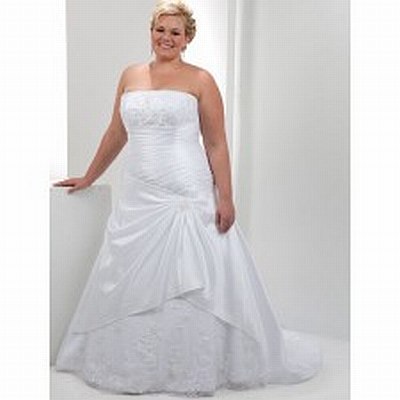 The dress is in taffeta and is strapless. A modest one, it dares to look bold and different with a side gather and a beautiful beaded lace. This dress is for the bridesmaids who would like to experiment with the traditional look of a classic gown while still holding on to the basics.
USP

Spectacular side gather looks awe inspiring. The bodice is delicately pleated to break away from the monotony of a plan one.
Pros
The gown looks very feministic with all the detailing.
The whole gown displays three major styles combined in one. A pleated bodice, side gather and plain embroidered skirt. For those, who think one is not enough.
5. V neck embroidered gown
Price: $252.00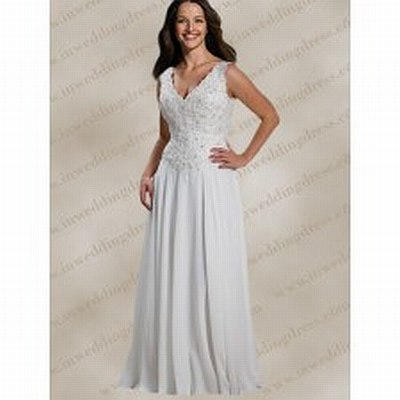 A simple and sweet gown for those who want to go for embroidery however, with minimum detailing. This dress is best suited for summer weddings. An embroidered lace bodies lifts up the style of the gown.
USP

V neckline and V back are great for any plus size bride. You have broad shoulders and narrower bust or heavy bust but narrow shoulder or both heavy shoulder and bust, this neckline knows no rules but to make the wearer look gorgeous.
Pros
For vintage lovers, this gown reflects a modest vintage style.
The zipper back is hidden with decorative buttons.
The sweep length train allows you to walk comfortably.
6. Strapless chiffon gown
Price: $228.00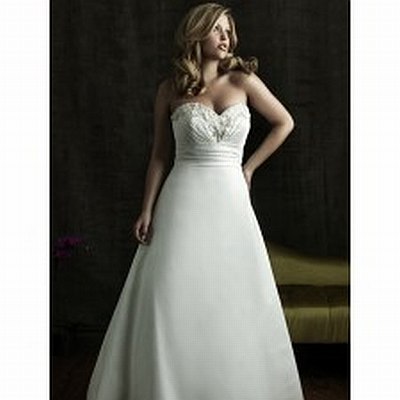 A sleek and sober gown in chiffon is all you need to conquer the gazes. This strapless gown features a sweetheart neckline. The bodice is pleated and beadings and appliqués run through its edge.
USP
Empire waistline to make your body look curvy and well shaped. The waistline is defined by a pleated sash.
Pros
A-line is a feature which balances every type of body.
It has a back zipper with hook and eye closure. The zipper ensures that the dress hugs your body as perfectly as possible, exuding a curvy figure.
If you like simple elegant dresses, wear this for the event.
7. Off shoulder bridesmaid dress
Price: $192.00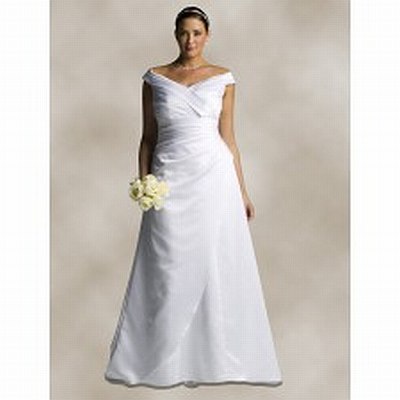 The dress looks simple yet modest and elegant. The details are flattering and put across a very calm and serene look. The gown is fully lined and has a zip up back.
USP
With minimum detailing, you can accessorize it with bold flattering jewelry. This will take the attention out from your heavy figure and instead divert it to your face and shoulder area.
Pros
The side drape has a slimming effect on all types of body. Moreover, it also looks stylish.
A–line silhouette, as we have already told you further balance any sort of body, be it heavy on bottom or narrower.
8. Chiffon dress with sweetheart neckline
Price: $228.00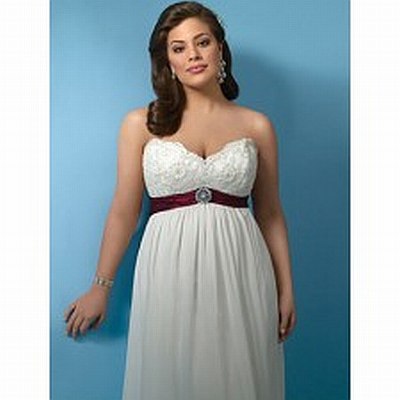 Another dress which is simple yet elegant. The dress is in chiffon and features a modified sweetheart neckline. The modified neck looks lovely and unique. The back has zip up closure and is fully lined.
USP
A beautiful combination of maroon beaded band and white dress. A rhinestone medallion sits at the middle of the band that crosses over the midsection.
Pros

The bow at the back gives a feministic appeal.
Soft petals fall over the A line skirt.
A chapel train looks beautiful and at the same time is comfortable enough to carry.
9. Charmeuse satin gown
Price: $210.00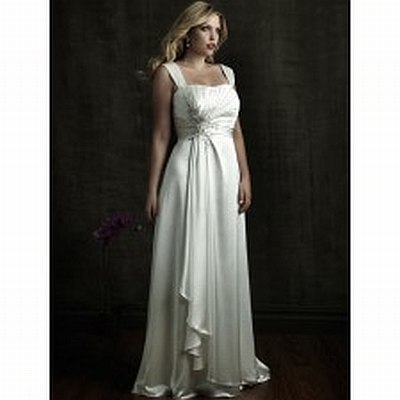 A beautiful plus size gown. When you wear one and walk with the bride you can almost be sure of stealing her share of gazes. The gown has slightly scooped neckline and the gorgeous straps are in charmeuse satin. The back zipper is hidden and has a hook and eye closure.
USP

The empire waistline is the best waistline a plus size bridesmaid can sport.
Pros

The waistline which is asymmetrically pleated looks unique and puts forward an interesting fashion statement.
The structure of the gown is such that it flatters all body types.
10. Satin and lace bridesmaid dress
Price: $199.00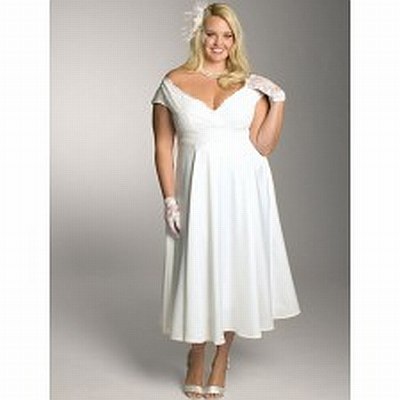 This tea length gown has lace work and made up of luxurious satin. The grace of this dress will speak for your beauty. The dress is fully lined.
US
The dress is funky yet trendy. An awesome mélange of the two terms. A gorgeous off shoulder neckline with empire lace bodice makes for an interesting and appealing combination.
Pros
The A-line silhouette with tea length skirt will work well to give you a slimmer silhouette.
You will look like a playful dress who is charming and sophisticated.