Choosing a perfect wedding gown is not an easy task, it takes loads of efforts and research to find a perfect wedding attire that looks great and compliment your body type. The number of styles of wedding gowns available are unimaginable. Since wedding is a very special occasion, it is important for the bride to look breath taking, she can not afford missing out on a gorgeous dress which she can buy. Long sleeve wedding gowns are quite a rage, credit goes to the royal bride Kate Middleton who wore a gorgeous long sleeve gown on her d-day. Below is a list of ten stunning full sleeve wedding gowns which are quite affordable and versatile.
1. Kate Middleton Inspired Gown 2 Cathedral
Price: $960.00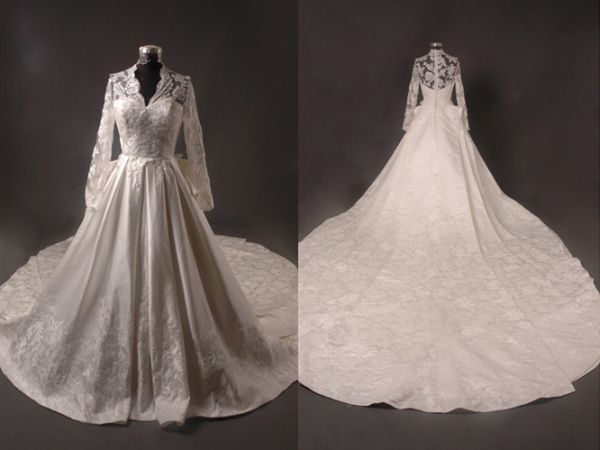 The Kate Middleton inspired gorgeous gown-2 cathedral. This is one of the most elegant and versatile wedding gown which you can opt for. Experiment with the vintage classic look by wearing this stunning gown for the d-day. Nobody can decline the fact that Kate Middleton looked stunning on her wedding day, her wedding gown was hugely appreciated by people around the globe. This cathedral gown has its inspiration drawn from the amazing gown which Kate Middleton, the royal princess wore for her wedding. Feel like a diva by investing in this beautiful long sleeved gown and be sure to turn heads. Play safe with simple hair style and makeup. The gown itself is so amazing that nothing will be able to let you down. This gown has a cathedral length train. As per your need you can get custom attached train or the detachable one. The fabric used in making this gorgeous gown is exquisite. Hand embroidered lace and splendid Duchess satin adds to the grace of this beautiful attire and make you feel like a princess.
Product USP
The USP of this beautiful gown is that it has its inspiration drawn from the stunning wedding gown which Kate Middleton the royal bride wore on her wedding day. You will feel extremely privileged in this gown and be surely be the talk of the town.
Pros
The cut and length of the gown is perfect.
It will look good on women of all body types.
You will stand out with a gorgeous vintage look.
2. Chelsea
Price : $499.00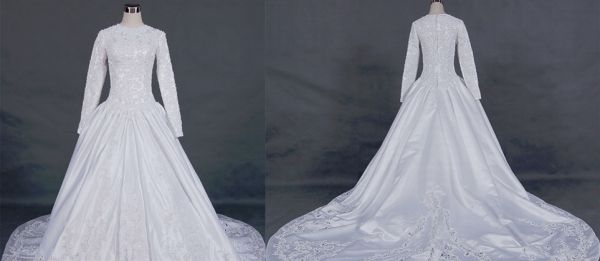 The Chelsea gown is surely one of the most alluring wedding gown you would have ever seen. This long sleeved gown will turn you into an elegant bride. The designer of this gown offers you to choose from two beautiful colors- ivory and white. You can choose any color and look like a perfect bride. The gorgeous self embroidery on the top looks very classy and chic. Detailing on the edges of the gown at the bottom attracts a lot of attention and looks ravishing. The whole gown is a perfect package for the bride to be. Feel like a princess in this wedding gown which has stunning jewel hand beaded neckline. The basque waist looks very sophisticated. You ill look like a bride straight out of a fairy tale. Sumptuous Duchess stain used fir the skirt looks very desirable. The back of this wedding gown is a cathedral length train with loads of hand beaded lacework. Chelsea is a timeless classic wedding gown which will turn a simple looking woman into a fairy tale princess. Be sure to turn heads as you walk down the aisle.
Product USP
The USP of the very gorgeous Chelsea wedding gown is its beautifully intricate hand beaded lace on the train, neckline and the flare of the skirt. The gown looks very rich and sophisticated.
Pros
You can choose from two gorgeous colors.
This wedding gown is timeless.
3. Kassandra
Price: $499.00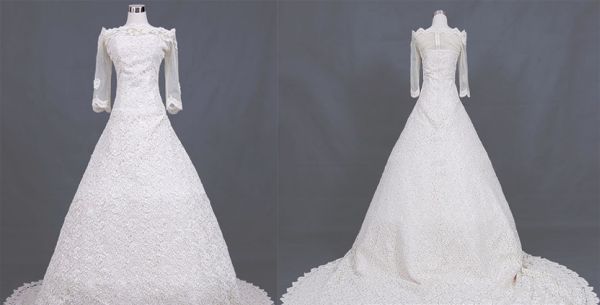 The Kassandra is a beautiful lace wedding gown meant for the princess in every women. Be sure to steal the heart of many at your wedding. This beauty is available in three full of life colors which include ivory, champagne and classic white. The work on this gown is simply breath taking and looks very chic. If you are a fan of Audry Hepburn, this is the perfect wedding gown for you. The price of Kassandra is quite affordable. The 3/4 length sleeves give this gown a vintage twist. The off the shoulder neckline is perfect to show off your gorgeous collar bones. The outfit is perfect and there is nothing about this gown which you will not like. Kassandra is a beautiful all lace wedding gown, it surely is one of its kind. You can be sure of looking exquisite on your wedding day wearing this ravishing gown. The dress also has a superb A-line silhouette, it thus clings perfectly to a women's body and make her look like a fashion diva. Sparkle is added to this dress with some subtle hand beading. The Chapel train and gorgeous hemline makes Kassandra a dream outfit for every bride.
Product USP
The USP of Kassandra lies in its gorgeous hemline and magnificent Chapel train which looks extremely chic. The beautiful lacework add to the charm of this outfit.
Pros
All over lace work gives this gown an exquisite appeal.
The Chapel train looks distinctively unique and will catch many eyeballs.
4. Dina
Price: $499.00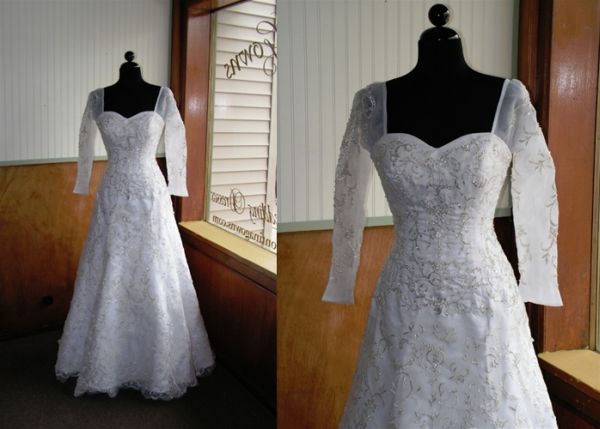 Feel like a queen in the gorgeous gown called Dina. This is one of the finest on trend full sleeve wedding gown for you to choose for. It looks inspired from the 1960s. This enchanting gown ends your search for a beautiful long sleeved wedding gown. The sleeves are however detachable, so you can turn this gown into a strapless wedding outfit in no time. Dina is one of the most alluring two piece wedding gown you can find in the market. Dina has a classy heavy embroidered Chapel train. It looks breathtaking and compliments the bride perfectly. You can never go wrong with an outfit so royal and chic. Dina is available in white and ivory color. Subtle platinum embroidery all over the gown makes it highly vintage looking, the gown shows the dedicated craftsmanship and designing mastery. What makes this gown click is its beautiful neckline which will definitely perk up looks. This gown is totally worth the price, you need not think twice before buying this glamorous wedding gown.
Product USP
The USP of the very gorgeous Dina is its beautiful all over platinum embroidery which gives it a 1960 appeal. Beautiful fabric and stunning embroidery makes this wedding gown an instant click.
Pros
The color and embroidery of the gown go hand in hand and looks extremely chic.
This full sleeves wedding gown will make you feel and look like a queen.
5. Faith
Price: $499.00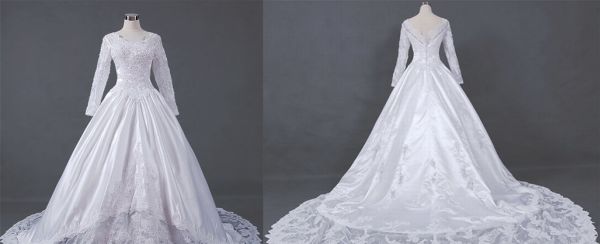 The very name of this pretty wedding gown tells you to have faith and buy it in order to look breath taking on your d-day. Faith is a beautiful wedding gown which has long sleeves. It looks very rich and chic. It instantly ends your search for a perfect long sleeved wedding outfit. Classic hand beaded neckline along with basque waist which accentuates your figure is a perfect style for a wedding gown. his gown looks pretty much like a ball gown with puffed up skirt. The skirt has lovely lace overlay cut work and is made of of the rich Duchess satin fabric. The cut work is one of its kind and looks very appealing. The back of this perfect wedding gown is a trendy cathedral length train which has lace overlay work. This gown is a timeless classic and is available for you to buy in white or ivory color. This gown will not let you down, you just need to lay a little faith in it .
Product USP
The USP of Faith is its awe inspiring gorgeous lace cut work. The work is unique and looks very stylish. For the bride who does not want to make any compromise, this is a perfect wedding day outfit.
Pros
This lace work is amazing.
The cathedral length train looks very indigenous and classy.
6. Lydia
Price: $449.00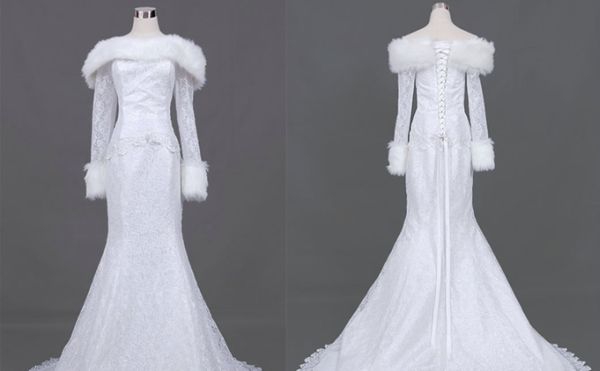 If drama is what you are looking for Lydia is the perfect wedding outfit for you. Break the monotony of simple wedding gown and opt for this stunning lace wedding gown. The full sleeves give you a chic vintage look and compliments a winter wedding perfectly. The off the shoulder style looks very smart and trendy. What adds to the charm of this alluring gown is the faux fur trim on the end of the sleeves and the neckline. It adds to the royal appeal and makes the gown all the more desirable. For the modern bride this is the perfect wedding outfit, just keep in mind to carry it off with elan. Lydia has unique looks and exquisite feel. It is simple and dramatic in the very same instance. The flare silhouette hangs perfectly onto the women's body and looks super sexy. All over lace overlay work adds to the grace of this wedding gown making it all the more beautiful. The fit of this gown itself is quite dramatic. The subtle beading work on the lace looks very classy and goes well with the hemline. Lydia is definitely one of the most unforgettable wedding gown, you can not miss out on the beautiful semi Chapel length train which works as a heart throb.
Product USP
The USP of Lydia lies in its beautiful neckline and silhouette flare. Be the perfect looking bride with this perfect winter wedding gown.
Pros
It is perfect for a winter wedding.
The faux fur trim looks very appealing.
7. Capriana
Price: $499.00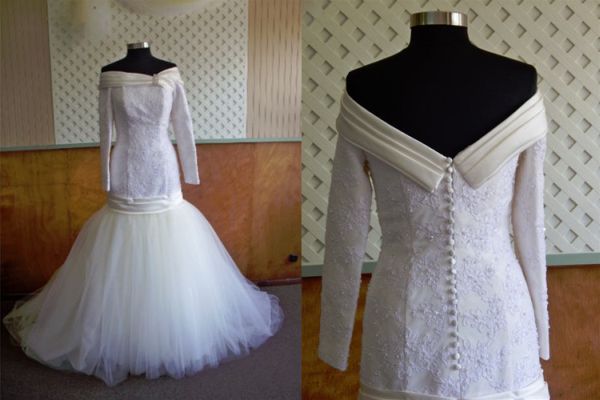 This is one of the most trendy long sleeved wedding dress. The off shoulder neckline looks very sexy and appealing. It has a detachable brooch accent which adds to the grace of this stylish dress. The drop waist lace bodice looks stunning with subtle hand beading work. The soft netting skirt has seven layers and makes you look like a fairytale princess. The Chapel train gives requisite amount of class to the outfit and make you turn up like a perfect bride. Capriana is available in three trendy colors- white, champagne and ivory.
Product USP
Seven layers of soft English netting gives perfect puff to the skirt of the beautiful Capriana. It makes you look like a perfect princess.
Pros
The net skirt looks stunning and compliments the body of a woman.
The neckline is quite dramatic and alluring.
8. Helena
Price: $379.00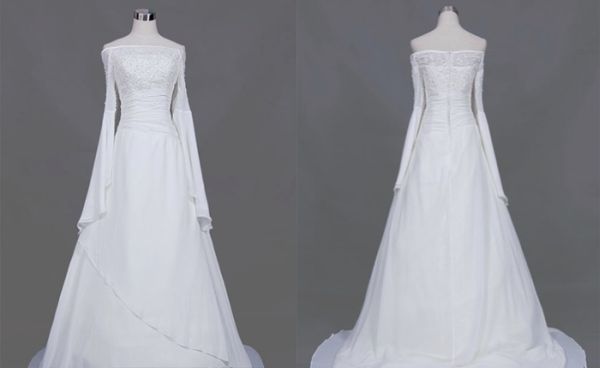 Travel back in time with the superbly amazing Helena. This is one of the most alluring wedding outfit you can choose for. It is very affordable and looks super classic. For those who like to keep thing simple yet effective Helena is the perfect wedding outfit. The lovely long sleeves look very graceful and add to the overall charm of this dress. This dress has a renaissance feel to it. Jewel hand beaded neckline of Helena looks spectacularly amazing along with the chiffon ruched waist. This dress works well for women with any body type, the A-line silhouette is quite flattering. This outfit is available in white and ivory color. he semi Chapel train completes the beauty of Helena.
Product USP
The USP of Helena are its extra long sleeves which have a renaissance feel to it. They look very lavish and charming.
Pros
Helena goes well with all body types as it has an A-line Silhouette.
The work is subtle yet attractive.
9. Orthelia
Price: $379.00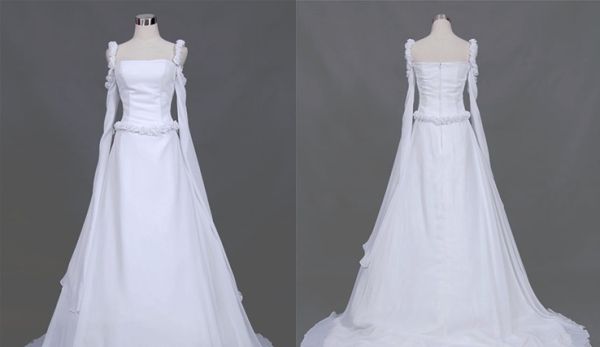 For the modern bride Orthelia is a perfect wedding dress. It looks spectacular with extra long sleeves and straight neckline. The chiffon textured waist has unmatched appeal and will definitely click. Flattering A-line silhouette goes well with any body type and looks utterly charming. Orthelia ends your search for a long sleeved classic wedding gown with the very first look. The extra long sleeves are well complimented by the semi Chapel train of this wedding gown.
Product USP
The USP of Orthelia is its beautiful long sleeves and chiffon textured waist.
Pros
This outfit goes well with women of all body types.
The color is quite alluring.
10. Deliana
Price: $399.00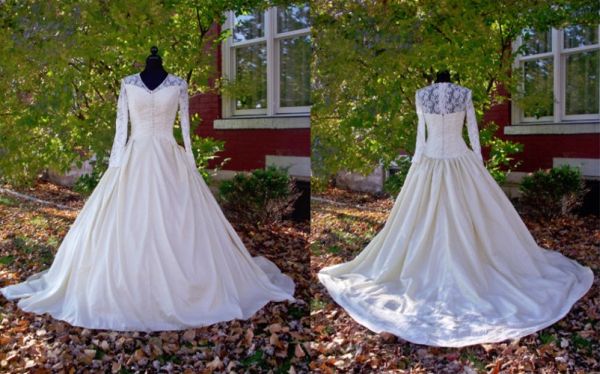 Looking for a regal looking wedding outfit? Deliana will end your search almost instantly. This wedding gown is one of its kind and looks dashing. The beautiful long sleeves look very graceful. Deliana resembles a ball gown in many ways. Stunning lace bodice looks very appealing with the covered button. You will feel like you are wearing a gorgeous jacket. The skirt has heavy back gathers and side pleats. The dress is completed with a Chapel length train.
Product USP
The USP of Deliana is its beautiful ball gown appeal, it does not make you look heavy vut still justifies a perfect ball gown look.
Pros
The jacket like bodice is quite attractive.
The price is quite affordable.