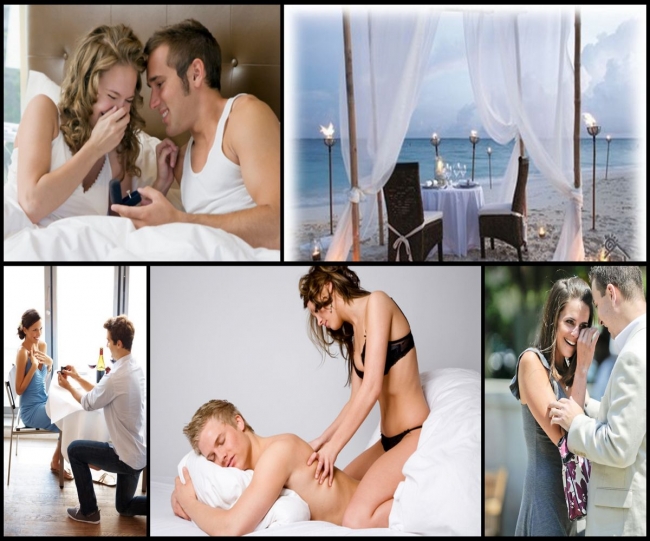 Proposing your girl is a real big milestone in your relationship and this highlights the entire bond. And, the emphasis is always on making that perfect proposal which will be remembered for a life time by those involved in it. This is the most important moment for both of you, and it could be terribly upsetting and taxing to mull over the best way you would like to do.
So, go ahead, touch her heart and make things special to her with these unique ideas. To start with, make a list of all the things she likes and dislikes like her leisure pursuits, passion, disappointments and everything little thing you know about her. Find something which is unique to her. Take a walk into your memory lane and think back on those special moments in your relationship that are really treasured by her and use it to create a great marriage proposal idea.
Here are a few tips to assist you during this memorable moment.
1. Get in the surprise element
Bringing in the surprise element is a great way to pop that most valuable question. You need to take her to a place, somewhere she always wanted go. Make sure the destination is a surprise and the proposal is kept in wraps for as long as it can be. And, once you are there, surprise her don't talk about the proposal till the time you plan to leave the place. Once your return is planned gift her with a "memento" of the place and when she opens it, she'll find an engagement ring inside. This proposal will make her so happy because the surprise is preserved till the end and it slowly unfolds before her.
2. Cook your way to her heart
Rather than taking her out to an expensive and luxurious restaurant, try proposing to her over a lovely home cooked dinner which you have affectionately prepared. Your woman would appreciate your hard work and planning. And apart from this proposing this way allows you to be more lively, imaginative and creative. Some cool places to hide your ring would be a champagne or wine glass or be more innovative and hide it inside the dessert. This surprise is sure to charm your fiancee as any woman would love to know that her man can cook some good food.
3. Go in for a sensual massage therapy
Give each other a sensual massage and at the end of the massage session slowly slip in the ring onto her finger and pop that question. The setting, timing, passion and emotions here are just perfect to pop that ultimate question and it would surely make her go weak in the knees.
4. Puzzles are a great way
Put your proposal on a blank jigsaw puzzle kit, break it up and make her solve it. You can also opt for a complex jigsaw puzzle, if she loves to solve a puzzle. She would enjoy cracking the message and like what she sees there in the end. A true way to unravel your mysterious message.
5. Put it into an act
This one is probably a little unusual, unforgettable and requires a great amount of planning. Arrange one of those mystery weekends where everybody including your common friends are playing their roles. And the climax of this skit would be arranged in a way that your bride-to-be would be standing there astounded. Play some romantic music to go with this moment. Or just plan a get away with a group of friends and pop the question. I bet she'll love it.
6. Go for a romantic horse ride
If you both love riding horses and are skilled riders, then rent a pair of horses and go on a long ride to a far-flung picturesque location. Explore different locations or rediscover your favorite spots. This can be anything from a quaint meadow, to a lake on the country side , a picnic spot, zoo, or any other location. Once here pop the question and she is sure to be overwhelmed by the sentiments in this romantic gesture and the companionship she would get with you.
7. Say it with chocolates
Chocolates are a natural way to say sweet things. Buy her favorite box of chocolates, and swap a chocolate inside the box with the ring. And when she finds it, go down on your knees and present the proposal to her.
8. Write it in the clouds
Writing in the sky may look old fashioned but is still considered as a passionate way to propose. You can have a personal and exclusive marriage proposal or proclaim it to the world by flying a banner with that million dollar question.
9. Propose at an entertainment venue
If you do not like to exhibit your love and prefer going to clubs and parties instead, think of hiring a vocalist or an instrumentalist to sing it to her on your behalf. This needs you to plan the event carefully. Otherwise, try proposing in other unique ways like at the magic show, pet show or any other entertainment place.
You may even ask the singer to sing the proposal on your behalf and drop onto your knees to find out the answer.
10. Make her feel truly loved
A traditional woman would appreciate a grand romantic proposal and if it is popped out when her near and dear ones are in close proximity would only make it more special and memorable for her. She will be overcome with emotion and this gesture would make her feel truly loved as you share this memorable moment with her folks and dear ones.
11. Christmas time is just perfect to propose
Christmas time is ideal to put forward your proposal. You can hang the ring box on to the Christmas tree or wrap it as a huge Christmas gift for her. You can make this moment unique by springing in little surprises, like wrapping the ring box in larger boxes to fool your sweetheart about the contents inside the box. This hilarious idea is sure to pack in lots of memories for both of you.
12. Proposing the inexpensive way
Proposing the economical way is possible, as money is far less important than the love and effort you put into the proposal. For this you need to use up your personal talents and perhaps write a song or poem for her or paint her a beautiful picture. The other inexpensive way of proposing to her is to take her to a place, probably the one where both of you had the first date, or to that same park or beach where you first met and ask the question.
13. A romantic dinner date
It may sound a little old fashioned, but every woman loves an elegant, romantic dinner with all the surprise elements like her favorite a bouquet of flowers, champagne, candles, and special effects. You can also ask the musician to play your song as you propose to her. Make sure you inform them in advance, and get their guidance on the best way to propose in their restaurant; possibly a proposal written on the plate which the waiter delivers along with the ring would be a great idea.
14. Create a trail to your proposal
Create a trail to the engagement ring by scattering petals or by using petals to pop that magical question, "Will you marry me?" You can also use candles to trace the path of your proposal. Or if it is winter and there is snow on the ground, pack the snow into little letters, or take a squeeze bottle filled with colored water, and spell out the proposal to your sweet heart.
15. Use the mystery technique
Let your sweet heart solve the mystery by herself, place small sweet notes at different places around the house. In each place, write something that you love about her and a clue to find the next note. End the mystery with a last note which says "now you know why I want to spend the rest of my life with you". And pop that question.
As you know, planning a marriage proposal is a real big deal and the fact that you are making a lifelong commitment makes it even more special. So you should take all the necessary precautions to make it special.
While everyone has different likes and dislikes. We all know that there is only one feeling which would make us feel alive and that is 'love'. So, if there is no love , then you're dead and this would want you to make your proposal to sound extraordinary. Following these fifteen tips listed above is the right step. And these unique ideas would help you and give you an opportunity to express the love you have within you for your bride to be.
So, go ahead and propose with these incredibly unique and creative ideas…..