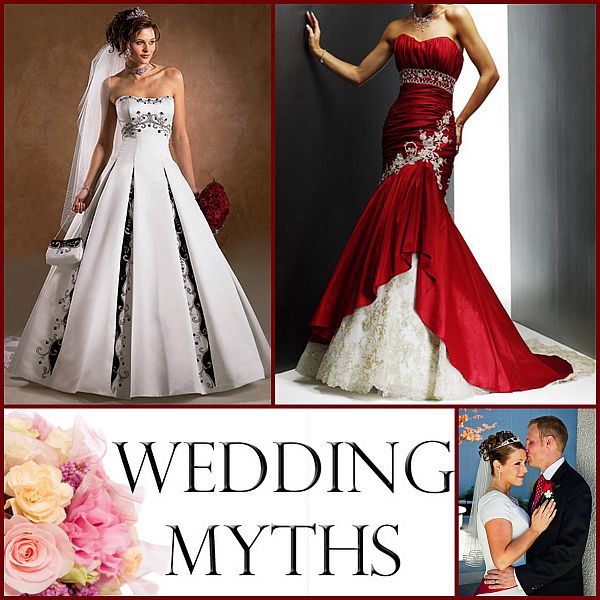 Weddings are no doubt the most important part and event in a person's life. It is such an occasion which just has to go perfect regardless of what happens. Women on one hand stress about everything and anything when it comes to wedding's as the pressure gets the worst of them. A groom to be hardly has much to worry about as it is not their cup of tea. Some weddings hold myths which unnecessarily add more oil to the fire. Along with the excitements comes some rules which you designate, either by some outsource information or past experiences going on from generation to generations. These myths have no factual basis but most of the couples to be married get so much influenced that they cannot ignore them. Take a look at some such myths compiled together just for you.
1. White dress is compulsory
The first thing that comes into your mind whenever you think of a marriage is the image of a bride dressed in white from top to bottom. However, not everyone is very much impressed by the concept of the veil and the big white dress but they follow the same tradition as it is considered to be compulsory. But to everyone's surprise it is nothing more than a myth. Instead of a white dress, you can opt for different colors like dusty blue, blush pink, buttery yellow and many more. The wedding dress is your choice, nobody else's. You could wear what goes with your theme of the wedding too.
2. Doing everything by your own will lead to an economic crisis
Sometimes making all the arrangements by your own does not work out to be the cheapest route. Your budget seems to be increasing with every passing day. Therefore it's always better to do a thorough research before taking all the responsibilities on yourself. It is always better to have a wedding planner around so you know that what you are going in the right direction. You should not be hasty about any decisions you make. Start planning at least 5 months in advance so you know that everything will go as planned. Take it easy.
3. Wedding planning services are expensive
From the time when wedding planners started organizing these events, it has been considered that hiring them is way too expensive. But the reality is just in contrast with this opinion. Not only can a wedding planner help you in keeping everything organized but also a wedding planner can end up with saving you a lot of bucks and keeping your budget on track. The reason is that the wedding planners work closely with rental companies, florists and other vendors hence they have an easy access to industry discounts.
4. Groomsmen and bridesmaid should be of the same number
This is again a myth which has been prevalent in the society for generations. There is no hard and fast rule which dictates the above opinion is true. The most important thing is that everyone whom you consider an important part of your life gets an opportunity to be a part of this event too. It does not matter that you must have the same number of both bridesmaids and groomsmen. It has n ever been termed as important. It does not even matter if you do not have either.
5. Cheesy music
It often happens that you avoid hiring a DJ because it seems that they play outdated and cheesy music in such events. However, this is not true. You can guarantee a playlist that everyone will love. All you need to do is to talk to your DJ about your choice of songs and instruct the DJ of those songs or type of music which you'd rather not like to hear.
6. Invitation does not include an extra guest unless specified
Never assume that you can bring your date along with you to your friend's wedding unless your wedding invitation includes a phrase like "and guest". Couples have to work within restrictions of a budget and space and you are nothing even close to helping them by expanding their guest list. You could also ask the couple if you are allowed to bring anyone along with you. If it is a special invitation for you , you are bound to be told.
7. Friends and wedding vendors stand differentiated
If you are of the opinion that hiring your friends in place of professional wedding vendors will end up with same outcome then you can't be further from the fact. For instance, even if your friend has brilliant photography skills then also he will not be able to give you the same result on your wedding day as given by a professional wedding photographer. Therefore its always better to take the services of a professional.
8. Attending a friend's wedding does not force you to invite that friend to yours
It's really not necessary to invite someone on your wedding just because you have attended their wedding. You are free to choose your guests and don't be forced to include people and make your guest list lengthy. This will only increase your budget. It is not a stated fact or a written rule that you have to invite all those who have invited you to their wedding. Acquaintances are not required at weddings and it would not matter to them either.
9. Couple pays for guest accommodation
Paying for the accommodations of the guests is a gesture of good hospitality of the hosts. However, this is not compulsory. The couple need not pay for the guest's hotel, no matter how far the guest has traveled to attend their wedding.
10. Dropping the wedding ring
This is one of the most contradictory wedding myths as it has both positive and negative aspects. On one hand it is said that who ever drops the wedding ring first is the first one to die whereas on the other hand dropping the wedding ring is considered to shake out the evil spirits.