Wearing hair flawlessly is always a matter of concern for brides. Whether you choose to have your hair done, up or down, it is really important to accessorize your hair to induce instant appeal to your entire silhouette. From stunning headbands to trendy barrettes to even vintage inspired embellished veil, each hair accessory helps define a bride more exquisitely. Discovering an accessory that will perfectly compliment your hairstyle is really daunting especially when being a bride, you have other bridal aspects to look at. Therefore, to make your work less struggling, we bring ten most stylish wedding hair accessories you could try out at your wedding day.
1. Ribbons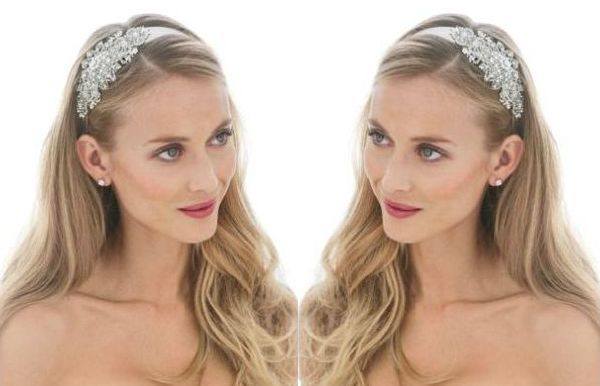 A ribbon headband can be used as an alternative to a traditional headpiece. These ribbons can be tagged as the elegant version of your classic headbands. Accented with stunning pave crystals, this ribbon headband comes in floral rhodium side motif. Wear it out to exude immense femininity!
2. Feathers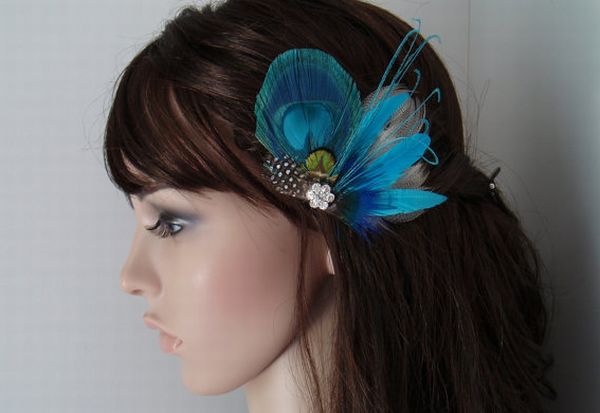 Looking for something that will beautifully define your style, then try out this glamorous turquoise peacock feather hair clip! This hair clip is embellished with grey, guinea, iridescent blue and aqua feathers with its center accented with a sparkling rhinestone jewel. The amazing amalgamation of vibrant colors will ooze out your fun side.
3. Hats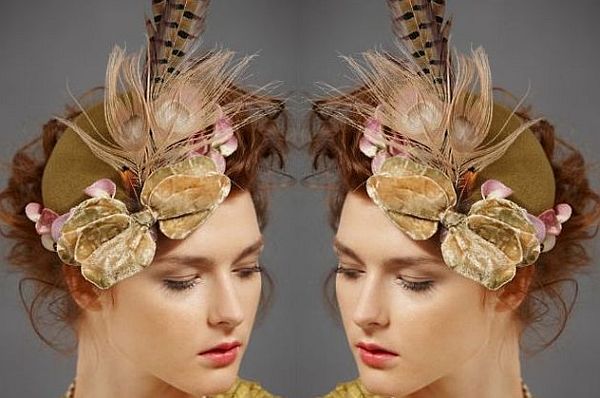 The brides with a taste of elegance will definitely love to complete their wedding ensemble with this swing step hat. This bridal hat by James Coviello features a mossy turban, a vintage velvet flora and on ombre bow. If you want to induce your touch to this classy hat, you could also combine flowers or feathers around its bow .
4. Bows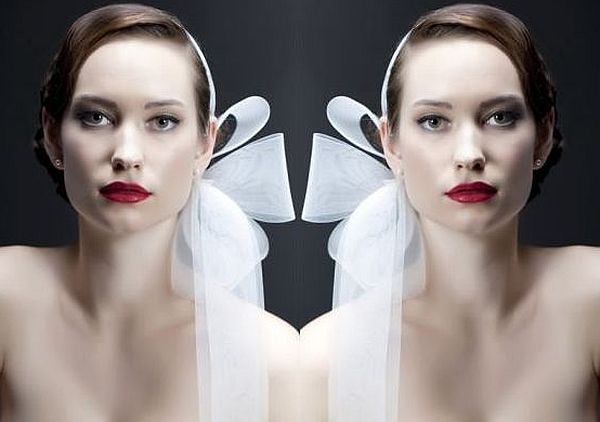 This adorable bow is made entirely from horsehair ribbon and is accented with sparky Swarovski rhinestones. This pretty bow is developed in an avant-garde style to complement your wedding gown. Cinch it your side as a side bow and add more sophistication to your already sophisticated style!
5. Flowers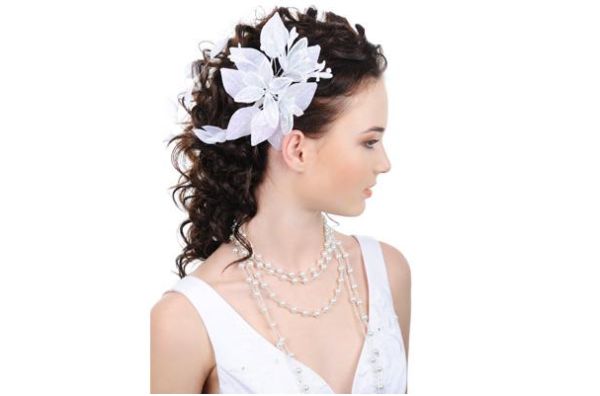 If you want to top off your wedding attire with something close to nature, flowers can help you achieve a complete bridal silhouette. Seek a florist and select a single delicate flower or a whole bunch of blooms that will work with not only your hairstyle, but also with your dress and shoes.
6. Blushers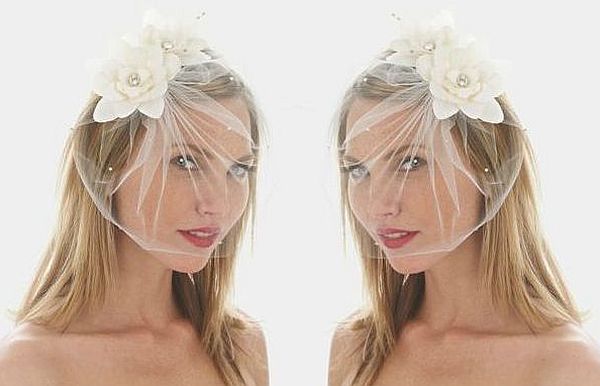 For many brides, wearing a veil on her special day is a great deal. If you are also like them, then instead of trying a traditional, boring veil, try something new and fancy like a blusher. Blusher is a trendy alternative to classic veil. This beautiful detachable blusher lends a fresh yet elegant look to a bride. It features sparkling rhinestone at the center with the facial blusher attached from the behind. It is available in ivory color only.
7. Headbands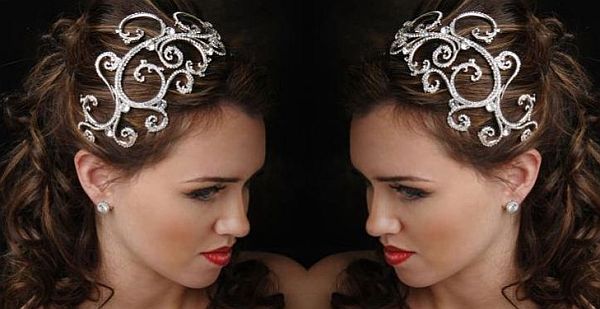 Headbands share an undeniable relationship with the brides as no matter how hard one tries not to wear them, a bride cannot go on without it. Whether you are trying an updo or keeping your hair long and layered, headbands are not only perfect for wedding but they also support your hair to stay at their place. This asymmetrical crystal swirl headband features studded sparkling stones and will surely work with any hairstyle you will choose.
8. Tiaras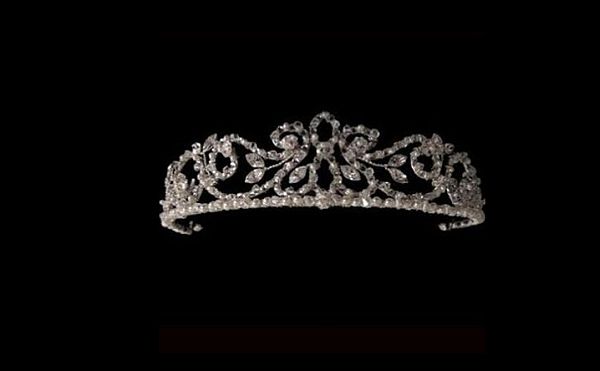 Who doesn't want to look like a princess on her wedding day? And there is no better way to do it than actually putting on a tiara. This elegant tiara by Klienfeld bridal is absolutely beautiful and will go with your wedding gown easily.
9. Hair pins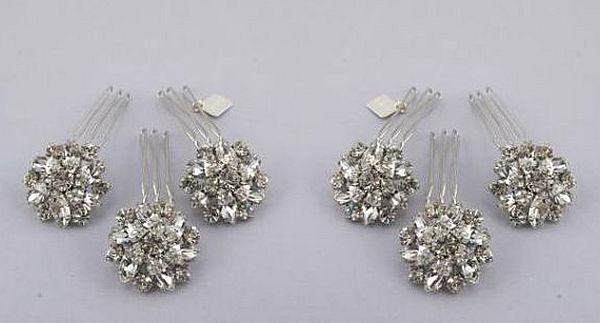 These hair pins look slightly like any ordinary bobby pins, only these are an upgraded version with lots of accentuation done. They are perfect accessory for your hair to include more class and taste to your wedding up-do. These Elizabeth combs are designed by Sara Gabriel and are adorned with vintage rhinestones. They are usually sold in sets of three or five and could be purchased from your local jewelry stores.
10. Hair combs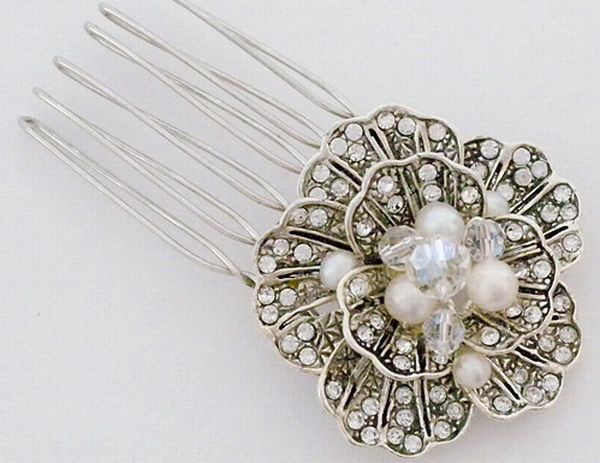 Just like the hair pins you saw before, these hair combs are an important accessory to feature a bit of elegance to your wedding outfit. Wear this hair comb sideways for a more enhanced look. These combs by Laura Jayne Bridal Fleur are available alone or as in a set of three.