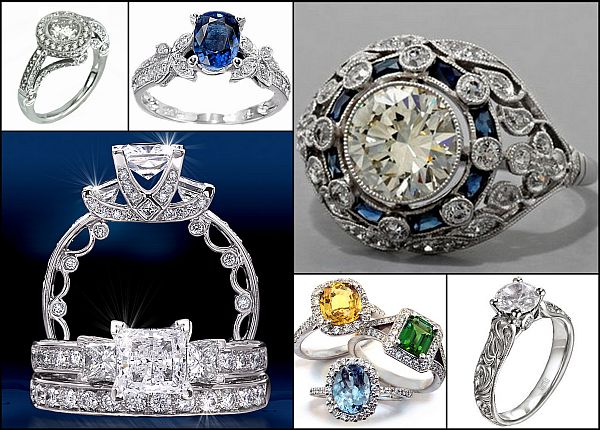 Your engagement ring is a symbol that ties you in a nuptial bond with your better half. Look for a ring which is as special as your love and that you can cherish throughout your life. So when it comes to your engagement ring, it is extremely important to choose the one that will make your partner feel special and overwhelmed. Buying a ring for fiance is telling her that you are ready to be bound in that commitment to be with her for a lifetime. It is supposed to be sacred and the ring should be special and really a ring which would bring a smile to her face everyday. With a plethora of engagement ring options available in the market, you might just get confused. So here's some help!
1. Colored diamonds
While white diamonds are common, colored diamonds are rare to see. Thus, making colored diamonds not only exclusive but all the more charming. Colored diamonds are available in a variety of colors such as yellow, blue, pink and red. These naturally colored diamonds are also called fancies and are quite expensive due to its rarity. You must have seen many celebrities flaunt these colored diamonds. Make your beloved feel special with these rarely available diamonds!
Tip: Engagement rings look really amazing when it comes to adding a little color to them as well. You could have the most stunning colored engagement rings. You have wonderful colors like turquoise blue, aqua greens and yellows. There is a variety you can chose from. Just a blend of clear crystal and a colored stone looks amazing and elegant.
2. Vintage looks
Vintage rings are quite a rage these days. They could either be genuine antique or may just be crafted in such a way. If you are lucky to have an heirloom in your family, grab it to show your love to your beloved. Don't fret if you don't have one, you could get it custom designed at a jewelers shop. Filigree designs are commonly available in vintage rings. Vintage look is a safe option as it will always look trendy and stand out!
Tip: The vintage engagement rings are to die for and you can just not pass a look on a bunch of them. They have been running for years as the saying goes "Old is gold". The more antique something looks the stunningly unique the product. If you have a knack for collectibles then you would go for the vintage engagement rings without doubt.
3. Bezel diamond setting
This is another form of ring you can opt for. It not only looks spectacular but also keeps the diamond in place. A bezel setting has a metal rim that is lipped around the precious gem. It is best suited for women who lead an active lifestyle and comes at a lower cost too. It keeps the precious gem safe and also protects the edges of the diamond from getting cracked or scratched. It also makes the center stone appear bigger, than it actually is!
Tip: Having a bezel diamond ring is yet another great option. These are people who do not like their diamond popping out and it is also more safer to maintain when you are busy person. The silver setting could have anything from intricate designs to a carving of your initials.
4. Engagement-wedding ring combo
If you are running out of time, you could opt for a combination band that will be like a combo of engagement ring and the wedding ring. Combination rings are the latest trend and is very popular among masses. A combo band is generally a diamond studded band with gold and platinum circumferences. These rings tend to have many smaller stones in a line. These are economical options, since it combines both engagement ring and wedding band.
Tip: An engagement and wedding ring combo ring is such a ring that appears to be in two. Part of it is given during the engagement and part on the day of the wedding. It is a combined ring which then look like when when completed. Such rings are a good combo if you cant make up your mind.
5. Engraving
Engravings have become a rage amongst the young couples off late. It is trendy and personalized. The personal touch added with engravings make these rings all the more special. Though the tradition of engravings is old, it has made a comeback and is in huge demand. You can get the name, date, love quotes and much more engraved on the ring. A simple ' I love you' too can be very special when engraved on an engagement ring. These rings are to be ordered in advance, as it takes time to get the engravings done.
Tip: You always have a lot to say and you cannot. The simplest way to say something is engraving it onto a ring and having your loved one read it every single day. Words are something which mean a lot and cannot just be expressed merely. Find the most beautiful phrase and get engraved.