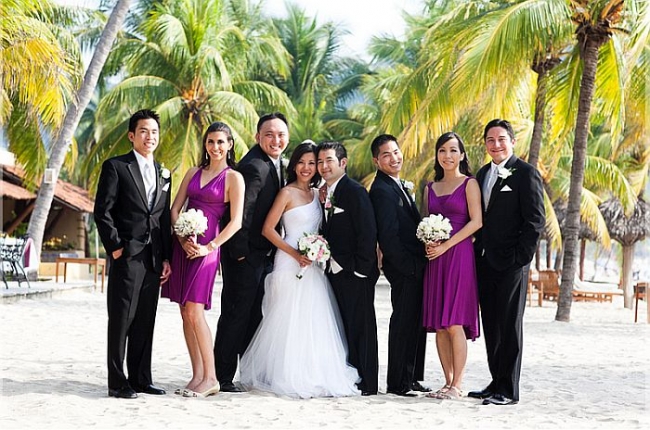 Wedding is one of the most celebrated occasions around the world. Millions of loving couple exchange vows with each other every year with everyone trying to make their wedding a memorable event. But wedding is also the time when couples overspend and go so much overboard on budget that they spend the first few years of their wedded life trying to pay off their debts. So, if you want a comfortable, budget destination, you need to follow some of these tricks to tips to make your wedding day spectacular without burning holes in your pocket.
1. Design a Spending Plan
Before deciding on your wedding destination, decide what your budget is and how much can you spend. Then look out for places that can be your dream destination under that particular budget. You can also surf the internet where you will find a lot of cheap tour booking companies to help you carve out your expenditure and your destination options.
2. The Bargain Spots
All the countries and all the continents have several beautiful places where you can organize your dream wedding and have the most wonderful moments of your life. So, if you can't afford a spot in Europe, try to go to Asia where you can get everything inexpensively custom-made. Opt for cruises for your entire family to go with you. This can save you quite a lot. You can also select a slightly smaller city around a large metropolitan so that you can save on your stay without compromising with the destination.
3. No Weekend Planning

Most of the destination weddings happen during the weekends. Perfect competition during weekend leads to stiff prices and expensive weddings. Therefore, have the wedding lock on a weekday when the competition is low and you can get best deals on the venue and vendors.
4. All Wedding Occasion on Same Destination
Try to combine your wedding and reception at the same location. Chose a honeymoon destination nearby to save bucks. For instance, if you have a wedding in Aruba, chose another close Caribbean island for your dream honeymoon. This way you can save the extra pennies on coming back your home town and then paying extra for flights to a far-off-region.
5. Claim the Discount
Since you are going to have guests on your wedding, therefore, talk to the resort manager or your trip organizer and have discounts. The hotel can offer considerable discounts to the guests as it is interested in getting business. Look out for hotels that provide wedding packages.
6.The Warning
Wedding cards must be sent to your loved ones as early as possible. Destination weddings can be hectic for your friends and family so make sure that you give them prior information so that they can organize their trips and travel plans. You can help them find low-cost airlines so that they don't have to spend too much to come for your wedding.
7. The Guest List
If the guest list is too long then the wedding may become too expensive. So, don't need to invite people that aren't very close to you. Give priority to your friends and family. Also, be kind to your wedding guests and don't expect them to bring lavish gifts for you as they may be already spending a lot to come to your wedding destination.
8. Wedding Planner
Never think that eliminating a wedding planner would give you an inexpensive wedding. Instead it might lead to overspending. Therefore, always have a wedding planner for destination wedding. Do a little research and opt for a wedding planner who can give you desired satisfaction at the amount you wish to spend on your wedding. Also see that you wedding planner must be from the destination so that his/her knowledge, expertise and communication can be a boon for the wedding.
9. Do Things on Your Own
Instead of opting for a hairstylist and a make-up artist for your wedding, do these things on your own to save money on your wedding. You can take help of a friend who is great a hair-styling or ask your sister to do your make-up. You can also surf internet, where you will find numerous websites that offers free tutorials about hair-styling. This way you can save yourself from the trouble of unnecessary spending.
10. Alternate wedding dress
If you are planning to get married at a destination, then why have a traditional wedding gown. Chose a dress that is modern and representative of the place where you are going to tie the wedlock. You can try some local brides wear instead of going for some costly designer gown. And if you are having a beach wedding try a tropical dress to look sexy and contemporary.
Try these wedding tips for a budget destination wedding. And if you ever feel that none of these tips would work then you can always elope with your partner to save money!