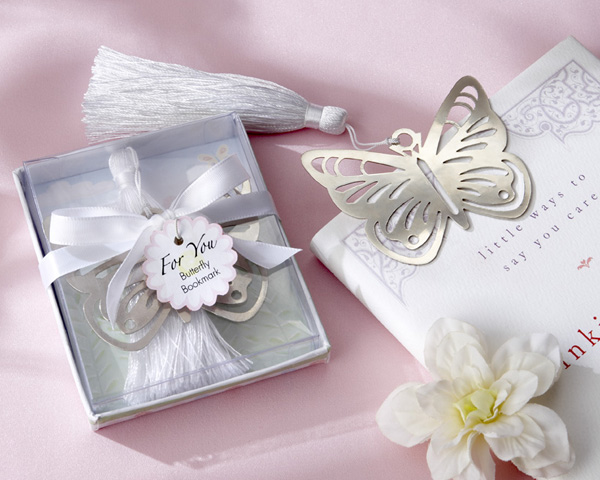 Wedding favors include gifts and ideal techniques in which the bride and groom convey their gratitude to guests for being a part in their marriage. You can also replace them with 'thank you' notes or pictures of the happy couple and at times some donation to any charitable organization. Some people get confused when it comes to selecting wedding favors but if you keep certain important things in mind, you can make the best out of this small gift of appreciation. Here are important some tips by which you can find the best wedding favors.
How to Choose Your Wedding Favors
Wedding favors can include anything. All you needs is to be creative and think what special you can do to make your wedding favor a memorable one with some personal touch. These favors can be a part of the table-setting decorations. But prior to all this you need to decide your wedding theme.
1.Choose favors according to wedding theme
Select a wedding theme that reflects your style, personality or cultural background. A per-decided wedding theme assists in wedding planning and thereby eases the decisions regarding wedding favors, centerpieces as well as wedding decorations. For example if yours is a beach-themed wedding, include things such as beach balls, sea shells or fish. If it is a winter wonderland wedding, use snowflakes, snowmen or snow angels. If it is winter wedding, things like snowmen, snowflakes and snow angels would best serve the purpose. Favors are very important in sharing your affection with your friends and relatives so should be chosen carefully.
2.Various types of wedding favors
Wedding favors are available in different types, such as Edible Favors, including mini cakes, cookies, candies and chocolates. You can also find practical favors, such as bottle stoppers, bookmarks or coffee cups. If you are looking for decorative favors get ornaments, photo frames, vases or candles. Some of the very well-liked favors are a personalized message, pictures or Themed Favors. You can also give Eco-Friendly Favors made from recycled materials.
Well the choice wholly depends on you and your budget. But you can always find great option for favors that can go well with your wedding theme. All you need is to do some search making use of your valuable time and don't be amazed to find out that favors are available at a price as low as $ 0.99 and high as $5.00. So just look around.
3. How to choose favors

Set a budget you desire for wedding favors. Wedding being a multifaceted as well as an expensive event so avoid too much expenses on favors.
a.Consider the colors and items that you can correlate with your wedding theme. For a beach wedding theme, you might consider bright colors, such as blue and yellow.
b.Scrutinize the selection of flowers, dresses of the bridesmaid and colors to find a familiar part tying them together.
c.Compare the prices of various shops for favors. Keep in mind your budget while you are listing the gifts.
d.Go through the list of items you made from the shops. Go for favors that simply states Thanks for your presence in my wedding.
e.Select the favor that can be the best thank you gift. Make sure you place enough order to fit the expected number of guests at the reception.
4.Packaging and Preferences

Most wedding favors previously come with wrappings and nice boxes, but some need packaging done to look presentable to guests and also can be placed beautifully on the reception tables. Well the difficulty always is to find an appropriate favors rather than the right packaging. It's always advisable to have pouches or bigger packaging instead of compressing your favor into a small package.
Preferences may vary according to your budget but you can buy them selectively. Buy some of the new released gifts favors for your best friends and choose not so newly released wedding favors to other people.
5. Create a difference
You can also do some social work while celebrating one of best moments of your life by donating wedding favors for charitable organizations. This can be done for any cancer research group or any cause that you support. There are various online websites which will tell you where to find such organizations such as changingthepresent.org and justgive.org.
6.Warnings
You can find an array of favors arranged beautifully by theme with vendors and Specialty bridal shops. On the other hand they may also not have the perfect match for your big day.Think out of the box to find a favor that stays fresh in everyone's memories. So just think about getting creative.
a.Go for guest that can go perfectly with your wedding theme and try to puzzle your guests by offering something different.
b.If you are opting to buy favors as gift for bridesmaid than you can go for a bit costlier ones than the ones you were to buy for the whole reception party.
c.Always make sure that you are ordering the favors only after getting the list of guest. You should not fall short of it as that won't make a good gesture.
d.An all-purpose wedding favor includes a simple vase with a wedding flower in it. If you wish to add elegance then go for a single white rose that also indicates friendship.
e.Don't spend too much pennies for getting wedding favors. At the same time don't get busy making DIY favors for guests. Try and find a easy as well as a reasonable medium out of so many options.