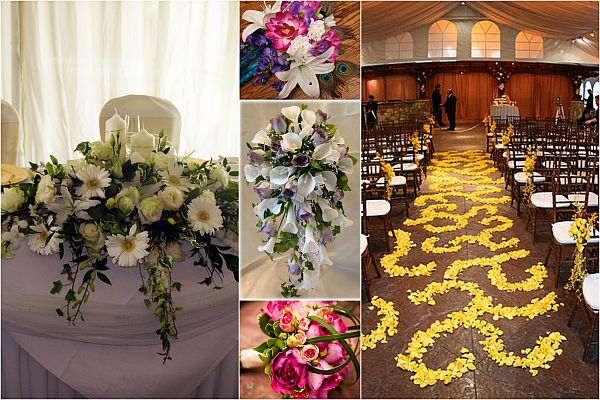 Girls always vision the ideal wedding ceremony since their young age. A flowing white dress, awe inspiring accessories, handsome groom and of course the beautiful arrangements is what makes the wedding a huge success. Flowers play a very momentous role in a nuptial. The color, fragrance and beauty of all these things make every wedding a fairy tale. Beautifully arranged flowers can transform a church, a hall and even a plain ground into something magnificent and full of life. From bridal bouquets to flower girl baskets to boutonnieres and center pieces, there is a long list of details every bride has to take into consideration. It may be overwhelming for most brides since there are numerous ideas and varieties of flower arrangements available and if not chosen wisely, you might end up with the wrong flowers. However, getting perfect flowers for your wedding is not a difficult task if you have everything that you need to know in place. Listed below are some important aspects that need to be taken into consideration to make spectacular flower arrangements at your wedding.
1. Seasonal Flowers
Once you have set a date for your wedding, you need to figure out flowers that are readily available during that season. These days, you can bring in flowers from any part of the world but that is definitely an expensive affair. Getting seasonal flowers for your arrangements makes it all the more convenient and cost effective. For example, if you are doing a summer wedding then gerberas, lilies, hydrangeas and chrysanthemums are available in plenty. Whereas, if it is a winter wedding then tulips, camellias and jasmine flowers are the best options. Therefore, you should select flowers wisely and carefully keeping in mind the availability.
Tip: The best part about getting seasonal wedding flowers is that you would be able to save the time and money in finding flowers. You would get the best out of the little you pay. Due to the wedding planning costing so much, it would be better for you to cut down on the cost of flowers.
2. Color
The color combination is also one of the most important things that needs to be kept in mind while decorating the wedding venue. The flowers should surely fit your color theme. Most of the time, colors you choose should be in accordance with flowers. However, if you are not able to find the exact hues, go the neutral way and opt for simple white or cream flowers.
Tip: Make sure the flowers do not have a striking color difference than the theme of your wedding. It is important to know that sometimes too many flowers of bright colors could also ruin the arrangement and simplicity of your wedding. It should not look to heavy and gaudy. White always goes with everything and mixing it with the other color of your wedding will pacify the ambience.
3. Location
While choosing flowers, location also needs to be taken into consideration. Some dark flowers can look a bit gloomy when placed indoors whereas they work wonders in an open location. Whatever you choose, make sure that the flower arrangement has some sort of coordination with the entire theme of the wedding.
Tip: While choosing the location of your wedding flowers, make sure it does not come in anybody's way or face. You must make sure that your wedding seating is such that the flower placed as centerpieces does not distract the guests from the moment of the nuptials. The flowers should be as less and attractive as possible and small centerpieces are recommended.
4. Checklist
Put together a list of all the things that you would need with flowers. Things like number of center pieces, arrangements at the church, size of the bridal bouquet, flowers on the wedding cake and so on, all need to be kept in mind. Making a list like this will not only help you to stay in focus but will also bring the budget to a more logical state.
Tip: It is always a good idea to have a checklist for everything you do. Something's which are highly important could be forgotten in the spur of the moment. It would help you in making further decisions for flower planning. It would not take you more than an hour to settle with the flower arrangement.
5. Budget
Set a budget for flower arrangements on the whole. As previously mentioned, the price of flowers largely depends on the season. You can have flower arrangements at a wedding for as low as a few 100 dollars or it can go up to thousands. Also, at peak times like Valentine's Day and Mother's Day, the prices of flowers can go up. It mostly depends on the type of flowers you want and the quantity you need. Set your budget based on all these factors and then proceed.
Tip: Remember that there would be enough time for you before your wedding, as planning is always done in advance. It would be better to order the flowers much in advance say about four months before, in order to set a budget. The flowers should not be too many as explained earlier, make sure you have visioned how many you want and where.
6. Florist
Selecting a florist is crucial and booking them in advance is advisable if the florist is a popular one. Give the florist a brief idea about what exactly you want at the wedding. Color schemes, prices, decoration, bridal bouquet, etc. should be discussed well in advance to avoid future catastrophes.
Tip: Choosing a florist could be quite a handful as all, would wish to give you what you want and the best. Have your planner come with you when choosing the florist, they have a better intake on decorations and knowing which florist is the best. You could take a look at some of the works a couple of them have already done and make a choice. The best would be to take reference form somebody who got married and had a good florist.
7. Be creative
Scout around for magazines and web sites and get as many ideas as possible. Think out of the box to make your wedding one of a kind. You can opt from hundreds of ideas like doing large arrangements and placing them in visible corners, lining them with ribbons and silk, using long stems and candles in between. Having large-sized potted plants with tiny fairy lights can also add a magical feel to the venue, especially if it is an evening wedding.
Tip: If you have a creative eye, it would be all the more better for you to have a jist of what your wedding would appear to be like. The decorations always matter and flowers are the one of the few things which adds life to the wedding. So be creative in choosing, placing and decorating your Aisle, centerpieces and your bouquet which you shall hold.
8. Cost cutting
To reduce cost, you might even want to make your own flower arrangements. Source flowers from wholesale shops that would give you a much better rate. Get your friends and bridesmaids to help you out with flower arrangements and bouquets before your wedding. Use rustic old glassware as flower vases for center pieces, use more foliage to fill vases and get simple flower arrangements for the wedding party. You can even give away center pieces as party favors.
Tip: You could get married outside in the open that would definitely save you some money. You could use more of petals as an arrangement instead of the flowers. There is nothing more beautiful than having an outdoor wedding. Be creative and have petals with pebbles as centerpieces. You could have petals with floating candles.
9. Be cautious
Unforeseen emergencies are always likely to happen. During transportation, flower arrangements might become messy, they might not arrive on time, some flowers might not be of the color or type you had hoped for and so on. Do not panic but attend to each situation wisely or assign your friends to take care of it. The important thing is to look beautiful and enjoy the best day of your life.
Tip: Always have a back up plane, just in case of an emergency. There are chances of flower arrangements getting messed up pr just dying out due to certain reasons. You could either have an alternative to the placing or decoration or you could have an extra bunch of flower come in the day before, which you get yourself.