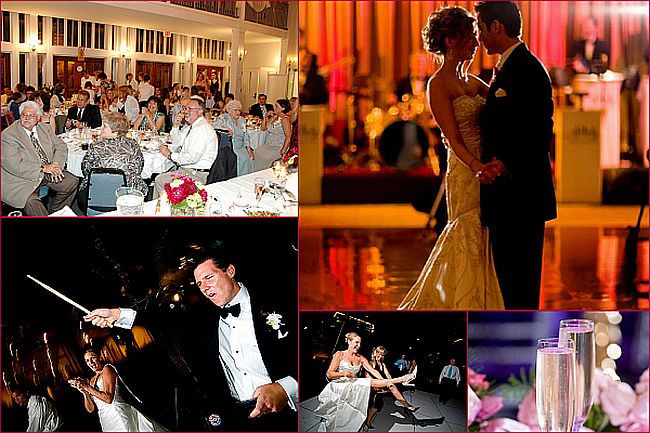 Throwing a successful reception party is a big deal for all the newlywed couples. Unmistakably, they desire to get every arrangement picture perfect. From the florist to the caterer, organizing each thing perfectly to create an unforgettable memory demands some unique ideas. Even the slightest mistake could ruin the moment. Being a host could mean a lot and there would be a lot on your mind when hosting the best party. So, if you are planning on giving your guests a reception party to talk about, you ought to read this article. Here is the list of ten fantastic ideas that never fail to leave a long-lasting impression.
1. Preparing the guest list
Even the reception would not be as long as the time it takes to put together a guest list. It takes us weeks before we conclude our final guest list. And why not? No one wants to risk any important name to go off the list. Having all the loved ones to witness the life changing night for you within a projected budget is definitely a big challenge. While preparing the invitees list, do not cut short your list because of your limited budget. Better shorten the party length or open bars than eliminating the extended buzz you could get with the crowds of guests. The extravagant decorations and exquisite arrangements are meaningless without the blessing and congratulations from your loving ones.
2. Delivering early invitation notice
Your invitees will surely escape your reception invitation if they receive your call right before the party. Care for their convenience as well. It is advisable to invite people in advance. Make use of email invitational posting to avoid postal delay. It will not only minimize your disappointment, but when the parties will start, all the smiling faces of the people you love will also be there for the most celebrated event of your life.
3. Decorating the entrance
Undoubtedly, a designated entrance promises a beautiful event, not only to the one who is attending your reception, but everyone who passes by. Decorate the entrance with lots of flowers of your choice. Nothing is better than designing the entrance with attractively scented roses. As soon as your guest comes, their interest keeps on increasing to watch interior designing for your house.
4. Organizing a celebratory space that stands out
An immense celebratory space that encompasses your entire guest list and brings them closer to talk and enjoy the surroundings is a must before planning your reception. If you have preferred your own house for this event, define boundaries for rest of your house without compromising on the comfort of the people. Design the celebratory space that mesmerizes your invitees and does not make them slip away early.
5. It is fun time
Boring musical parties are so out of date. Nobody enjoys a party with no celebratory atmosphere. Believe it or not, but most of the invited people to your reception will not know each other. The only way they could extend their relationship is by enjoying each other's company thorough interesting games. By organizing special activities and gaming competitions like guitar hero or musical chairs, you could give them opportunity to know each other and add an entertainment element to your reception party. Also, these activities will bring both sides of the family closer. Whether you sound beautiful or sound like your cat, organizing Karaoke at your reception party is a doorway to the ultimate fun. Your guests will enjoy your singing both ways. Wait until half your guest returns to their home; else it will turn to a Karaoke concert.
6. Make memorable your first wedding dance
The first dance of your reception party should be the one that is danced with the heart out rather than the shoes out! It is the only time where nobody will judge your performance no matter how awful you dance. Your sassy, energetic dance will set the party mood to its peak. Eventually, the whole room will be dancing along with you. Pick the song of your choice or maybe the one with which you both share a lovely story; remember it is the first step to your happy newly wedded life.
7. Picking the perfect decor
Before picking a decor for your reception event, do not forget elegance is in and eye-pinching decor colors are so out of fashion. But, do not confuse elegant with expensive. Give your imagination a perfect floor and this time let your creativity take over to amaze your guests. However, you know your skills at interior designing cannot transcend a professional artistic vision, so you could seek a professional to help you select exquisite decor.
8. Looking radiant
You know, the night belongs to you. So, do not fritter away this magnificent night with ugly makeup. It does not matter how long it takes, as long as everyone praises your beauty, it is worth the time. Try wearing trendy, best-looking reception gown so that every eye is stunned seeing you. Be at your best behavior.
9. Say, "Cheese!"
We all wait to scream this word the moment we enter a party. Everyone dreams to have at least one frame including them. Therefore, keep a professional photographer to capture this memorable moment. Do not jeopardize the photography by lowering its budget. Days will pass, but snaps taken at your grand reception party will be saved for life long. Save future embarrassment by enlightening all the disappointed faces. (Which I know will not come your way.)
10. Repel drunken guests at your reception
No wedding will be called complete without alcoholic beverages. Repelling drunken guests is as important as arranging the best tasting wine. Even the non-drinkers make an exception at such party and they might loosen up more than enough. Minimize the time length of the bar to avoid party spoilers and open the bar to adults only. Some people use a cash only bar with free soft drinks and water. Better try this idea to make the next morning less excruciating.