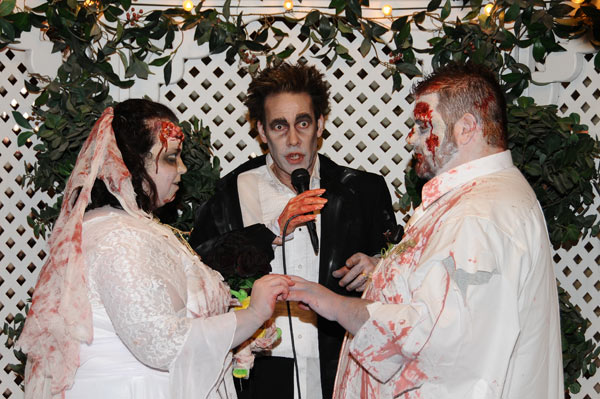 Wedding being a significant aspect of life, it is only obvious that the couples want to make the day special and unique. But going off the mark many at times they may choose a weird theme to do something different. In an effort to make the event memorable, couples may end up making the event seem retarded by demonstrating some weird methods of matrimony. Here is a list of such weird and bizarre wedding themes. Do have a look to all of them!
Zombie wedding theme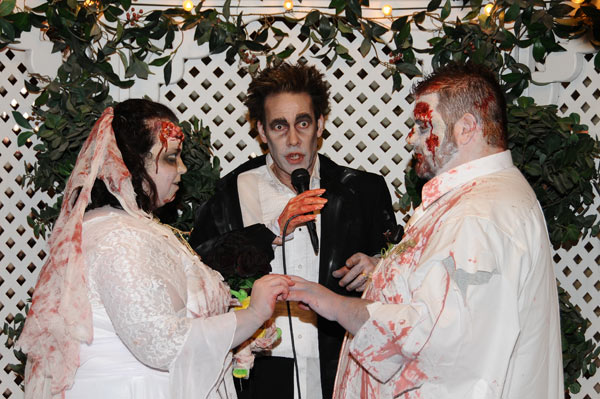 While the zombies may be suited to horror themes and movies, they seem out of track considering a wedding theme. Depicting yourself and the partner as typical mindless, reanimated corpses can really seem crazy for the audience (or guests). The wedding theme can be unique but not so distinctive to reveal a sadist approach. However, couples may find the theme too fascinating to adopt it on their very own special weddings.
Underwater wedding theme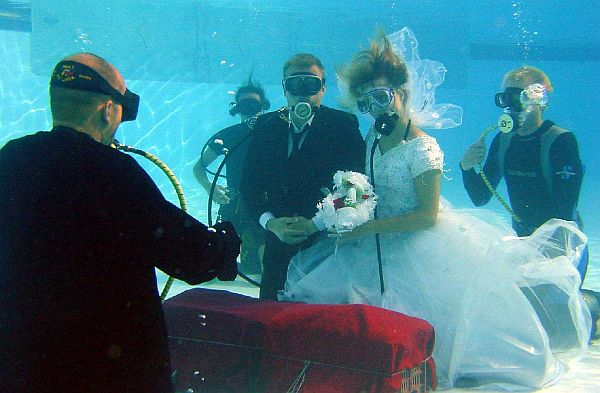 It may be for a new record! To find couples trying their skills at underwater weddings is not something which has not been attempted. In Italy, marriage accompanied by rain is considered fortunate. In year 2010, a Guinness record has been achieved by an Italian couple for having the largest underwater wedding. It had a whooping 261 attendance (guests)! There can be some 'deep' secrets to such weddings.
Cliff hanging wedding theme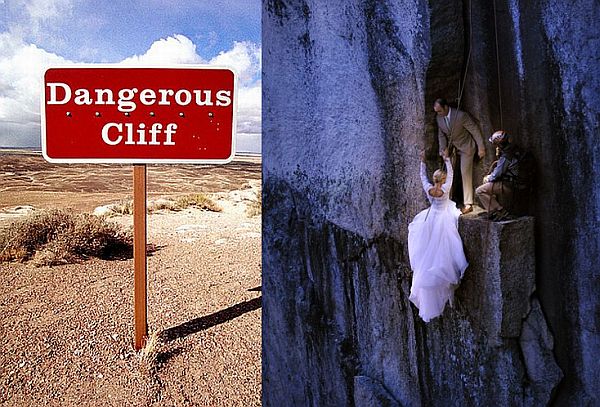 Cliff hanging might have been on your mind but wedding does not seem the right event to try this skill. All tied with rough belts and sling wires, it would certainly seem bewildering to give the right smile for the perfect click. However, this has been tried by couples in Thailand, taking marriage to literally new heights. While the couples managed to smile and carry floral bouquets, the 'flying wedding' should not be on couple's minds having alto phobia.
Lord of the Rings wedding theme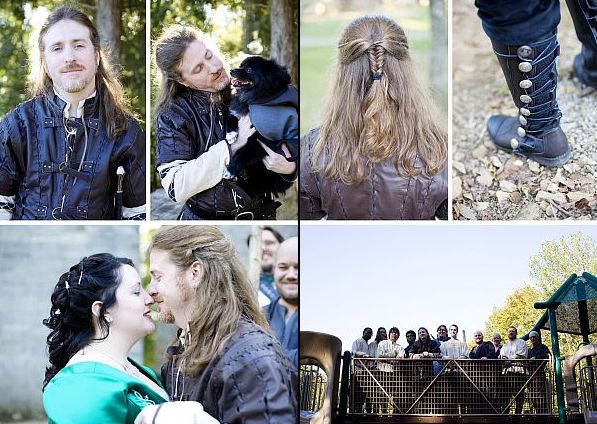 For the fan freaks of Lord of the Rings movie, a wedding on this theme has found an easy option. There can be crazy combinations of dress, shoes and other accessories. The high fantasy can be an inspiration for many couples wanting to try their skills at simple things gaining unusual dimensions. The unusual theme can be an attempt to enter another world of fantasy and melodrama. Fantasy being far from reality, the wedding theme may give an out of track impression for practical couples. The medieval style of dressing may apparently be tempting but cumbersome to carry.
Star wars wedding theme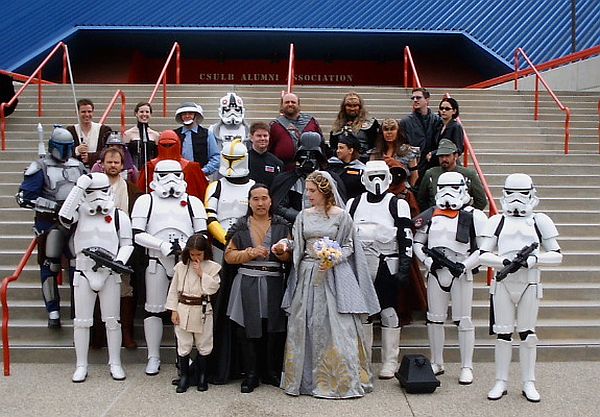 The Star Wars has always found its fan following. And this time, it is the wedding! The Star Wars wedding has droids all around to leave you with all the forces. Having an offbeat wedding may be an idea, but executing it may be worth spending considerably. Besides, cutting the animal shaped cake (and eating it) can be upsetting (for some).
Superman wedding theme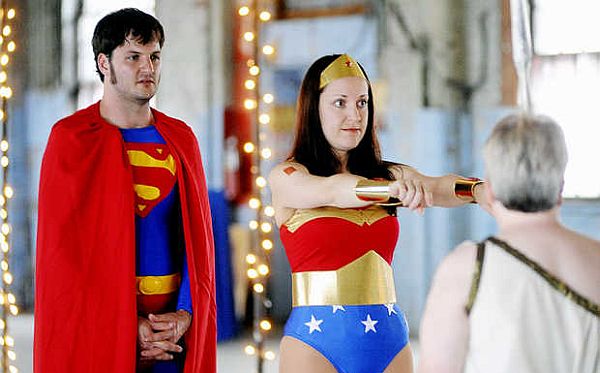 For the Superman fans, the Superman wedding theme must be on the mind. But wearing the gear can take a lot of nerve for the couple. Wearing the attire can be funny in public, particularly if it is the Superman's signature underwear. Tony Lucchese and Sarah LaFore had their wedding on this theme. Costumed heroes and Amazonian princesses came straight out of the comic series for this wedding.
Cat wedding theme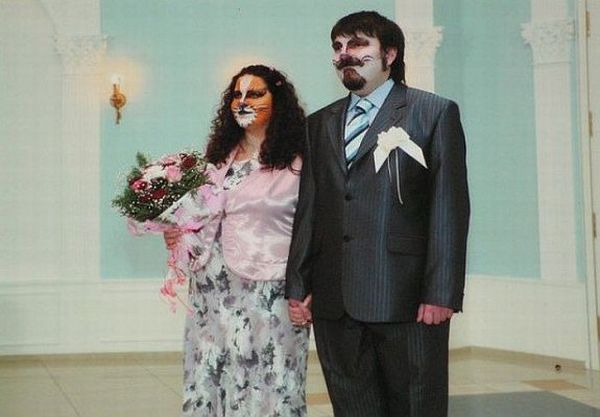 Being humans and behaving cats! Some people find it crazy to have a cat themed wedding. Dressed as cats, the bride and groom seem to be re incarnated as the animals. The feline love may find an absurd impression in the cat themed wedding. Animals as theme for wedding may seem a childish act but the love for pet (or some specific animal) has been too tempting for couples on occasions. The 'I do' may have a 'meow' impression!
Clown wedding theme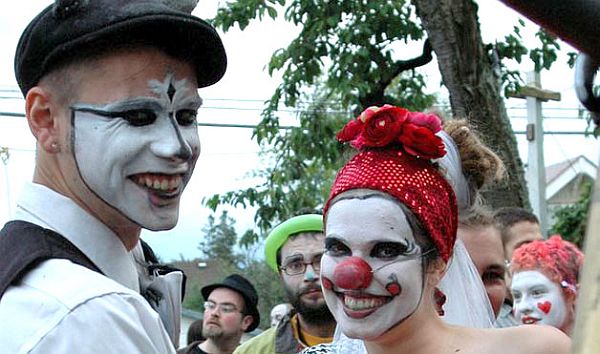 It may seem a kids' party at a clown couple wedding. The jugglers, stilts, etc. all may give the ambiance of circus, with an anticipating audience. Standing eight feet (or so) above the rest of the world in formal wear is not a child's play. The wedding can eventually turn into a bit of circus melodrama. You may laugh at accidentally dipping the clown nose into wine, but may not want to have that wine again!
Batman and wonder woman wedding theme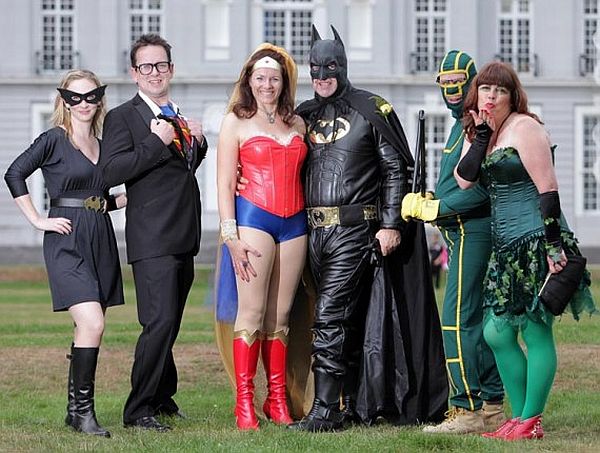 Couples, like Sharon and Neil Vaughan, have tried it. Your childhood fantasy for wanting to be Batman or the Wonder Woman may provoke you for the themed wedding. Wanting and pretending to be superheroes may drive your imagination to adopt the Batman and Wonder Woman wedding theme. The love for wearing fancy dress may materialize with this wedding theme, although you may not want to use the costumes anytime later in your life. The Batman outfit makes it difficult to see larger part of the groom's face.
Gothic wedding theme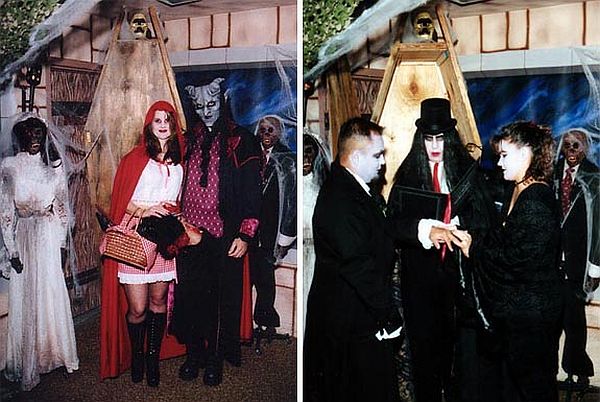 A gothic wedding theme may not be on many people's minds. Some find it a cool idea to have this as their wedding theme. While gothic style can reveal your deviation and non acceptance of the taboo, incorporating it in your wedding can reveal rejection of the traditional practice. It may hurt some people's sentiments, especially the elderly, who sometimes have un molded perceptions.
Choosing your own way of lifestyle is an independent decision, but there essentially should not be conflicting sentiments. A marriage ceremony is supposed to be a blessed occasion, filled with emotions and positivity. Simply creating the gothic looks may not be an affirmative indication of the philosophy.