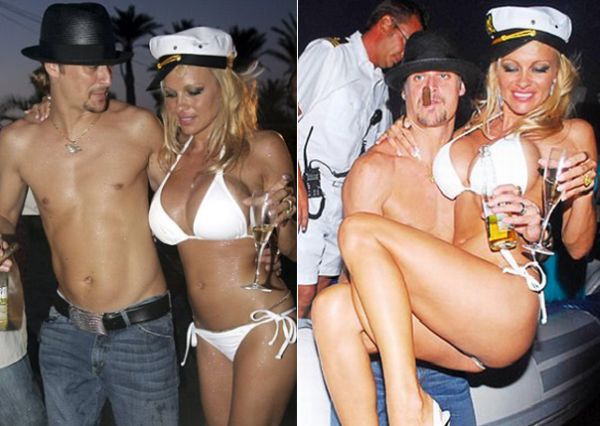 A wedding, especially those of celebrities are something that interests everyone. The big day which involves humor and mishap is the one to look for. Every gossip found about celebrities is worth a million bucks'. A complete disaster free celebrity wedding is just not desirable to fans. Everybody loves a little amusing touch added to the wedding. In this case it is all about the worst wedding dresses. Don't forget to brief through our "10 celebrity wedding dresses of 2011" gallery! Surely you must have seen a list of both the loveliest and the ugliest wedding dresses of celebrities most of which the girls would like to have and some of which they would not even want to get close to. Apparently money doesn't seem to buy everything especially not taste. Take a look at what we have selected as the worst wedding dresses that celebrities wore on their D-day.
Pamela Anderson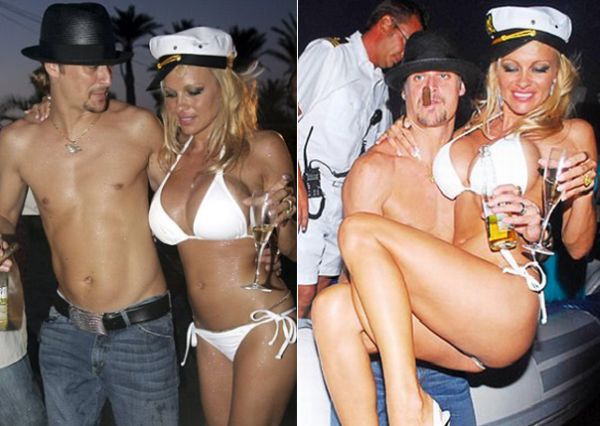 Year: 2006
Rolling in glitter and wearing a bikini is not exactly a woman's idea of a wedding dress Pamela! She cannot exactly be crowned the worst wedding dresser just for the reason that there are stars who would manage to beat her to it. One would understand if the couple was going to get married underwater, but what do you know, that was not part of the show. One would imagine getting married, would mean having to take a lot of beauty products, a huge dress and other requirements of the bride. Not for Pamela, it wasn't a hassle. All, this lady required was a Swarovski encrusted tiara, a white veil, a bouquet of white flowers. She paired them up with a white Melissa Odabash Bikini, while getting wed to Kid Rock.
Katie Price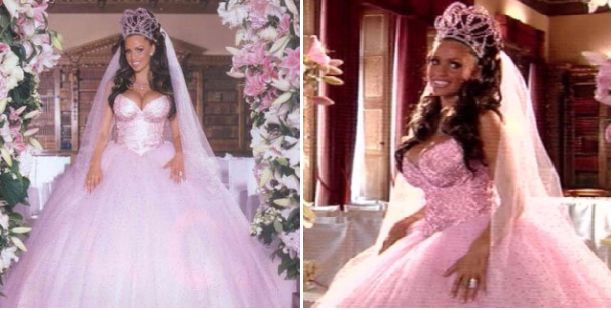 Year: 2009
Peter Andre and Katie Price split four years after their wedding, why Peter? Could you not take all the bling in Katie's life, not to mention her wedding dress? How did one have the courage to get married to a girl in a Barbie pink wedding ball gown, a tiara more like a crown embedded with Swarovski crystals to which a fingertip veil is attached her corset so tight her mammilla's could pop any second? Apparently this model has happened to make the most of wearing a wedding dress as a guest to another's marriage. Straight out from a Barbie horror movie, we have Katie Price who leads second ladies and gentlemen!
Katy Perry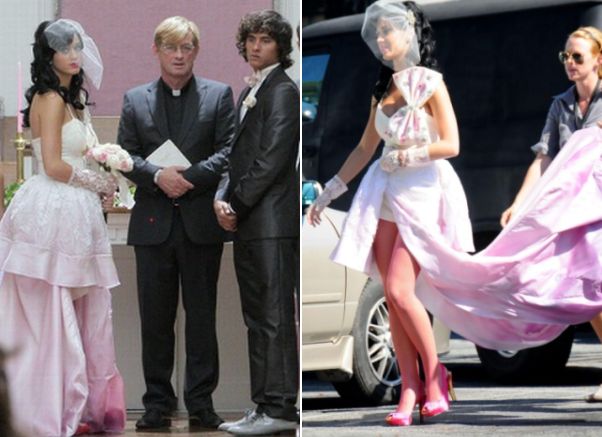 Year: 2010
Why is it hard to find a picture of a wedding gown with Katy Perry in it? Well, the only picture of Katy Perry in a wedding gown is what she wore in the video of "HOT n COLD". A weird unbalanced pink dress with an outsized bow and a blusher veil was the dress worn to the on screen wedding. Off screen, she had a dove gray colored gown with lace sleeves designed by Elle Saab when getting married to Russell Brand. Luckily enough, Russell brand did not see the on screen dress, and if he did, he sure had a grand sagacity of humor to ignore it.
Mariah Carey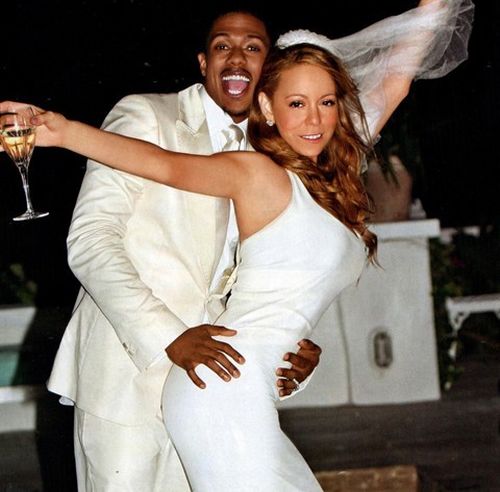 Year: 2010
OMG! Mariah why do you always do this to yourself? What is with your outrageous outfits, which suit nothing on that body? Sure you tried doing your best with the wedding gown when you renewed vows with Nick Cannon but honestly, there are enough fish in the ocean. It was quiet possible for her to be popping out of that dress in no time, lucky her! It was a cream colored body-hugging fish tail gown with a fingertip veil. The day of the wedding was rather better, but yet again she had worn a long tight-fitting white dress which accentuated all her curves.
Gwen Stefani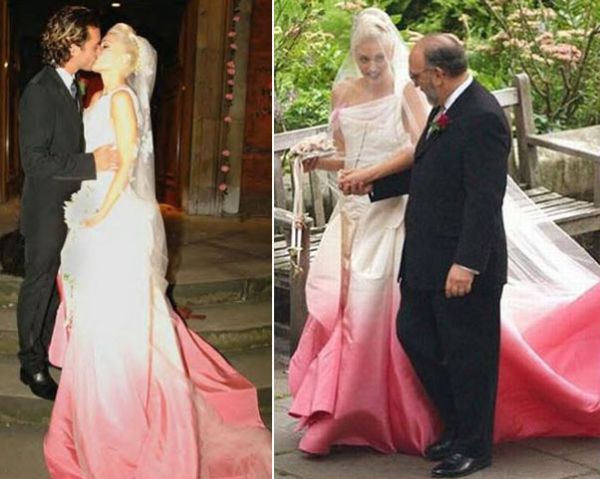 Year: 2002
People remember the day you go through a bad publicity stunt. You create so you have to face it. Gwen wore a silk rose pink and white shaded wedding dress. According to the star the dress was a masterpiece and has been held for show at the Victoria and Albert Museum. A dress designed by ex-Dior designer, John Galliano. A single shoulder strap dress spread over in tulle gave the dress an edgy look. The white vintage cathedral veil was Gwen's signature cloth. Well, Gwen not everyone agrees with your dress being a work of art. A dress which was endless, honestly just feels it a cast-off. It took an hour for mademoiselle to reach the destination.
Britney Spears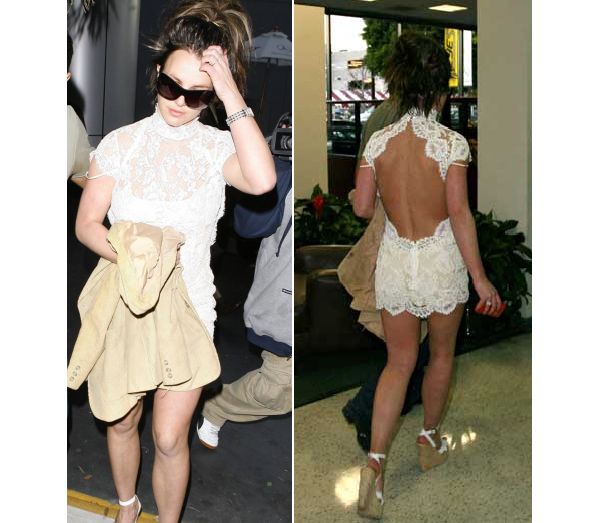 Year: 2008
Since wedding gowns become wedding mini's Britney? What's surprising is that celebrities don't normally repeat clothes, but, Britney! What she wore to her wedding reception was a dress she wore before, a white lace dress. It was semi backless and a mini, oops she did it again! This wedding lasted only 24 hours, hmm wonder why? Maybe the dress reeked of something your childhood hubby did not like.
Celine Dion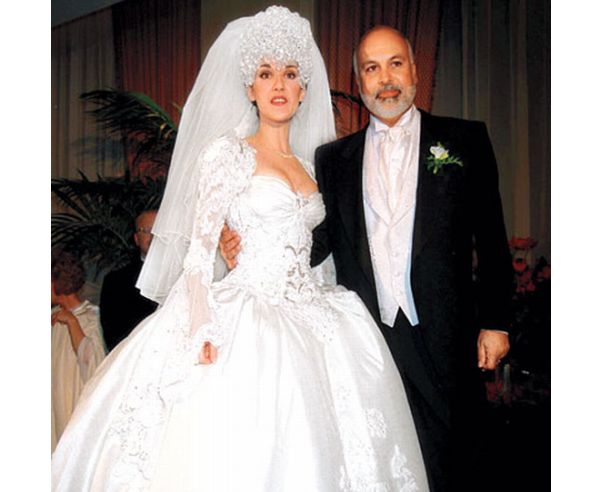 Year: 1996
Honestly one cannot describe the dress worn by Celine Dion. It is really a dress which cannot be explained in mere words. One would wonder if Rene Angelil got married to a marshan adorned in white from head to toe. The dress was a French marquise gown designed by Mirelle Gentile. The pearls on the dress were hand sowed and the tiara was diamond studded and huge with a 20-foot veil attached to it. A woman is dared to have carried this outfit off. A combination of an extraterrestrial and a human, that's the picture one would get.
Jada Pinkett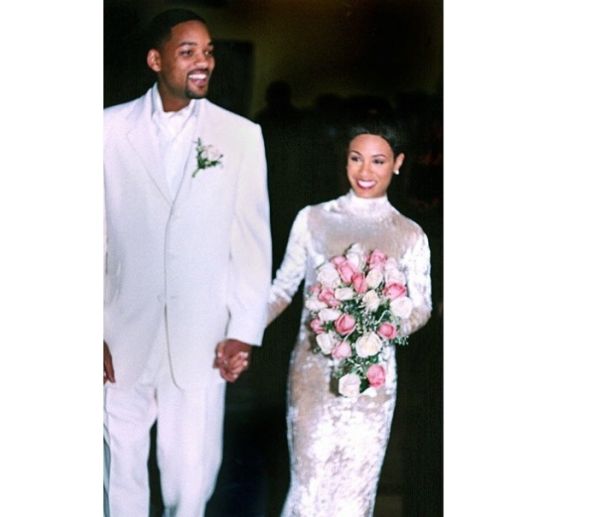 Year: 1997
You are pretty, but why spoil your look with your clothes. The dress might not be considered the worst but it definitely does not fit the theme of a wedding. A high neck, champagne and white colored hand-dyed silk, and velvet dress, designed by Badgley Mischka, it was a dress you could not miss. Why Jada why? It felt your skin was visible and probably the dress was peeling off you.
Demi Moore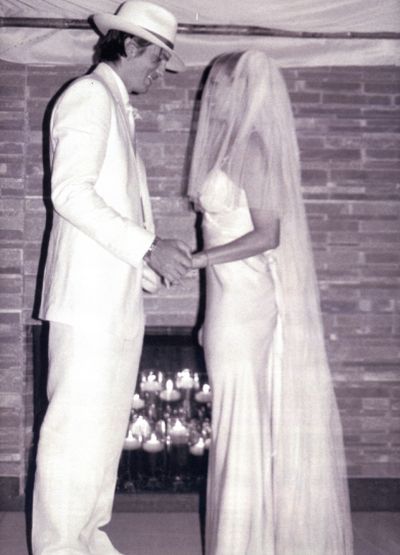 Year: 2005
When you guys have the money why not take full advantage of it? At least you could buy a dress which the world would want to see. Everyone likes to look up to a celebrity, making them our role model is an honor. Looking at the dress the famous "Striptease" actress wore to her wedding, one would not reconsider wearing that. It was a white lanvin gown with a chapel length wedding veil. Might as well have stripped it off at the altar Demi!
Pink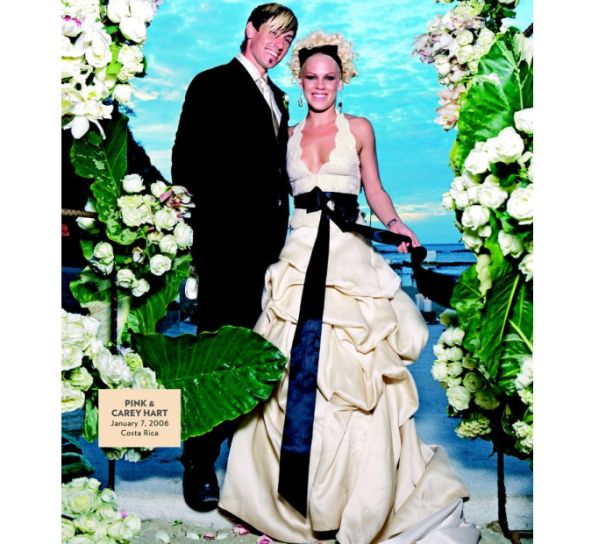 Year: 2005
Honestly Pink, did you not find something better. I'm sure designers would have laid out the best for you when they heard about your wedding day. Why did you have to pick this one? It is weird, and umm let's put this easy, bizarre for the beach. From the outlook you portray in music albums and the style you carry off otherwise, we were expecting a bit more from you. The dress appears to be a massive cloth just wrapped around you. With the black ribbon hanging, you could be packed off as a gift. Guess you did not sweep away the paparazzi, wearing that dress.