Wedding is the most awaited ceremony in an individual's life. And, everything we do in the wedding ceremony becomes our lifetime memories so it becomes essential to select everything with a lot of care and responsibility. Wedding dress is one such important thing, which can't be taken on a lighter note. The wedding dress should be selected to suit the body shape and personality. Sifting through the latest wedding trends and choosing one that fits and suits perfectly, is a suitable idea for selecting a well fitted, stylish and elegant bridal attire. Listed here, are the best wedding dress trends.
1. Cascading ruffles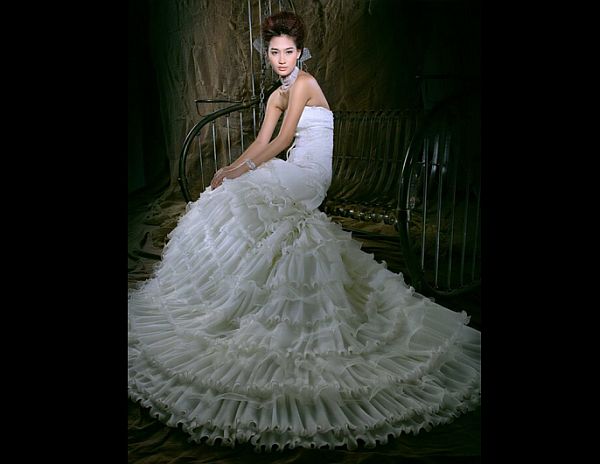 Ruffles are definitely not minimalistic and may not suit every bride to be. Perfectly styled for the tall, slim and elegant bride, they need a certain poise and charisma to be carried in style. There is something arresting and unrealistic about ruffles. The dolled up look may be a good idea if creating an impact, high on your mind. Choose finer fabrics for a sleeker look. But if you are all for endless ruffles that spread its wings around you, a stiffer and heavier fabric would do the trick.
2. A peek into 50's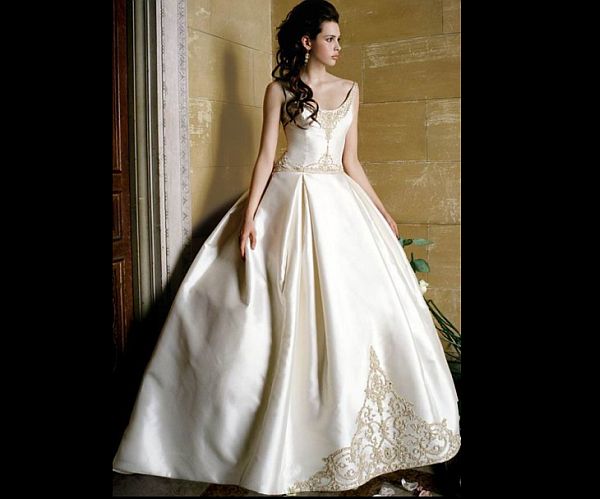 If you think that the blushing brides of 1950s have gone down the pages of history books,then think again. They are back with a purpose. The hour glass figures with girdled waists and flowing hemlines are being preferred by many women these days. But favor them only if you have a perfect hour glass shape and a height to flaunt those flares in style
3. Beauty of asymmetry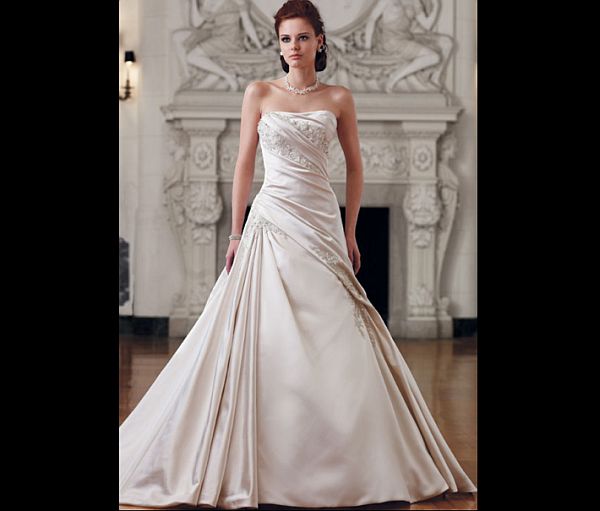 Bored of perfect symmetry? Try asymmetry for your wedding gown. The romance with asymmetry has started a couple of years back and since then the love has only kept growing.The symmetry behind asymmetrical gowns is that every figure with a flaw can be draped to perfection with an asymmetry. It will create an illusion of perfection around the resplendent bride adding glamor to her look.
4. Floral extravaganza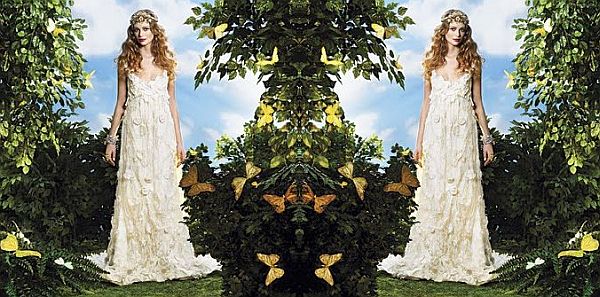 Is floral detailing a little too feminine and delicate? Brides at the moment do not think so and floral detailing is definitely the flavor of the season. Tone down or tone up your floral quotient with these delicate gowns. The possibilities are mind blowing.You can also combine an asymmetrical ruffled gown with a floral look to turn heads of many.
5. Bows for your vows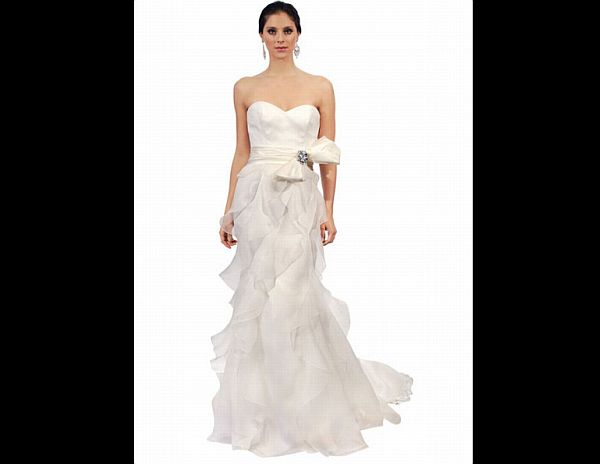 Bows have to be used carefully as they can spoil or lift your wedding dress. Choose a stiff, flowing, small or big bow to go with your wedding gown, according to your silhouette. Again they need not be a perfectly symmetrical one. An asymmetrical one can sit prettily on one shoulder. You can also try a gossamer to give you that iridescent hue.
6. Beaded wonders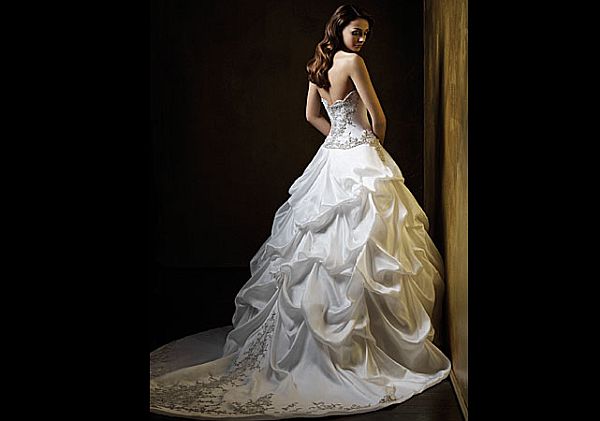 Whatever your style might be, a fair bit of beadwork at strategic spots can add to your sparkle and reflect your happiness that shines through. Add to your glitter quotient by incorporating bead work. A great thing about beadwork is that it can give varying looks based on how heavy or light the bead work is and what kind of beads are used for the purpose.You can also have a dress studded with jewels and crystals. Get the right amount of beadwork done for your dream wedding gown and see how the heads turn.
7. Sleeves and straps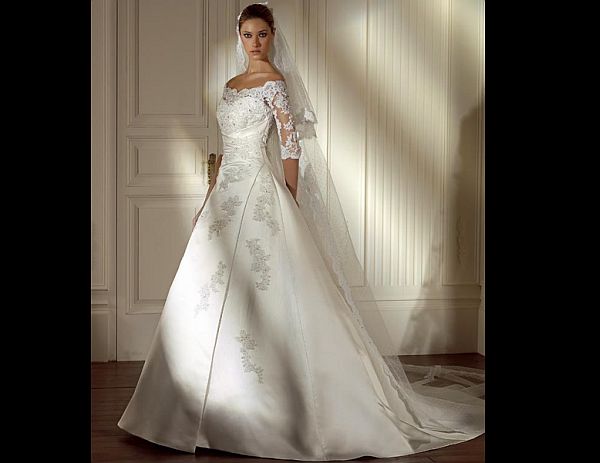 Non sleeveless wedding gowns are enjoying their moment of glory these days. It's a surprising twist that women who are normally under dressed in their casual avatars are opting for fully sleeved virginal gowns that portray them as angels falling down right from heaven.Plump brides too can rejoice. Sleeves can cover the flaws in their arms and shoulders without having to try hard and burn calories. Sleeves and straps may not be a perfect option. It's either sleeves or a strap at the waist, back, an elegant one shoulder strap, a side bow strap. So take your pick wisely.
8. Greek gowns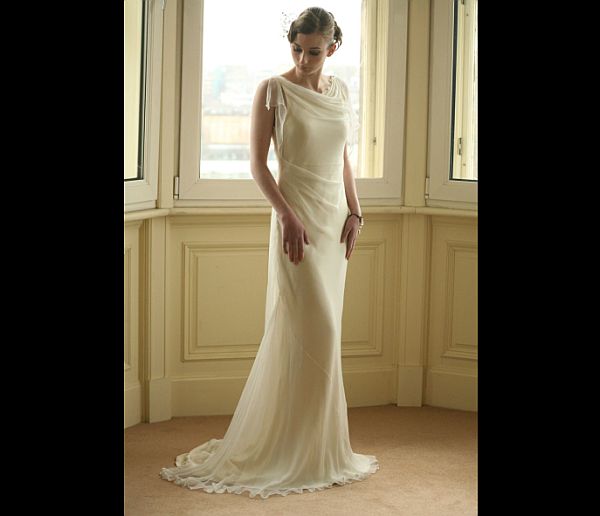 Even if you are not a Greek goddess, you can pretend to be one on your wedding day. The flowing gowns adorned by Greek nymphs and goddesses have long been a mystery for all women. Here's your chance to shape the perfect Greek gown for your wedding. These draped styles have the elegance and flowing silhouette that can suit a perfectly turned out woman. You will look stunning and full of aura in a Greek gown.
9. Lacy luxuries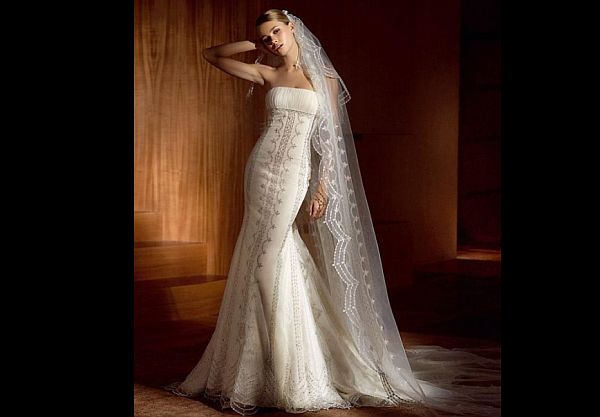 Looking for an ethereal gown that will create varying hues to your vivid personality? Nothing can quite outshine the beauty and grace of a lace dress. The texture and interest that it creates on the entire garment do away with the need for any other embellishment on the gown. Team up a beautiful lace wedding gown with some light crystal or pearl beadwork and voila, you have created just the right play of light and shade in your entire persona.
10. Ball gowns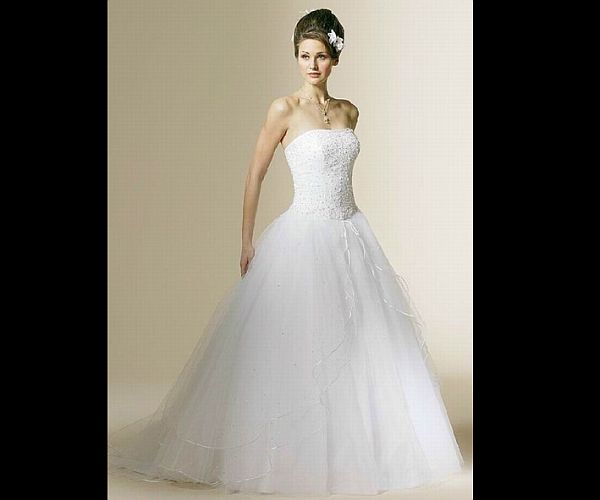 Last but definitely not the least.The pride of place always goes to the Cinderella who stole the prince's heart in the ball. What else can recreate that wonder other than a ball dress? Exaggerated flares and otherworldly to the core, ball dresses create a flowing, fluttering and perfectly blushing bride, dancing to the tunes of her man in the waiting.