Lazaro Perez's fashion world domination continues with his latest and highly anticipated 2012 Spring bridal collection, where he created a perfect romance between vintage details and contemporary embellishments encompassed in hand done embroidery. Better known for craftsmanship intelligence, Lazaro introduced elegant yet voguish line of bridal dresses that featured perfectly tailored silhouettes and hand-beaded embroidery. The designer also tried to revive the old-fashion glamor through his latest collection by inclusion of scalloped sweetheart necklines, ultra-feminine lace appliques and exquisitely tiered, long pleated tulle trains. Unlike last season's collection, Lazaro also added the timeless charm of bridal femininity by incorporating sweet, soothing color palettes. Ornate bead work, extensively embroidered Chantilly lace and sparkled net cap sleeves remained the sartorial highlights of his collection.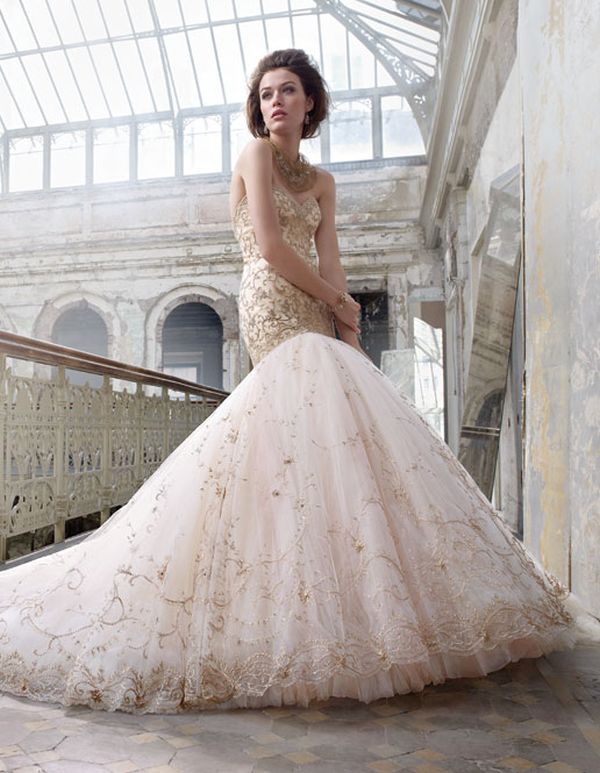 Lazaro Perez
Considered as one of the ace bridal designers in fashion industry, Lazaro Perez is particularly known for dresses featuring dramatic silhouettes, signature hand beaded embroidery and exquisite accentuation on trains. His beautifully created wedding dresses include varied experimentation ranging from mermaid styled gown to sheath wedding silhouettes. He also loves incorporating designs through his spectacular necklines. Whether it is timeless sweetheart necklines or trendy asymmetrical necklines, the stress he puts on accentuation is like no one. For women who look for decoration, laces and imaginary ornaments in a wedding gown, his collection is something that is meant to suit their taste. Lazaro's wedding collections feature almost everything from extravagant silhouettes to old-fashioned ball gowns.
Inspiration and goal
Charming yet soft-to-eyes shades like blush, sherbet, white and antique were incorporated in fabrics such as tulle, silk organza and silk satin. The extensive incorporation of myriad color palettes in his collection accentuated the timeless beauty of fabrics, and also added much needed panache to his bridal outfits. For instance, floral hand embroidered organza fairly put over tulle gown wouldn't have been complete without a tulle train accented in cascading petals. Vibrant colored embroidery done on each intricate bridal piece lends an impeccably glamorous touch to the ensemble. Here, we have handpicked some of the standout bridal pieces from his extremely coveted collection. Take a look and find your own match!
Highlights
The bridal outfits featured in the Lazaro's spring 2012 collection were given the hint of sophistication, combined with a demure touch by adding ethereal long trains and ruffled bodice. Case in point: The eccentric sweetheart neckline ruffled wedding gown features a pleated net godgets and a long, edgy tulle train for more flair and glam quotient.
While we loved the jeweled ribbon belt at waist, slender silhouette cut and the extensive accentuation done in the lace pleated elongated bodice bridal dress, the intricate detailing on the bodice of the floor length waist-contouring wedding piece was equally mesmerizing. Among other exquisite bridal pieces from his latest collection, the silk satin gown that featured a trumpet silhouette and a steep neckline makes a perfect wedding dress for an ultimate beach wedding. The major highlights of this gown is its V-neckline and A-line soft skirt with a long ruffled train. The sheer beaded tulle cover on its bodice and an innovated crystal clean-cut curves will also induce more edge to your ensemble.
Lazaro's latest spring collection offers an array of uber stylish gowns in a myriad color palette, which will exude more elegance and glamor through your already glamorous silhouette. A wide range of gorgeous wedding gowns by Lazaro Perez will not only help you define your fashion statement, but will also keep your bridal silhouette at utmost ease throughout the evening.
The wow factor
Since the entire collection swirls around the lavishly created outfits perfectly dipped in embroidery and customized bead work, we find Lazaro's crafty bridal ensembles pretty inspiring and fashionable. Snazzy bridal pieces and overtly done embellishments on his latest bridal line defined the true meaning of wedding outfits and gave a high fashion feel to every showcased gowns. From asymmetrical wedding gowns to floor-length bridal pieces, the entire collection stayed true to the concept of reviving the spring mood.