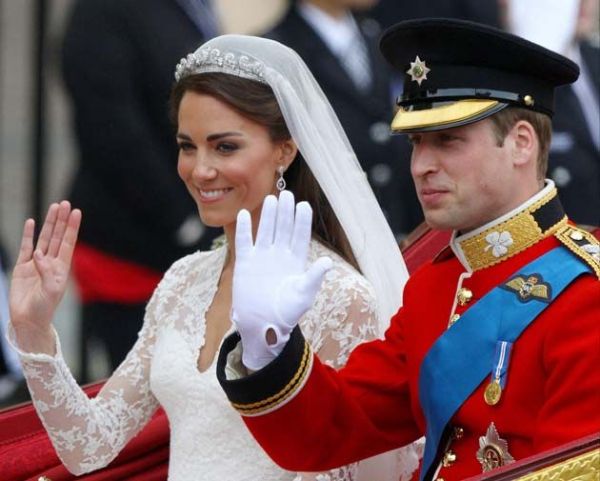 When one thinks about a royal wedding, the first thing to pop up in the mind is the lavish wedding between Prince William and Kate Middleton. They had a traditional as well as modern wedding. They followed rules and traditions from the past but by giving them a twist of their own. These little wedding ideas made the wedding the most talked about and unique. You can implement these ideas in your own wedding without adding much to your wedding budget. Here is a list of 10 such innovative ideas you can add to your wedding planning list.
1. A wedding website
The royal couple had made a website especially for their wedding which informed the entire world about their wedding preparations, feelings, gatherings and wedding day ceremonies. You can get a website done for your wedding as well which will include all the things you will be doing for your wedding. You can put up snaps of you and your fiance, or the wedding gown. Let people know where you shopped for your wedding jewelry etc. It's an exciting and unique idea to let people know about your wedding.
2. The 'Vows'
Kate Middleton did not use the word 'obey' in her wedding vows. This symbolizes modernization and that woman need not always obey their husbands. She however vowed to give unconditional love, support and honor to her husband. Adopt this technique if you believe in this and don't say the word 'obey' during your wedding. This would break away from traditional vows but still keep their honor.
3. The age old traditions
If your family or culture follows certain traditions during weddings, which you do not like, do not follow them. Like the royal couple who shared their nuptial kiss not in front of the father but in front of millions of visitors, in the Buckingham Palace balcony, you can also twist a few traditions your way. Inviting guests is another tradition followed very strictly. Avoid this and invite only those who you feel are really important in your wedding.
4. The ring and jewelry
You can break the tradition and opt for a colored ring instead of the traditional white diamond. Opt for a blue sapphire ring or ruby red chandelier earrings. Like the royal couple you can also break free from the white attire. Kate Middleton also had a blue ribbon sewn inside her white gown to go with the 'Something Blue' theme.
5. Weather planning
The royal wedding also could not be accomplished without a weather plan in place. The mood swings of the weather cannot be estimated hence there should always be a plan B in place. When you are having an outdoor wedding then there should be an option in case of light showers or windy weather. A backup place in case of a weather tantrum is essential.
6. After wedding brunch
Kate and William went out of their way to thank their guests by hosting an after-wedding brunch on the day after the wedding. This was celebrated with their closest relatives. You can opt for this option besides the regular welcome brunch, after-wedding dinner and party. There would be guests coming from far away places and hosting a brunch for them, the day after the wedding would show how happy you were that they came for the wedding. It also is a sign of saying a thank you to them. This would be a great idea and would be remembered by all.
7. The exit
The exit of the bride and groom is another very important event. You can plan for your exit from the wedding location in a car or carriage you like. Arrange for fireworks and a 'just married' sign hung on your car during your exit from the venue.
8. The flowers

Kate Middleton held a bouquet of all white flowers with myrtle in it. This was a tradition that Queen Victoria had started in the royal family. You can also follow a trend which your mother, grandmother may have started and followed. This would make your wedding unique and always remembered for the flower arrangement you held in your hand.
9. Wedding dress
Kate followed a old age fashion of having sleeves on a wedding dress. When most of the people opt for a strapless wedding dress, this is something different and very classic. You can make a wedding dress like Kate's and it would surely make people remember the olden days.
10. Party all day
The royal couple had their wedding early in the day so a after wedding breakfast could be served. Then they had an evening party followed by dinner and then party again. You can follow the same pattern and have early wedding nuptials to party all day and changes dresses when you want with every new party.