Exchanging wedding rings is a significant custom followed almost in all parts of the world, one to symbolize love and loyalty and two to express that everlasting bond of love and affection. To gel with the persons image, there are numerous styles and patterns of rings available out there, but still there are few who have there own style – the geek style. There is nothing in the non-fictional world that can match their style – here thus, from the world of fiction and creation we have plucked out 10 wedding rings for geeks that you would definitely want to exchange.
Projector wedding ring

Designed by Luke Jerram and jewelry designer, Tamrakar; the bespoke projector wedding rings for geeks is an ingenious little creation; that's equipped with a transparent slide and a tiny lens. Jerram placed small images of him and his beloved which can be clearly viewed through the lens against a light source. Alas, fans here may have to build bespoke projector ring themselves as it's told that Jerram has declined all requests to make any replicas.
USB drive-style wedding ring

USB drives are a common site and most used little devices owing to their small size capable of storing substantial data. Microsoft employee Ray Arifianto was lucky enough to get himself a bride who understood his geekiness; and presented him with a wedding ring that's USB-drive style (non-functional). The carefully crafted ring has a connector that looks like its about to be plugged in. This is one of the most interesting wedding rings for geeks
Ethernet rings

As if USB-drive styled rings weren't impressive enough, artist Jana Brevick has hand crafted Ethernet rings complete with connector and port. Designed in sterling silver, the rings can be interlocked by both bride and groom. They're cheap too, costing just about $340 for a pair, so you get something that is pretty unique and affordable as well.
The Remember Ring

Men often forget things, but here is a solution in a wedding ring that'll never let your husband forget the anniversary day ever. The Remember Ring is guaranteed to make him remember the special occasion. Hot Spot technology heats up the ring to around 120 degrees Fahrenheit which gives a warm reminder to the wearer. 24 hours prior to the anniversary, the ring emits heat for about 10 seconds every hour by converting the hand's heat into electricity, thus prompting the wearer to remember. Customers can get theirs ordered in silver or gold which also comes with a lifetime warranty.
Google Vanity Ring

This could be the height of all geeky rings. Google lover in you will get a kick out of it especially if you like Googling your name on the search engine. The odd ring displays the Google view count of the wearer and can be docked to update or refresh the hit count. Quite a gift for tech maniacs and surely one of the most innovative wedding rings for geeks.
USB rings

This wedding ring packs style with functionality, granted, it isn't crafted out of diamonds but at least it's Swarovski. The ring is USB-enabled and the connector plugs into the solitaire crystal. It's fully functional and can be used to store images, text and videos. While you may not actually use it, it's nice to know that it'll come in handy. Now wouldnt we all love such wedding rings for geeks?
The soundwave ring

This is a ring for computer and music lovers, hand fabricated and laser cut, the ring is part of the Waveform Series consisting of different soundwave patterns crafted in gold, silver and other expensive materials. The ring is designed by Sakurako Shimizu and is a nice choice for those who love unconventional and edgy jewelry pieces.
Geeky ring

The Geeky ring packs inside a micro chip that rests on a circuit board. While it may not appeal to women who love their diamonds and expensive stones, there's no denying that it's innovative and fit to lure the geek in you. Encased in a heart-shaped box, the ring is one perfect wedding ring to express the heartfelt love for your wife.
Nerd Love ASKII Binary Ring

If computers are your forte, then the Nerd Love ASKII Binary Ring is perfect for you. Trendy enough to be worn even by women who aren't much into computers, the binary ring has been crafted out of sterling silver. A jeweler's saw was used to cut out 1s and the 0s out of a strip of metal which was then soldered onto a band of sterling silver for a seamless look.
The Orb

If you thought you had seen it all, then just hold on and glance at this really innovative wedding ring that's sure to floor all the guest when your wife flips open the ring from her finger to covert it into a Bluetooth headset for some music at the marriage. Yes, you read that right, the Orb (as the ring is called) can be converted into a trendy Bluetooth-enabled earpiece for your listening pleasure.
Geeks in love ! Interesting ways to propose
No human being is an exception to falling in love. Even the geeks and savvies! Unlike one would imagine these guys are more creative and come up with startling ways to propose their girl. If someone asked you about the most memorable event of your life, you are most likely to say the day your fiancée or husband proposed to you. The joy of being chosen as the one special person in your loved ones life knows no bounds.
Marriage is the union of two people through mind, body and soul. Making known of each other's love to be carried forward through one's entire journey is a beautiful feeling – an emotion that cannot be described in words. Adding a little more spice to it is how and where you do it. Here are some interesting ways geeks adopt to express their love apart from choosing any of the wedding rings for geeks.
1. Twitter proposal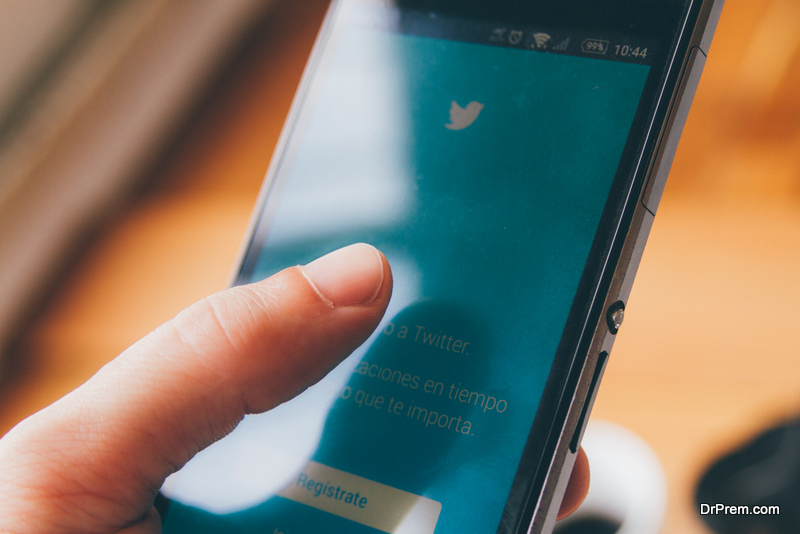 Greg Rewis and Stephanie Sullivan to start with, never appreciated the idea of micro blogging and stuff. But now, they do it all the time, so much so that they tweet each other even in the same room. Now, isn't that insane!! But that is where their life together ever started. One day, Rewis proposed to Sullivan via twitter saying: "@stefsull – ok. For the rest of the twitter-universe (and this is a first, folks) – WILL YOU MARRY ME?" Sullivan's reply: "@garazi – OMG – Ummmmm… I guess in front of the whole twitter-verse I'll say — I'd be happy to spend the rest of my geek life with you." Isn't that what I call sweet!!
Why say 'Yes'? :
When someone you know proposes you on a social networking site then you are left with other option than to say 'YES'! Proposing on Twitter means you are 'actually' the love of his/ her life. So you should dare not give it a second thought!
2. Through video game
While on a gaming activity you hardly think of love. But if you could bring it on at the most unexpected time and way it, certainly is interesting and unforgettable. The guy plays Xbox under the name "Movie sign" and his girlfriend "furtive penguin". He used the ganme's forge map editor to redesign the game in such a way that dozens of weapons fall out and arrange themselves to ask "Will you marry me?" And apparently she said "yes". Seriously geeky!
Why say 'Yes'? :
What can be most interesting than to propose the person you love via a video game! When you expect it the least then only they do the most unusual things. this way they can easily grab her lady love's attention and can snatch a cliché 'Yes' from her.
3. Proposal on Google street view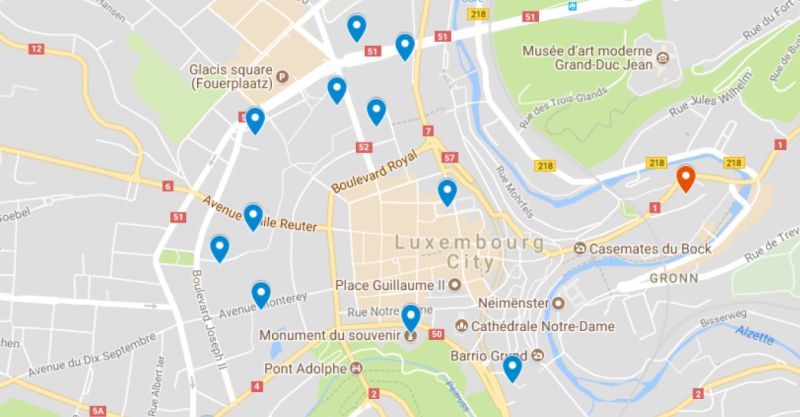 Image Source : c2dh.uni.lu
One software engineer Michael Weiss-Malik from Silicon Valley used the Google street view to propose to his already fiancé for the second time. He held assign board that reads "Proposal 2.0: Marry me Leslie!" on Charleston Road, Mountain View, California, United States and got the Google street view team to get it on Google maps. Then, he made the news public on internet asking readers to email his fiancée Leslie to view the street view and asking her to marry him. Phew!! That is quite a geeky thought indeed.
Why say 'Yes'? :
What's best than getting proposed for a second time by your love of life. This whole phenomenon works even more when he says it all on Google street view. The best way anyone could even think off. So 'Geekish' I must say!
4. Using Perl script
Colin McMillen wrote a Perl script in such a way that when executed printed "Kristen, will you marry me?" The design of the code was in the shape of a heart. Below that heart was a text in red color "be $mine for @ever".
Why say 'Yes'? :
One of the most creative ways a man can propose her girl would be this unusual way. If your man someday asks you to open you lap top and open up something which he will guide you, then be sure that it's going to be a big surprise because you never know there could be a hidden proposal inside the text opened!
5. Proposal through internet comic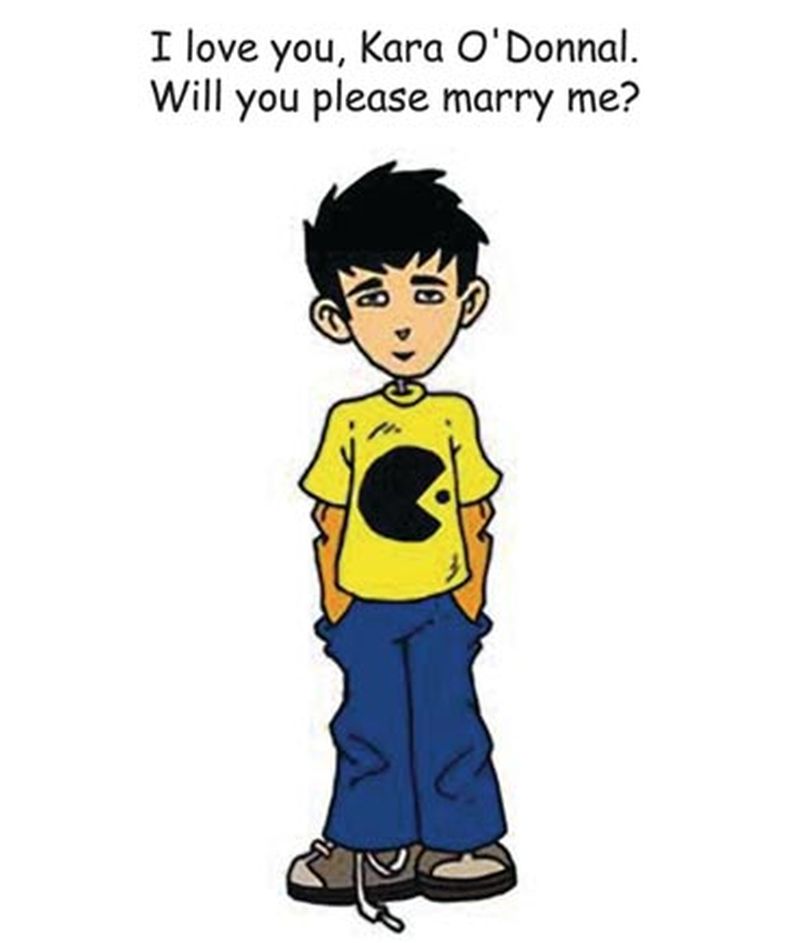 Image Source : assets.penny-arcade.com
Mike Krahulik works for a popular internet comic Penny Arcade. He proposed his girlfriend Kara O' Donnal through a comic character he designed. It read two whole paragraphs on how he feels about her and how much he loves her. Finally ending with the character saying, "I love you Kara O' Donnal. Will you please marry me?" Wow!! That was indeed a cute one.
Why say 'Yes'? :
Comics always remain every body's best friends since childhood but when you have your lover working in such magazine, and then you should better be ready to get the surprise of your life. The proposal on an online comic is so geeky! One cannot even think of declining the proposal!
6. Proposal via iPod
This guy from Norway had other ideas and tried too but ended up doing it another way. He engraved "Kathryn McCallister Will you marry me" on the back of a 20GB iPod and presented it to her. He in fact tried the engraving himself but that turned out to be a disaster so he got it done by "Things Engraved".
Why say 'Yes'? :
Now days when everybody is getting crazy for gadgets and latest technology, Girls are no way behind. So if you hear someone giving an IPod engraved proposal to her girl friend or spouse, then you need not get worried or surprised! This isn't a big deal for these fanatic lovers.
7. Reprogrammed bejeweled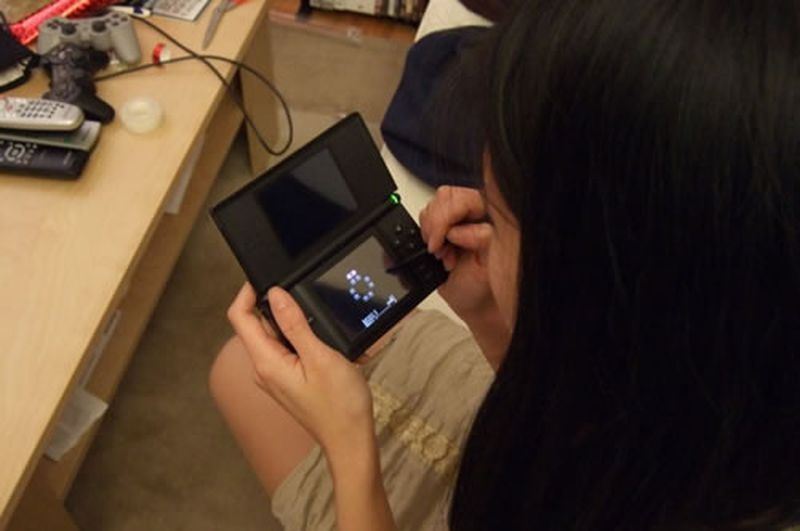 Image Source : neatorama.com
A Jersey City man reprogrammed the bejeweled game to propose to his girl. What strikes more than anything else is the effort and time he took to execute it. It took him a month to reprogram the game so, when his girlfriend hits a high score, it would reward her with the pop up "Will you marry me" and a picture of a ring. Who could say no to such a thing?
Why say 'Yes'? :
When you have a boy friend that is game addict and geek too; then you are definitely bound to get surprised one day, that is for sure! You never know when he will plan or reprogram a game just to propose you in his own distinct way. After all this what he had offered you, you are bound to say a big 'yes' to him.
8. Via Slash dot
One other geek wrote on Slashdot and made it like a public forum. This is what he said "Kathleen, I wanted to do this in this most potentially embarrassing way possible; and I figured doing it here and now, in front of a quarter of a million strangers was as good a way as any. I love you more then I can describe within the limits of this tiny little story. We've been together for many years now, and I've known for most of that time that I wanted to spend my life with you. Enough rambling. Will you marry me?
That was followed by a "Yes, Dork. You made me cry. 
 Hazah! I'm getting married! :)" and loads of public response. Quite an intense one that was!
Why say 'Yes'? :
Other way of proposing your dame can be in this way through Slashdot. This way she will never ever say 'NO' to your heart deep feelings.
9. Via the Boston globe crosswords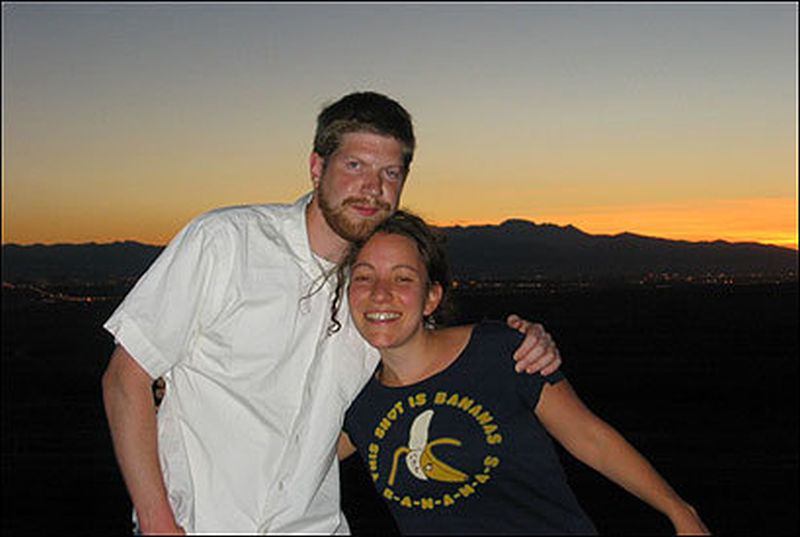 Image Source : boston.com
Egmont from Cambridge contacted the Boston Globe magazine to design a crossword puzzle that would help him make a marriage proposal to his girlfriend Bass. So they did. The clue was "Generic proposal" and the answer was "Will you marry me?" It was a moment of elation for Bass that it took her almost a minute to realize what Egmont just said and say a yes.
Why say 'Yes'? :
WOW, it's the first word that comes to everyone's mind when they think of doing anything of this sort! It's like a girl dream transforming into a real life gesture. No one in their dreams would think of rejecting this proposal through a Boston Globe Crosswords!
10. Via Lol cat
Someone proposed to his girlfriend using the Lol cat on Valentine's Day. It read "can Jon has yr hand in married". That sure is a sweet one. So was her reply through her own Lol cat saying yes "dat iz nice ring."
Why say 'Yes'? :
Whats best than a proposal via your very own application software. This can be in the list of the most surprised ways of proposing a girlfriend or a spouse. But at the need, you have no other option but to speak out a Yes to him.