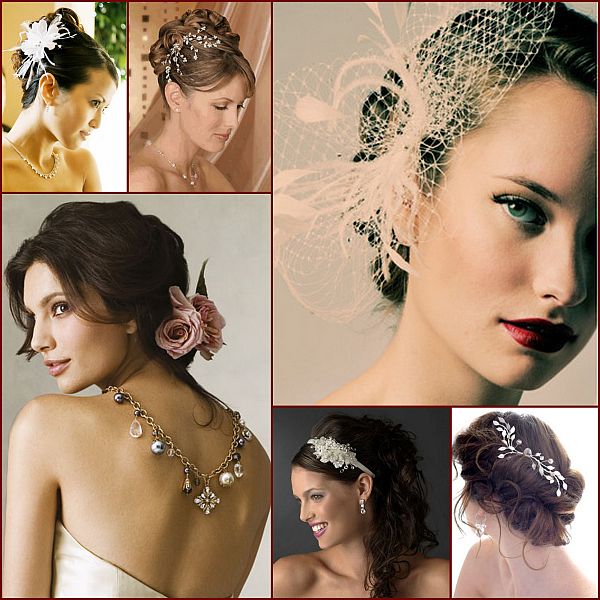 Weddings are a special and the most important event for any couple. For the bride, it is the one look of a lifetime that matters the most. It is the dream of every prospective bride to charm everyone, including the bridegroom, by her awestruck beauty and bridal accessories as she walks down the aisle. Hence, nowadays lot of attention is paid to even the most trivial bridal make-up; not to miss anything. Amongst many, hairstyle has also become an important factor of bridal make-up. A small mistake in the hair do can spoil your whole appearance. While selecting the right hair accessories, you must take into account your appearance and face features as to what hairstyle would suit the accessories the most. Here are some tips to choose right hair accessories for the big day.
1. Feather Flower
Side tousled knots are trendy this season but since you are a modern bride you have to add that stylish touch of yours. The feather flowers in your side bun will transform you from an ordinary bride to an extraordinary one instantly. You could also go in for the vintage look. That always gives the bride a different aura and appearance. Why follow fashion when you can allow it to follow you.
2. Gilded Comb
Gilded comb is one of the most popular and hot hair accessory for that perfect feminine and delicate bridal look. Tuck the strands behind the ear and accessorize it with a beautiful gilded comb to add oodles of glamour to your look. A comb will stay in tact and your hair can look neat and tidy for some time. If you movie around a bit too much and have someone pulling at your veil it could affect your hairstyle.
3. Crystal Barrette
Crystal barrettes are one of the hottest wedding hair accessories as barrettes never go out of style. You may find it too girly for your wedding. But if you are a short hair bride then this piece of accessory can just work wonders for your look. Pick up a nice, jeweled barrette, side part your hair, and add the bling to your hair. The crystal clip will make you look sophisticated and chic bride.
4. Veiled Pin
Veils are traditional and romantic. But if you wish to flaunt your beautiful half up hairdo, then try a veiled hair pin. It is a single hair pin with a net veil attached to it. If you find this hot accessory too trendy for you, replace it with an uber sexy hair pin for the reception. Veiled pin is definitely one of the hot wedding hair accessories this season. Again while choosing this make sure nobody pulls at the veila dn you take it of during the reception.
5. Headband
Head band is the classic accessory that is timeless. Headbands look pretty, sophisticated as well as trendy. If you are completely in love with the idea of putting a headband accessory, go with the elastic wrap headbands for the better grip. This has always been classy. It is one of the most chicest accessories you could wear. It goes with any hairstyle.
6. Crystal Hair Ties
If you want to look like a diva on your wedding day, then this hot accessory is for you. Soft curl your lower strands and wrap them on the side. Accessorize your crowning glory with crystal embellished hair ties to add the glamour and elegance of a new age bride.
7. Pearl hairpins
Adding pearls in your hair can do wonders to glam up your bridal look. If you wish to make the world go swooning over your bridal look with the timeless elegance and beauty, then pearl hairpins will do the needful. Make a classic chignon and accessorize it beautifully with the pearl hairpins. Pearl will add the softness and grace in your bridal look.