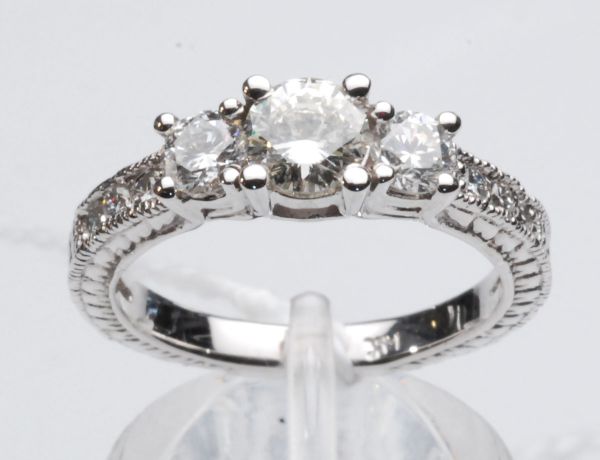 Deciding upon the most suitable wedding ring can be a daunting task. While selecting a wedding ring, you need to keep in mind the likes and dislikes of the wearer. Shopping the ring according to the wearer's choice can help you choose the most suitable one for her. Here are a few tips to choose the best one for her.
1. What does she really want?
Firstly, be sure about her likes. Indirectly or directly, she must have given you cues about her liking with respect to the wedding ring. Work your way through the cues and choose accordingly.
2. Focus on her liking and style
Each girl has some different liking. Some might like diamond, while others would prefer to go for gold. Before you set down to buy a particular ring, think about her liking. Is she a typical girl with love for diamonds? Or she likes to go choose different style to stand out among numerous diamond hoarders?
3. Decide on your budget
While going for some gift, you must also have an understanding of your budget. Before going to shop for the ring, demarcate your budget. When you go to the shop, ask the salesperson to show you only those rings that fit your budget. There are many online discount stores that provide good diamond rings at affordable prices.
4. Does she follow a specific style?
If you aren't really clear about her likes and style but want to choose the best, it is always a good idea to tell her to accompany you. Discuss the budget beforehand and note her needs. This would help both of you settle down for the best ring.
5. Be sure about her ring size
Ask her or someone close to her, for her ring size. Ring size is extremely important for the right choice. Never go for approximations, always state the specific size. You might end up disappointing her with a loose or a tight ring.
6. Check for a particular trend she follows
Almost every girl has a particular trend which is her favorite. Try to figure out any such trend she follows with respect to jewelry. Find it out and try to choose accordingly. She is sure to like it.
7. Double check if she is allergic to any metal
People might be allergic to different metals, so, before going in for your final choice, check for allergies. Ask her, if she is allergic to any metal. A wedding ring, which she would not be able to wear is not worth it.
8. Special rings for special occasion
You could also do well with a family stone ring. In other words, a ring that has been passed on over generations. She did be very happy with the choice and would make her feel like a part of your family.
9. Choose cautiously, buy wisely
You would need to be very patient while you choose a ring for your bride. Visit as many shops as possible. Do a lot of research and be cautious about your choice. Do not just visit a shop, choose a random ring and order it. This is an essential part of your wedding and the ring would be like a life long promise. Choose with caution and don't give in for any random ring.
10. Do not present it earlier
Save the ring for the wedding day. It will make the whole situation very romantic. Showing her the ring before hand (if she has not accompanied you) might spoil the fun. Keep it as a suspense for her and let her feel special on her wedding day. Choosing a ring according to her style and choice is the most she can ask for.
11. Be careful with the return policy
You might have made tremendous efforts, to choose the best. But, there can be situation in which she does not like the color or the gem or the fitting. In such cases, you would want to return the ring and exchange it with the one of her choice. For such situations, be sure to have read the return policy beforehand.