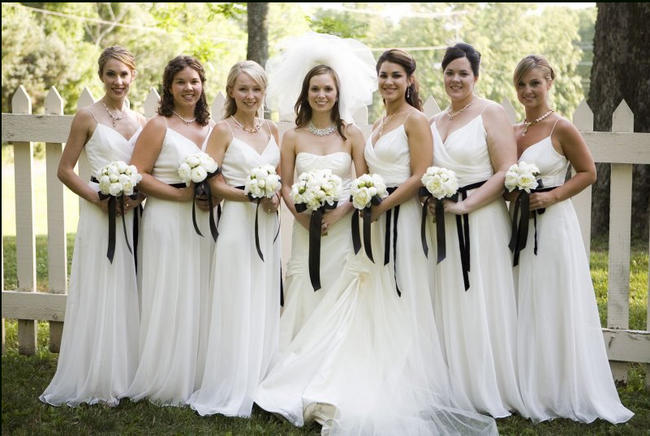 Dress your bridesmaid is an essential task. Try not to impose your choice while choosing the dress for your bridesmaid. The dress might be simple but should be well fitted. We have compiled together 12 tips to choose the most suitable dresses for your bridesmaid.
1. Choosing the right clothing
Choose the right clothing for your bridesmaid to make them look elegant and stylish. Obviously, their look should not overwhelm yours, but choosing the dress that fits well and suits all is essential.
2. Match up with your dress
Just like dressing them in a hideous way should be avoided, equally important is the fact that they should not be dressed in a way that supersede yours. The dresses chosen should complement your gown. Give enough time and thought to this issue and select a dress which goes with what you are wearing.
3. Well fitted
Fit is important. Don't make that curvy girl wear something which showcases her bust spilling from the dress. Or worse that dress slipping down that skinny girl. Instead, go for universal styles like V-neck, A-line skirts and empire waistlines which suit all the body types.
4. Let the bridesmaid choose the style
Just choose the color and the fabric for the dress. Leave the rest on the bridesmaids. While the broad shouldered one won't go for puffs, the short one won't go for horizontal stripes. Everyone knows what suits them best. Just play your part by giving them honest suggestions.
5. Suitable color
Go for colors that will suit all of them. All colors don't suit everyone.Choose a shade which would suit all complexions. Bright shades look good on everyone.
6. Think of after use
Select something which they can happily wear even after. Don't force them to buy something which they can't use afterwards. Go for something which is not only limited to your marriage use but can be afterwards also.
7. Suitable cost
Zero down on the right cost keeping in mind everyone's financial state. However, if you still want that expensive couture dress, then be kind enough to bear the additional cost. Don't give them a chance to crib about the over expenditure.
8. Go for shopping with your bridesmaid
Take your bridesmaids with you for shopping. Getting the feedback of your bridesmaid is surely important. Prefer going along with those whom you know can give practical opinions without influencing yours. Discuss with them what you think will look good openly. Don't hesitate to put forward your views and get their feedback.
9. List down important stuff
A foolproof and right way to do this is by making a list of all the things that you think is important. For example, penning down their names with their body type and complexion. The next step would be to find out the perfect design which suits them.
10. Comfort levels
Before choosing any stylish gown or dress, ask your bridesmaids if they will be able to pull it off comfortably or not. You might want to go for a strapless design or one that does not accommodate bra. But they might feel uncomfortable with it. So before you waste your money, ask them their comfort.
11. Distribute responsibilities
Give yourself time and give them time. Distribute work amongst your bridesmaids. This way, you' will get that much needed relaxation and even they will have the liberty of choosing their favorite dresses.