If your having a budget problem and what affordable wedding invitation, then you could do the best with the little you have too. Money is not everything and providing you with some tips on how to get the best wedding invitation which would also be reasonably priced. It is the first thing that would be noticed about the wedding. It always matter's to guests how you send out an invitation card. It helps them also give them an idea on how the wedding ceremony would turn out. So, when it comes to something so imperative, you don't want to go wrong, do you? Listed below are some simple and inexpensive greeting card designs which will help you strike chord with your guests even before the party begins.
1. Yellow and grey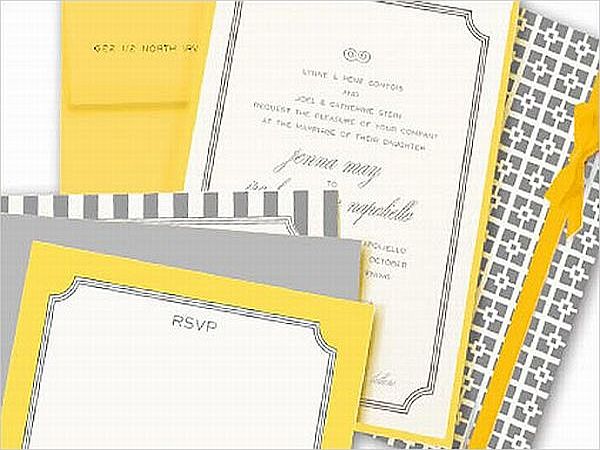 Yellow and grey are considered colors of richness, of grandeur, of grace. So, an invite of these colours would also represent similar characteristics. This invite is adorned with diamond shaped patterns which is inspired by a vintage Vietnamese textile. As said before, the combination of yellow and purple is beautiful in itself. The rounded corners, moreover, give a formal and elegant feeling. You could do away with this color invitation as it speaks so much about the brightness that shall enetr your very lives.
2. A punch of prep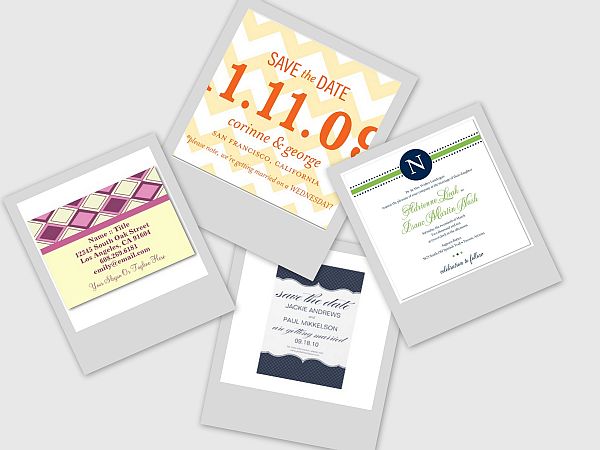 This contemporary design with a hint of zig zag is more appealing than psychedelic. Moreover, the cool colors used also give a pleasing effect to the guests' eyes. See, how the simple design has taken over the entire invite with the guests name written beautifully on the right corner. It could be anything from curvy desings to dots and checks. The patterns is what intrigues one to come to the marriage.
3. Urban chic
If you think this is simple, think again, simplicity is the new word for elegance. This simple yet highly sophisticated design not only gives an impression of a very rich affair but can also be used to send out invitations for a formal event. Moreover, an invite of this style adds a hint of modernity to the whole event. Going for either the cofetting splatered on plain paper or even a modern design made on a simple white card would very much do the trick.
4. Bold and black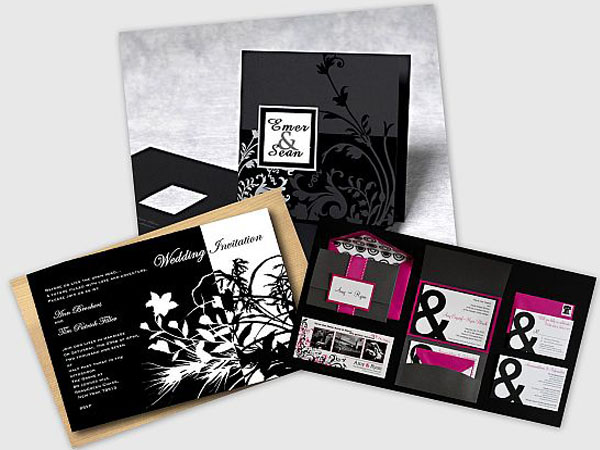 This arrangement adds a whole new festive appeal to your ceremony. Moreover, pairing it with a black background highlights the colours and the text written. Black is a color needless to be spoken about, If you have got black as your inviation card it just spells elegant all over it. It could be said to be unlucky, but it seems to attract a lot of guests as they want to see how the wedding turns out to be. Make sure you add a bright stunning color to the black.
5. Minimalist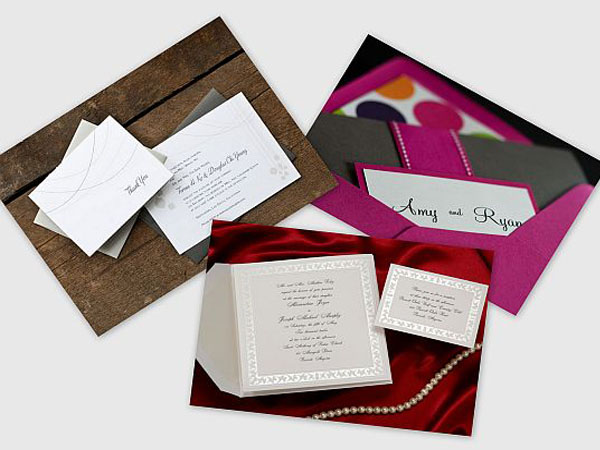 A sans-serif typography used with delicate water color stands out on its own. This utterly elegant card uses bare minimum graphics and equally minimal text. One can see how just one simple picture on one side and the guests name on the other side give a royal look to an invitation card. The least you have on the card the more decent and yet sophisticated it looks. You would be surprised at how many people actually love the simplicity on the card.
6. Elegant and relaxed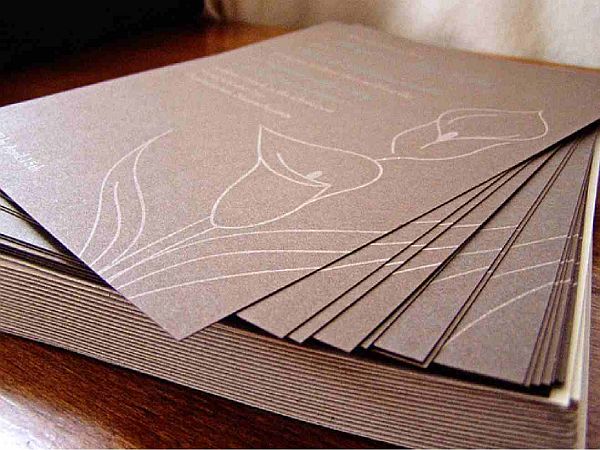 The vibrant orange flowers in this invite seem to be showering themselves over the guests, giving a whole new spin to the invitation cards. The flowers are complemented by modern typography and a staunch white background. Use really relaxing colors, shades of browns, beige and other soothing and earthy colors and see the difference in your wedding invitaion. You could again try out for a very simple design.
7.Modern floral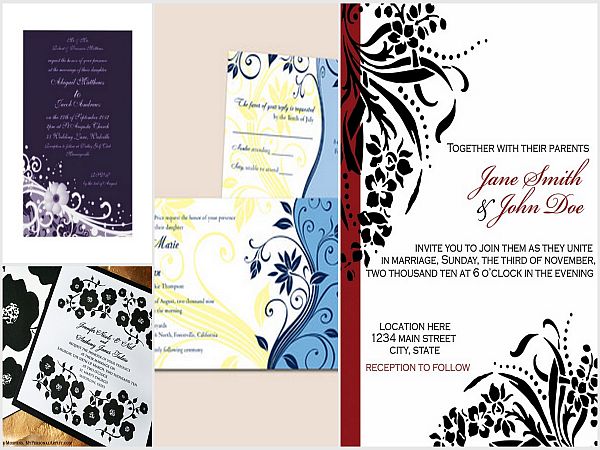 Seeing these cards, the east is what comes first to your mind. This card gives a hint of an Asian affair which follows it. The bright colours, beautiful flowers and other such graphics, apart from an Asian fervor can also work for an outdoor garden or vineyard wedding. To top it all, these Printable Press invitations are delivered as a print ready PDF which you can print yourself even from home.
8. Fall colors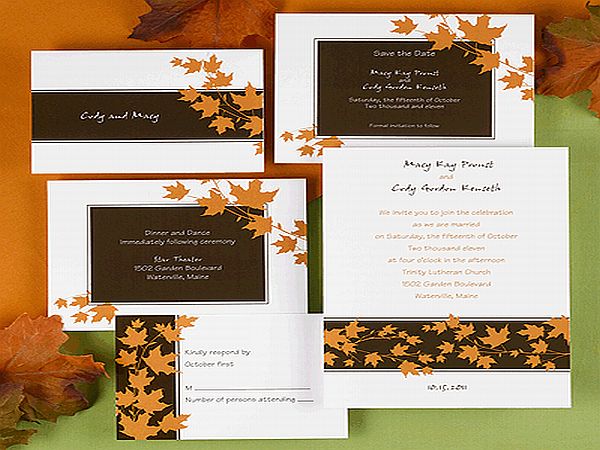 Who said fall is all about gloom and despair? This invite combines all the colors of fall to be perfect for your autumn wedding. It has a leafy pattern and colors have been used to fill those shredded leaves. It really gives an amazingly appealing pattern. It is priced exactly same as the previous one. This invite can also be easily and affordably printed from home or from a local printing shop.
9. Vibrant and festive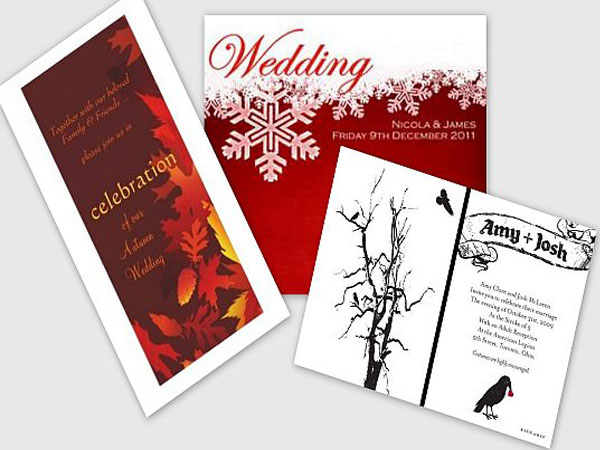 Don't want to go the simple and classy way. If vibrant is what you need for your wedding, this card is the perfect invite to send out. Resembling a Mexican paper flag, this card is just perfect for a more relaxed or casual affair. It is also delivered as a printable PDF which can be printed for at a printer's shop.
10. Mod candy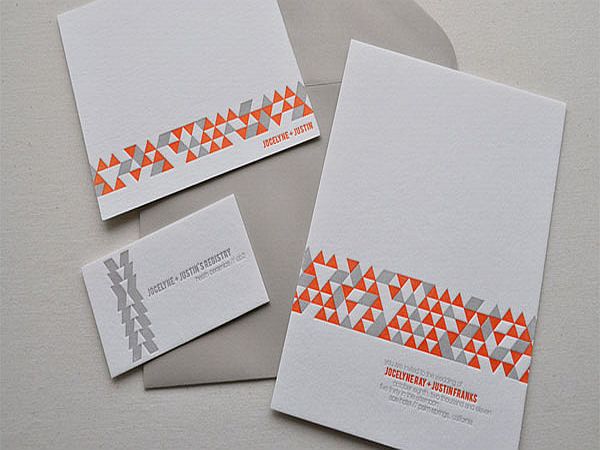 Simple typography and blue-coloured polka dots give a very elegant appeal to this card. One can notice that this card barely uses any graphics and only centers in on the addressee's name. This design can be a invite for any chic event, art gallery function or an industrial inauguration. This print-ready Printable Press card named Confetti invitation can be directly printed at home or at the printer's shop.
11. Modern with a twist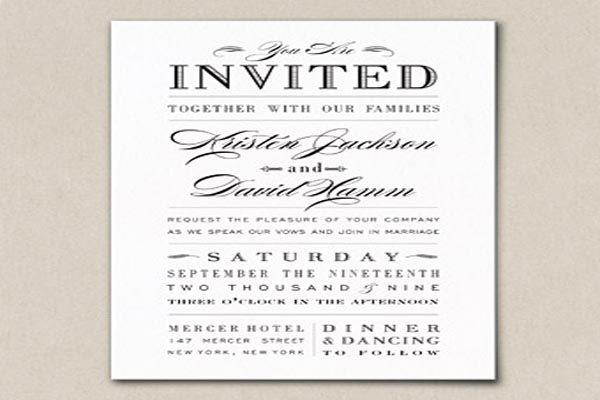 This invite uses the style of writing that instills traditionalism with a modern typography. This gives the design a very modern touch.This card, hence, serves a dual purpose. You can also give it out for a religious ceremony or a traditional wedding and also for a reception or after party following it. The printable press metropolitan invitation is priced same as the one above.
12. Calligraphy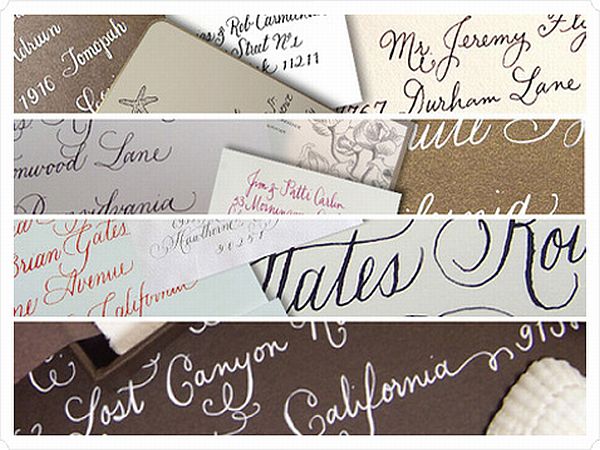 If you don't want any graphics, visuals or any pictures in your card, this card could be the best for you. The Calligraphy invitation is designed without any pictures is very appealing as it adds a casual and personal touch to the invite. Moreover, everyone can write. So, you can also use your own handwriting and easily make a personal invite on your own!