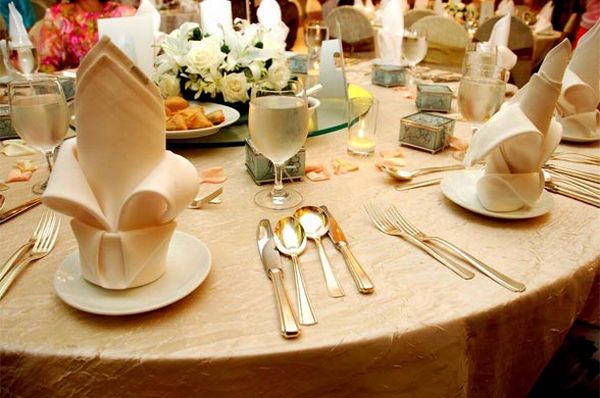 The wedding menu is generally extensive with a plethora of options available for the guests to choose from. Most of the people head to a wedding caterer for dealing with this responsibility. The wedding caterer in consent with the wedding planner fixes up the menu for the D-day. Wedding these days are more like extravagant feasts which is much beyond simple potatoes and chicken. Wedding catering has been turned around with some creative catering ideas. You might have to shell out a little extra for the same, but for sure the incorporation of the ideas would attract praises around the town. Here is a list of few creative wedding catering ideas.
1. Donut bars
Everybody loves indulging in donut bars. Kids at the wedding will surely be the happiest to see a stall offering delightful donuts. You do not have to do away with the cake cutting ceremony at your wedding because of this idea. Think of the varied variety of donuts and try to bring the best out of them at your wedding's food menu. Serve the guests new donut treats like white chocolate with almonds, coconut and mango donuts, etc. You could also have donuts with the names of bride and groom.
2. Luau bars
The very presence of Luau bars will give your wedding a tropical feel. A luau bar is a perfect set up for a wedding party; you can bet that this counter will attract maximum wedding guests. Include some amazing fruity drinks and decorate the counter with tropical flowers to give an edgy look.
3. Soups shooters
The soup shooters are a great way of giving an edgy feel to your wedding. Include tomato and basil puree, cold gazpacho soup, etc in your wedding menu. Serve loads of chopped veggies and herbs to garnish these soup shooters. Keep the variety limited so that the guests do not get confused. Bring the best varieties in your wedding menu.
4. Comfort food
The simple comfort food has become quite a rage these days at the wedding menus. You can experiment with the presentation of these foods in order to make them appear different yet appealing. Burgers, pizzas, French fries, etc are great consideration for the wedding menu.
5. Edible menus
Edible menus have become reasonably a trend these days. Do not be confused with the names. Edible menus include chocolate or rice paper menus which can be placed on the tables for guests to look at and even indulge in eating. This would a great inclusion in the wedding menu which will surely be fun and delicious.
6. Hors d'oeuvre Bars
Speak to your caterer in advance and inquire about the various options available for Hors d'oeuvres. You could have chefs sitting at the bars and engrossed in cooking and handling the ingredients before everyone. This could work great as your alternate bars.
7. Specialty bars
Specialty bars have become an amazing trend in wedding trends. Experiment with the looks and feel of this bar. Include a wide variety of bourbons, whiskeys and other cocktails. Add some new drinks which are unique to a particular country or place. Chocolate liquors are quite a vogue at today's wedding celebrations.
8. Lemonade and infused teas
Healthy drinks like lemonades and infused teas can be included in the wedding menu. Not only are they healthy but also great drinks to follow the high calorie wedding foods. Tea infusions have become extremely popular with flavors like mango, strawberries, raspberries, etc.
9. Dipping stations
The chocolate dipping stations or the cheese fondue have become a thing of the past. Try something new and win the hearts of the guests at the wedding. You could establish a table meant for serving variety of vinegar, cheese, salsa, chips and bread. The guests could create their very own appetizers at the wedding thanks to this unique setup.
10. Bubble bar
Bubble bars are the latest trends that have ventured the wedding celebrations. This is basically a specialty bar wherein sparkling wines and mixers of several types of fruits are kept. A simple or flavored soda counter is also a possible choice. Sodas teamed with ice creams or flavored syrups are also a great option. Privilege the guest with an option to customize their drinks as per their tastes. Such bars will give a unique touch to your celebrations and will surely be a hit among the wedding guests.
11. Desert stations
Food minus desserts is like honey without sweetness. Customized desserts could be a great way of attracting guests to soothe their taste buds with desserts of their choice. Let the guests choose from the variety of toppings available such as chocolate sauce, syrups, wafers, choco-chips, etc.
12. Game Day After-Party Food
If you are unable to experiment with the wedding celebration you could let your imagination run wild for the post party planning by organizing games along with food. Keep the menu simple and add fun elements by introducing some fun games as well.
13. Coffee Desserts
Coffee infused desserts will surely keep your guests on the dance floor for long making them stay active. Coffee desserts are yummy and very popular among the younger lot. Be sure to excite the younger lot at your wedding celebrations with some espresso-spiked brownies or frappuccinos. Whipped cream will do great justice to the taste of coffee desserts.
14. Flights
Offering wines and beers during the dinners is a superb idea. Or you could team drink with a particular course of meal. Have things planned in advance to avoid last minute confusion. Choose the finest drinks for the occasion and make sure every guest gets to grab his/ her glass of wine at your wedding.
15. Take-Home Cake Boxes
Make each of your guest feel special and plan a take-home cake box. You could serve a piece of wedding cake along with a miniature bottle of wine or a box of chocolate with a thank you card. This personalized effort will definitely make each wedding guest feel extremely special.