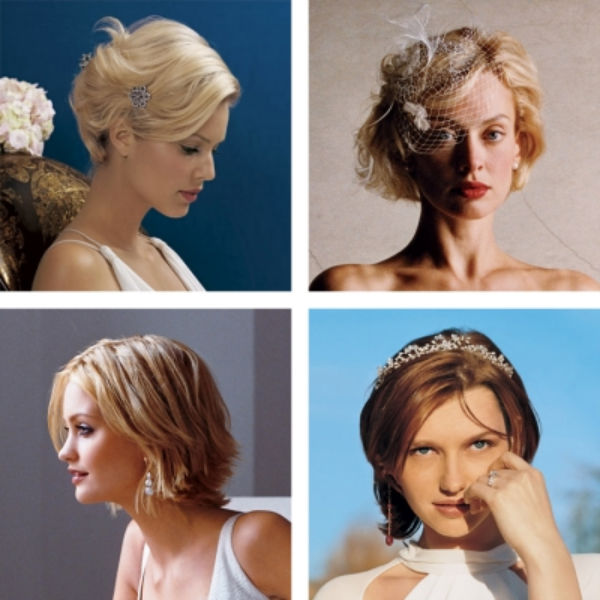 As a bride, understandably you would want to look at your best. The dress, shoes, makeup, and hair need to be just perfect. Hairstyle plays an important part to complete the look. A perfectly chosen hairstyle can enhance the look while a clumsy hairstyle can spoil the look altogether. Here are the 15 most popular wedding hair style ideas.
1. Modern birdcage
The birdcage is a classic 1920's hairstyle that is modernized now and worn by brides across the world. This head ornament is crafted using bands of fancy fabric that goes all around the forehead and the brow of the bride, giving an edge of vintage romance. It suits the long hair as well as the short hair and you can use flowers, bowls or feathers to adorn one side of the wrap.
2. The Goddess
If you have natural curly hair, thick hair, or hair that is difficult to manage, then the goddess style would suit you perfectly. It is very similar to the basic up-do where you curl, pin, and twist the hair at random so it looks effortless and natural. You can puff, smoothen, or have curls around the front and a basic up-do at the nape of the neck. The look is simple but emphasizes on the whole.
3. The soft side pony
This style is so simple that you can even do it minutes before the wedding ceremony. This simple yet sophisticated hairstyle can give you an elegant look by sweeping the front of your hair over your ears and then loosely tying the hair band over the voluminous waves. Use a stylish hair tied with a stud, gem or a fancy brooch with Swarovski crystals to make it look grand. It would also complement a low back or a backless gown so you can flaunt that gorgeous back of yours.
4. The screen siren
Do up your band with unexpected elements like feathers and you have a whole new hairstyle to complement your look. Add the feathers to a veil or a head band and create a stunning hair do.
5. The new twist
If it is the classic bun but with a modern edge that you prefer. The chic and twisty style is perfect for those with long hair or shoulder length hair and even hair extensions can be used to make it look fuller. Show off your shoulders by doing up the bun either at the nape of your neck, the side or right in the center and then using a styling cream smooth out all the unruly hair sticking up. Wear long earrings and you will look absolutely ravishing.
6. The straight story
Add Jewell to your hair to create a princess look, but without the tiara. Do a side parting to the hair and secure with some pins and crystal hair vines which are not too over powering, but soft and simple enough to complement the dress. Accessorizing your hair with Jewell works well for straight hair that has been blown dry. You can also work on the roots a bit so that the accessories will be held properly. Silver hair combs and Jewell should go well with the white or cream wedding gown you adorn.
7. The perfect part
Do a center parting or a side parting and then add a chic chignon to open up a whole lot of possibilities for you. You can play up the look with various jewels and then accentuate with styling options. Give a little lift to your hair by applying a styling mousse to towel dried hair and then blow them upside down to lift them up at the root. On the other hand, if you have decided to pull the hair back completely, then keep it soft and classy with a few curls and locks in front which would frame your face, but make sure they are not a hindrance to you. If you have perfect straight hair, then this is definitely the look for you.
8. The art of the braid
Braids are every brides favorite, especially if you have soft colors on your hair. The loosely braided hair style would bring out all those different hues and if you choose to accessorize it with hair Jewell, then even better. If you have not colored your hair, but wants to do the braid, then you can always ask your stylist to add a few highlights to make it stand out.
9. Retro glamour
Long hair can carry off the retro look perfectly well. Sweep back the hair with a thick and stylish head band in such a way that your cheek bones and the shape of your face is highlighted, leaving the remaining hair fall freely at the back.
10. The tease
Leave down your gorgeous tresses after pumping up the volume and then use simple hair clips or barrettes to clasp a few strands of hair. You can also use hairspray if you have curly hair that you want to keep away from your face.
11. The undone up-do
If it is a beach wedding you are having, then this creative up-do will match perfectly with the theme. This style is not supposed to be perfect, with curls and locks in place, but it is elegant and classy nonetheless. Use fancy flowers or a jeweled center to take the undone updo a notch higher.
12. The swept away
Sweep your hair to one side and set it in place with a studded hair comb or barrette to create a carefree but elegant look. If you have loose curls then this look would be just the right one for you.
13. Couture curls
You could increase hair volume by doing a half-up do. Clip a few strands together with a beautiful clasp and then let the remaining strands to fall back freely or even curly it to create a sultry style.
14. True romance
By placing a few hair pins strategically, you can add to the dressed up or down look in a different way. The look is wispier and looks better on those with short hair.
15. The braided bun
Two sophisticated traditional hair do's come together to make the classic braided bun. Braid you hair and then put it together in a bun which gives you a twisted hairstyle perfect for a seaside celebration or a ballroom affair.