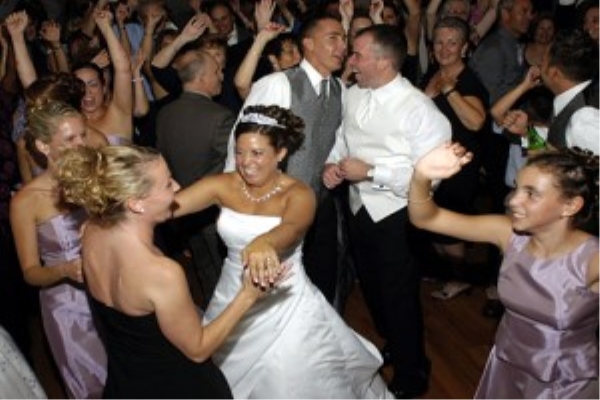 Wedding is incomplete without good music and dance. All your guests look forwards to shaking a leg on the dance floor. It surely adds up to the enjoyment factor. To arrange for good music and a DJ is easier, but, the task of keeping the wedding guest on the dance floor is comparatively tricky. Here is a list of ideas to keep your wedding guests dancing.
1. Know your audience

Before deciding the playlist on your own, know what your relatives and guests would love to tap their feet at. Do not go by popularity of the songs alone as it's not necessary they would urge your guests to hit the dance floor and start jiving. So, keeping in mind the likes of a majority of them, create a playlist of songs that get them all in the right mood to dance and enjoy the party.
2. Set the mood early
Hire professional performers to keep the guests enjoying the party. Hiring a jazz trio, a mariachi band, or a bluegrass group can pump up the party well enough making your guests delightfully dance to the mesmerizing music notes. The cocktail hour can be chosen to set the mood early.
3. Ensure a commodious dance floor
Make sure that the dance floor is accommodating enough so that all of your relatives can dance without tripping on one another or hitting each other. But also consider that an unnecessarily large dance floor can make people self-conscious. So, keep it just the right size. A dance floor should be kept at the heart of the wedding hall and it should not be tucked into a corner. Whenever your guests feel like dancing, they should know where the dance floor is and it should be made the center of attraction.
4. Make the music interactive
Let your guests choose a song and request it through the RSVP card. Your guests will certainly take part in it and everyone would be keenly waiting for the songs that are dedicated to them. Keep a host who will do the romantic fillers and games while a chosen couple is asked to dance. Everyone would love to contribute the special songs of their life adding up to the merriness of the celebration.
5. Keep up the excitement factor
Don't let the excitement of your guests slow down. Keep on introducing exciting games and acts that they never expected. It would be a good idea to include professional dancers, like break dancers and flamenco, who can lift up the mood of your guests. Ensure to time it right. This timely element of surprise will keep your guests excited throughout the party.
6. Chose the right wedding music
While there are obvious choices for selecting a wedding music, you do not want to bore your audience with the obvious. Try selecting the fresh new romantic numbers. Also, do not completely erase out the old classics for people still love to listen to them.
7. Take care of the older guests
Old people find it difficult to stay late in the wedding party. They want to retire and take rest. Hence, make sure to involve them by including some old-gold classics in the initial hours, when they are still active. You should try keeping every relative happy. So, while thinking of pleasing the younger audience that includes your friends, don't forget to make the celebration enjoyable for your grandparents as well. It would be a lovely shot to capture when your grandparents do that elegant, ever-so-classic, couple dance.
8. Make the first move
Be the first one to hit the dance floor and show your best dance moves. This would also be the kick start of your happy married life. Your guests would definitely be interested in joining you when they will see you enjoying to the fullest. Keep on inviting every guest gracefully to dance and this way the dance floor will be stacked up with more and more number of guests joining in the dance.
9. Play a variety of genre
Don't limit your list to a specific genre of music. Different people would enjoy different genres of music at a wedding. Ask your DJ,to play a different genre of music from time to time which would keep the guests dancing. Remember, that your wedding is also a moment of celebration for your guests. While you may want to fill it up with the music of your choice, pleasing your guests as well would make the day memorable for everyone present. They would recall it as the most amazing wedding they have ever attended.
10. Align your seating chart
Know that the elderly people would never like to be seated near the speakers. Moreover, ensure that your family members and friends who enjoy dancing are seated close to the dance floor. So, whenever their favorite number is played they don't hesitate hitting the dance floor immediately. Once they are on the dance floor, others will begin joining in too.