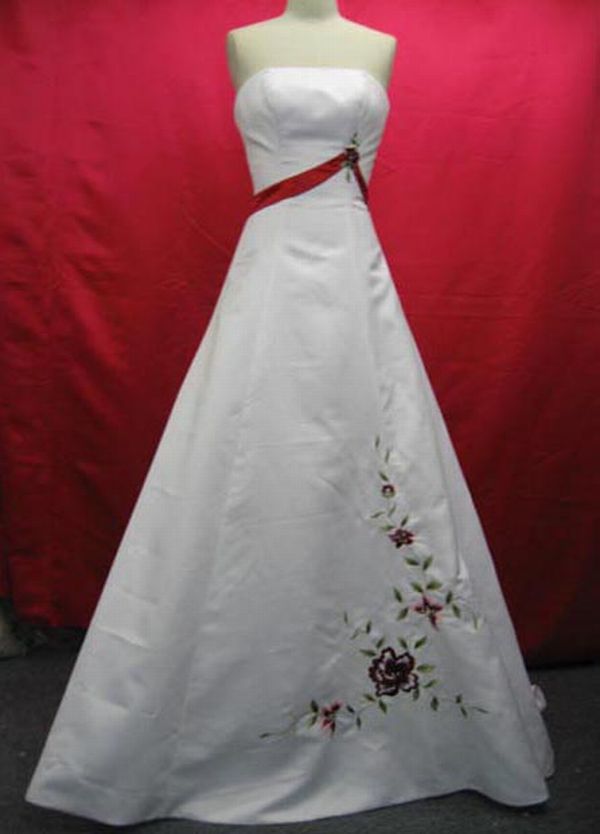 Every woman wants to look her best on the day of her wedding. While a woman's silhouette plays an essential role, most problems are solved with the right clothing choice. When shopping for a wedding gown, take your time to settle down with the final choice. Here are a few tips to help you select a perfect wedding gown for yourself.
1. Early shopping
Make a proper plan of how you are going to shop and where you will be visiting. Usually designers need at least 6 months to make a wedding gown so make sure you start your shopping at least 9 months before the day comes. Another advantage is that early shopping also can get you many choices which can solve your problem. Get a list of independent bridal salon which fits in your budget. Look for the salons which take order from designer's distinctive styles, instead of mass market chain stores.
2. Go with selected people
Try going for shopping alone or with people whom you think have good knowledge of wedding gowns. This is your special day, get things of your choice. Taking advice from people is alright but make sure you get the dress which you like the most and not the one which others liked.
3. Set a budget
Before you go for shopping, it is very important to plan the budget of your wedding gown. You have to consider all factors and the cost of your headpiece and veil which can be between $50 to $500. You will also have to take into account cost of shoes, wedding jewelry and lingerie's cost which you will be buying with your wedding dress.
4. Fabrics
There are different fabrics from which wedding dress is made. The fabric material can vary from light materials like chiffon silk to heavy brocades. Take into account, the time when you will be getting married. If you are getting married in summer then don't go for heavy fabric and if you are planning to get married in winter, then chiffon is not something you should go for. You have to also consider how the wearable fabric is. Whether it is comfortable for you while sitting and standing and whether it will highlight your appearance
5. Undergarments
While you decide to go for shopping, if you already have the undergarment that you are going to wear on your wedding then wear the same one, so that it will be easy for you to make a choice. Also wear a good fitting strapped bra so that you can also try a strapless dress.
6. Look in other shops too
Don't be in a hurry and make a decision of buying wedding dress just by looking in one shop. You should not buy your dress the moment you like it. Visit other shops as well. Look if the same gown is coming in a lesser price in other shops, or a better wedding gown is coming for a lesser price compared to the one which you liked in the previous shop. Give yourself some choice and time to think before you shop or buy.
7. Set your hair
Get your hair clipped so that it won't be a problem while changing your dress. Set your hair in such way so that you can let your hair down and make a decision on which style your gown will look better.
8. Don't lose hope soon
If you are not finding the gown of your choice don't lose hope. It is not easy to get the gown which you have been dreaming for years in just a day or so. Make sure that you don't make a rash decision or adjust your choice just because you are not finding the gown of your choice. Remember your wedding time is the golden time which will come once in a whole life. Adjusting or losing hopes when you don't get dress of your choice will be of no good. You must try at least 30-100 dresses before you make your final decision.
9. Go with your instincts
Just go for the dress which you think looks good. More than your loved ones you should trust what your inner mind says. Think on how you will look when you wear it. Is this gown the one which you have pictured yourself as a bride. If not then forget it and move on.
10. Keep an open mind
Keep somewhere in your mind that the dress you have been looking all this while, which can be idolizing in magazine might not look best on you. Don't be hard on yourself. Get the gown that goes well with your overall appearance.
11. Try every style
As said, don't be in a hurry to buy a dress. You have to be very careful while shopping for your gown. It is your wedding day, so make sure that you try all the styles which you think can suit you. Look for every style in which you have been picturing yourself in dreams. You never know you might get just one you had thought of. Go for truck shows, you might like something there. Meet the designers and see their collections. If you like one then buy it. You might get some discount.
12. Take correct measures
Once you are ready with your selection part, measurement is the second thing on which you have to think on. To make your wedding dress is not an easy job for the designers. They might make a small mistake that can spoil your mood. So make sure that you give them your proper measurement of waist, bust and hips. Every designer has their own measurement chart and that is how the store will determine your size. Usually you won't have a problem with experienced designer shop as they have an idea of how the dress is suppose to fit on a particular body. For your better understanding ask them for the sizing chart and the way it works. Make sure you order the correct size.
13. Make payment through credit card
Get information of how much time designers will take to finish your gown. Make sure you pay the amount through credit card. For such an huge investment, you have to be careful. You might have to stop the payment in case something goes wrong with the dress or in case some other situation arises.
14. Make an appointment
Make sure that you get the appointment at the store where you want to visit. Usually bridal salons suggest three brides to make appointments. Get the appointment in such a way that canceling will not create any problem and inform the store in advance about it.
15. Focus on fit
Your gown might need some alterations so that it can fit properly to your body. If your gown is properly altered then you will be comfortable in the dress and can enjoy your wedding in a better way. Alteration is not a lengthy process but it is good to do it in advance.