Trends are in everything, right from the first cup of coffee of the day to the last pillow cover that you will lay your head on. You begin your life with trends, in baby products, you die with trends. In such a world, it is inevitable that you will have to follow trends when it comes to one of the most special days of your life, which is your wedding day. Trends have ever been present in this dimension, and as of the new year they have become more and more predominant throughout the entire process.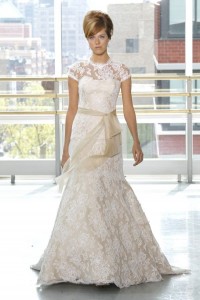 2013 is going to see a whole lot of new and innovative trends. No wedding is complete without the whole immaculately white wedding dress. Therefore, we start off here. The dress is predicted to change its shades, literally, with more and more of pastel shades taking preference in the minds of people. Over that, experts predict that people, or rather wedding brides are going to turn towards patterns in order to enhance the feel and look of the wedding dress. Polka dots and stencilled patterns are going to be the all new craze with women in this coming year.
Lace is going to make a comeback, with more and more women opting for a lace sleeve or a lace back or some part where the lace ill stand out as an entity on its own. Moreover, it is being speculated that women are going to go minimalistic over the dress, with women showing more and more of skin in their wedding dress. Bare backs or sleeveless or waist level dresses are going to be the new "LIKE" for women.
Classic models will act as the inspiration for women. More and more members of the feminine gender will go back to elegance and grace of the 1920's when weddings were more of a chic affair.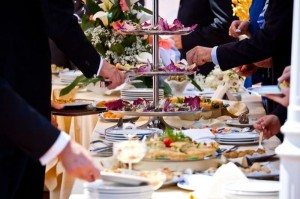 When it comes to food, people will go crazy, since this will be a year when brides and grooms alike will prefer more and more of food trucks to do the serving, when it comes to dinner. This means more and more of dishes like pizzas and others like fries, colas and burgers will make it to the menu. Gone are the days of a course dinner, it is the new age of buffet dinner.
2013 will certainly be an interesting development in the totality of the progression of the wedding industry. Here's to a whole new year.