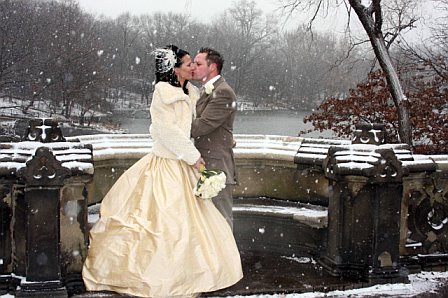 Winter weddings are magical with their white snow, cold breeze and the tinkling of ice droplets lending a romantic backdrop. As for any wedding, decorations are an integral part of wedding planning, and celebrations. Winter weddings are mostly held indoor with big halls as venues. Here, we have shared, three color ideas for winter weddings.
1. Luxurious Red Wedding Colors
Red is a good color for weddings in winter. Red always symbolizes heat or warmth. So, choosing red interiors for the wedding makes an ideal choice as it gives a warm touch to everyone in the cool backdrop. Red paired with gold often symbolizes luxury. So, all the decorations and interiors with such combination make a very grand appeal to the wedding.
Red table clothes with golden napkins or vice-versa anything which pleases you, a bunch of red roses or other red seasonal flowers make it even more appealing. A touch of few candle lights with their soft golden glow makes the place even more welcoming. Red combined with cream is also an excellent combination which adds a very rich look to the wedding.
2. Cool Winter Wedding Colors
Light blue and silver are an absolute replica of winter itself. These two colors have their cool nature independently. If both of these colors are combined, it surely portrays a very cool and elegant surrounding. The two colors combined with a little snow add that beautiful, romantic touch to your wedding and the decorations done in entire light blue with silver all around it adds the sparkle like a snowflake in sunshine. Silver napkins with light blue table cloth and silver again for the chair backs make the most of it.
Hanging those christmas silver balls around can make the hall look even more beautiful. coming to flower arrangement, you can use white roses or any other white flowers combined with light blue roses or orchids. To make it even more elegant, bridesmaid wearing Light blue dresses looks just perfect.
3.White Winter Wedding Colors
White symbolizes purity. The wedding done in total white on a winter's day is just like watching a wonderland. White alone is good but white combined with silver or white in combination with gold is best. White table cloth with silver/gold napkins, with white cutlery, chair backs done in silver/gold bows is just excellent. For the flower arrangements, you can use a bunch of lilies or a bunch of wild white roses, with some green touch to it like using some sweet smelling herbs with the white roses gives a very natural look and sends a sweet aroma in the air.