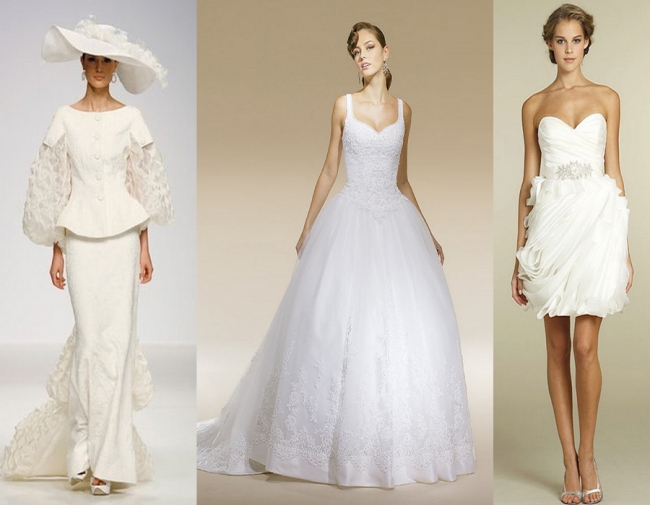 Dressing for a wedding is the most important and sought after task for a bride-to-be. Be it a casual or a formal wedding, the wedding dress ought to be a big deal. It is, after her groom, her second most precious entity in the whole wedding celebration. Every girl wants their wedding dress to be the best and unique, and for this some try and experiment with different looks and designers. While some girls prefer the conventional fairy tale weddings, the others prefer to keep the whole affair a little casual and simple. Casual weddings are just as special and traditional like formal weddings. They just display less of the glitz and gleam all around. It totally depends on a person's taste and choice.
List down are some ways to dress on a casual wedding affair without facing any auxiliary fuss:
1. Opt for delicate dresses
If it is a garden wedding that you have in your mind, then a casual sundress is a great option. It could be in cotton or linen fabric. The color can be kept neutral or bright depending on your preference and what looks best on you. These dresses are especially an ideal choice for casual summer weddings. The length of the dress can again be of your own preference but typically they are kept short. Sundresses flatter your figure and look upper-chic. They are also the ultimate choice for beach weddings.
Another good option is a floor length maxi dress. The long flowing maxi dresses look romantic and elegant. There are innumerable options available for varied patterns and design. They look great in whites, off-whites or a neutral shade.
Fashion Tip:
Do not experiment with bold prints or psychedelic hues unless the wedding theme is wacky. It will only add that extra bulge to your outlook; resulting in a ostentatious appearance. Pick subtle shades that would look fresh and sublime.
2. Suits can be a choice!
Suits are a great option for people who are pragmatic in approach and do not endorse any kind of drama. People who have been married more than once opt for Suits because they are over all that fuss about the whole fluffy life-sized gown idea. Suits in one solid neutral color look classy. Whites and subtle pastel colors are most favored. This is also ideal in situations where wedding takes place in the courtrooms. You may change to an elegant dress at the time of reception.
Fashion tip:
Don't go over the board to style yourself in a suit. Keep it simple and stylish. The grace your attire reflects would automatically succeed in grabbing compliments. Don't go for too loud shades in suits. A person looks more graceful and poised in pastel shades that exhibit warmth and compassion.
3. Celebrate it in a fairytale style
This is one time tested option that you can never go wrong with. Depending upon your body type, you may choose a simple gown that suits you the best. An elegant strapless gown in satin looks absolutely stunning. If you are a proud owner of much coveted shoulder blades and collar bones, this definitely must be your only choice. You may opt for a fitted gown if you have the curves to die. Free flowing gowns are best for the ones who have flab issues. The length of the gown can be kept short if it is a beach wedding.
Fashion tip:
Keep the length, veil and train of the gown in sync with each other. Do not mess up three things at the same time. Learn the art of organizing and see what suits you the best. This way you will turn out to be the damsel of your man's dreams.
Since you want to keep the look casual and simple, do not go overboard with accessories. Kitten heels and pearls are enough to make you look like an ethereal bride. If it is a garden wedding, you may accessorize your hair with tiny flowers. No matter what dress you choose for your D-day, most important is to be comfortable. Looking good is all about feeling good. Choose the dress that you think you can carry off very well. Do a rehearsing session to be more confident. Above all, do not forget to wear your best smile.