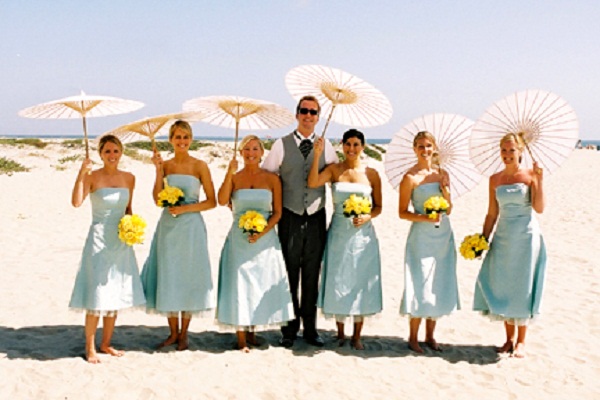 Every bride wants to look her best from her head to toe and everything in between on this day. The pedicures and manicures appear just as the tip of the iceberg when you look at the number of options that you have with you for getting beautified for the big day. However, there are certain parts of your beauty program which cannot be started just before the wedding and especially when you are holding the wedding during summer. So, like many other aspects of wedding, you need to plan ahead. Here are few tricks to help you appear gorgeous on your day. Read on and dress your best to beat the scorching heat.
1. Makeup
Every bride wants that her picture-perfect look stays as it is from the vows to the very last dance, be it her glowing complexion or her engaging eyes. And if your wedding is in the summertime, then you need to be extra cautious. Airbrushed makeup is perfect for such conditions. An air compressor is used to spray a special foundation formula that won't budge or smudge over your face. This creates a light base for your makeup which is oil free, heavy and won't easily sweat off. You can even have airbrush on rosy cheeks with the help of your makeup artist. However, it will be beneficial to you if you have a trail run at a spa before committing. Add a little color to your eyes and lips once you have your foundation. Make your face, smudge free by using a spray sealer to set your makeup. You can even ask your makeup artist to try a little dusting, or you can do this by yourself using Invisible Setting Make-up spray.
2. Nails
Perfectly manicured nails are something which every bride wants to show off along with her stunning engagement ring. You can try something else other than the usual manicure-pedicure combo. For instance, hand and foot microdermabrasion treatments used along with pedicure-medicure are an effective way to keep your hands and feet looking young. The microdermabrasion machine is used to buff tiny crystals on your hands, feet and cuticles. This exfoliates the dead cells and sun damage from the top layer of your skin. If you want to help the environment then you can even use environment friendly nail polishes. Several brands of environment friendly are available which does minimum harm to the environment. Order few samples online and test them at your local nail salon.
3. Hair
No matter whether you're accenting your hair with flowers, veil or you just want to have them simple, you'll certainly have the desire that your tresses move and look good in the sunny surroundings. If you want to have better photographs then try highlighted hair as they add movement and definitions. You can even try baliage which provides you a natural look. Ask your stylist to paint color on various strands freehand. This technique will provide you natural looking locks along with a touch of definition. Also, it is easier to maintain, as the color blends in with your roots. You need to protect your strands from the harmful sun rays as your hair can even get sunburns. Keeping your hair hydrated and refreshed with a leave-in sunscreen that will take care of it in the sun.
4. Body
Finally, you need to concentrate on your body, you'll definitely want to have your legs as smooth and cellulite-free as possible. Noninvasive procedures such as VelaShape are very effective in the case when cellulite is primary concern for you. These procedures employ a combination of bipolar radio frequency energies and infrared light along with vacuum suction and rollers. The vacuum suction and rollers increase the circulation for a smooth finish while infrared light produces heat that melts the fat. But don't expect instant results, as the effects become visible only after a month's worth of weekly treatments. However, if you are not in favor of such procedures and have a liking for natural remedies then Vinotherapie is for you. This therapy has been in use for several years in France and now Vinotherapie is being incorporated into specific treatments in several spas in the US. This therapy makes the use of wine and grapes which are known to have rejuvenating and anti-aging properties because of the presence of antioxidants. Wines and grapes are included in the services like baths, wraps, facials and more.