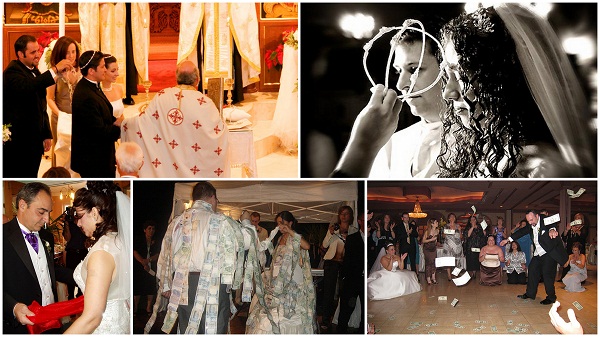 Greek weddings follow certain orthodox customs and rituals that take the beautiful meaning of love and devotion to another higher level. Like any other religious wedding, it has its own set of promises which the newlyweds make to each other and all night long celebrations attest the same. There are a couple of things one must know before getting engaged to someone who is Greek. Every religion is accustomed to their respective wedding traditions. Following them only makes you more inclined with your religious side. We have put together the most essential Greek wedding traditions that form the essence of the Greek wedding.
1. The preliminary customs
The Priest and the groom's best man is responsible for the smooth proceedings of the wedding. The couple is honored as 'the King' and 'Queen' on this day. Crowns are made with orange flowers which are adorned by the couple. The bride carries a lump of sugar or honey to make her coming married life sweet, and full of love. All decked up, the bride is adorned with diamond jewellery.
2. Wedding Procedure
A Greek wedding typically consists of the "Service of Betrothal" and the ceremony of the "Sacrament of marriage". Acts are repeated thrice to symbolize the holy trinity of God. The rings are blessed by the priest and swapped by the couple in the third finger of their right hands. Kuombaros, a member of the church helps in performing the trinity.
The Ceremony of the Sacrament of Marriage consists of several parts – petitions, prayers, the crowning, readings from the New Testament, the offering of the common cup, the circling of the ceremonial table and the benediction. As a married couple, they circumvent the altar and commence their union. Their previously bound hands are separated in the hope that now they are tied in an endless promise of love and divine devotion.
3. The Celebrations
The most enjoyable part of the ceremony is the night of the celebrations which is filled with dance, music and an amazing vigor of family and friends. The entire bridal party skips and jives in a circle and the Bride leads this raucous dance known as Kalamatiano. Acrobat dancers and others take shots of ouzo, an indigenous form of Greek liquor. Tsamiko is the dance they perform.
4. Food
Candy-coated Jordan almonds are a timeless Mediterranean wedding favor. The bitter-sweet combination symbolizes the hope that the difficult moments of the couple's life will be balanced out with happiness.
Glykismata, Greek deserts and pastries are made with a combination (or any one) of honey, nuts, custards and filo. Phyllo, also spelled 'fillo' and 'filo', is a light, flaky, paper thin pastry made with layers of butter. The nuts might be walnuts, pecans, pistachios or almonds.