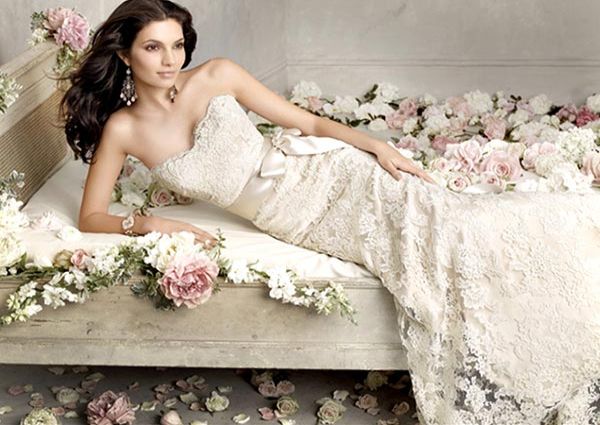 Think of a wedding dress and the first things that would come to your mind would be a long, white, slender, strapless gown and a stunning bride adorned in one of these. But trust me; they are not the only things which you can do for your wedding. Dresses these days are getting more and more innovative and varied and are no longer restricted the traditional fashion sensibilities followed centuries ago.
Always remember this is the happiest day of your life, so not only do you need to look your best but also make sure you like what you are wearing. You dressing tastes might not match those with your Mom/ Mother in law/best friend/cousin etc but do remember that none of them will miss their daughter's wedding for something so trifle. Find a dress that makes you feel beautiful, even if it is little different from the normal. It's you who has to look beautiful and feel like a princess, fairy or an angel. Go ahead and read these wedding ideas to be a little different at your wedding. Do fuse other ideas with them and try something else too! So go on and enjoy! Have a lovely wedding.
1. Experimenting with Colors
Though white is the standard color for all wedding dresses, it need not be the case now. These days you can experiment with a lot of colors and replace the plain, virginal white. Gowns with a hint of another color or totally white based are very popular with older brides or women who are getting married for the second time. Even younger woman are not opting for this color as the plain white doesn't go with people with pale skin.
Another alternative to white would be ivory. If you don't want to avoid the white completely and still want to go with some other color, ivory is a richer, darker yet still a traditional option. It is the perfect alternative to white and a completely flattering option. Another option is wearing delicate pastel colors with white shades. This way you will stand out without being simple about it too.
If you want to be truly bold and brave, nothing could beat a black wedding dress. Only a very experienced and brave dress designer can work properly on this color and also will the dress cost a bomb. Though it is a highly uncommon option it is definitely out there. Only go for black if you are really interested in wedding dresses with heavy color accents.
2. Fairy style wedding dresses
If you want an air of magic and fantasy in your wedding dress, try something unusual like a fairy wedding gown. This is one of the recent advents in the wedding industry which use unique, colorful and delicate designs to add a magical feel to your wedding dress. The material used to make them is tulle. These dresses have a rare beauty about them which are generally not found in basic and conventional wedding dresses.
The best thing about these wedding is that they can be as traditional or as unusual as you want them to be. A little color and tulle can even give you a wedding dress with wings. Nothing will beat a brightly colored wedding dress with fairy wings. However you want it to be, a fairy wedding will steal the show any day.
3. Medieval Wedding Dresses
Many people in the United States are very intrigued by European Middle Ages era, in almost everything. Renaissance fairs are a common occurrence in many cities in and around United States and it can be easily seen how people want to imbibe European culture in their daily lives, including their wedding dresses.
Medieval wedding dresses are not just white and silky but also brightly colored gowns representing styles of various periods and countries. A common feature of medieval wedding dresses is the tightly laced corset with flowing fabric waist down.
You can either chose to be the medieval bride by flaunting the middle aged gown all by yourself while the groom and guests wear other formal dresses or can get everyone to dress up differently in appropriate medieval age clothes!
4. Short Wedding Gowns
Usually all wedding gowns are floor length. Mostly they are definitely floor length to begin with, as obviously there is also a train to follow. But who said that a bride can't flaunt a cocktail knee length wedding dress. Though keep in mind the traditions and keep it long enough to be worn at the church, but nothing's stopping you to look stunning in that. Short wedding dresses are also very useful for beach wedding as they are extremely comfortable to walk in the sand, near the water etc.
.