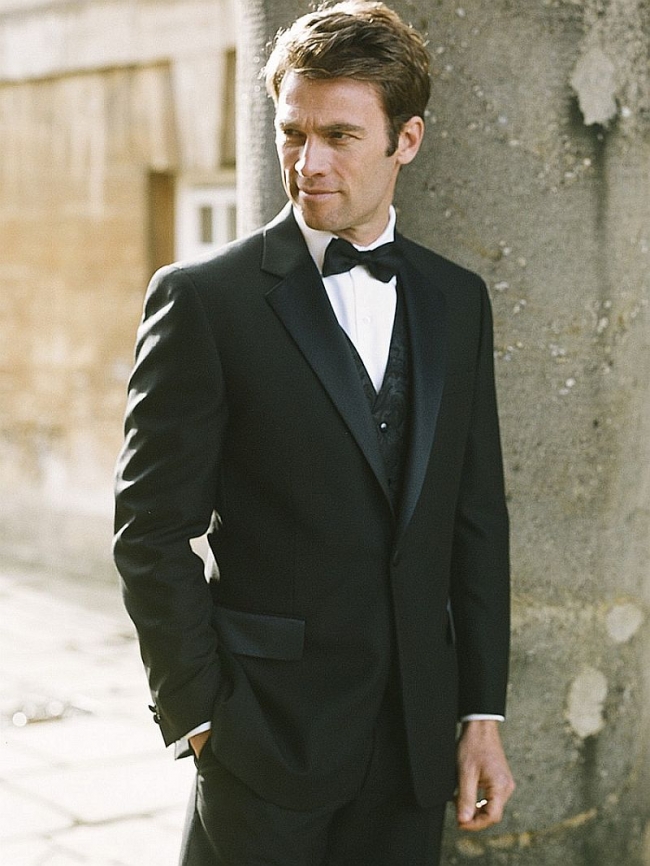 The tuxedo is the essential part of a groom's attire. To look smart, you need to dress smart. Although choosing the best tuxedo that suits you the most can be very difficult but you can ease this by analyzing your body shape and studying some options before trying. Making a smart clothing choice requires you to pick clothes that suit your body shape and your color choice. The best way to choose a wedding tuxedo to suit your style is to pick a tuxedo according to your built, body shape, style and the type of wedding you have planned. Here are a few style tips.
1. Tall and muscular
A clean look without ornamental frills is the right type for you. Try and avoid a peak collar and go for a shawl collar instead. A cummerbund can be replaced by a vest if you have a large waist. It will conceal the bulkiness effectively. Black can also be consider because of its slimming effect.You should also try to avoid light colored suits, white suits, tails and morning suits.The neck area should be paid special attention if you are very muscular as it should not seem as if your bow tie is chocking you.
2. Slim and Short
Styles which are elaborate and look too large should be completely avoided. A double waist jacket should be instantly struck out of your list of options. You could consider pairing classic tuxedo pleated trousers with two or three button jackets with a low button stance.Extra shoulder padding can lend you a broader look. Consult your tailor for this. Also make sure that your tuxedo doesn't drown you in extra material.
3. Short and Broad
A single breasted- jacket is the best option. A classic two o one button jacket with a low button stance along with a shawl collar will lend your silhouette a slim effect.Try to avoid a broad European shoulder line and choose a jacket with a natural shoulder line.Also try to use a vest instead of a cummerbund as it has a slimming effect. Make sure your trouser and jacket fits you well as ill fitting clothing can totally kill the look. After you have buttoned your jacket, the material near the buttons shouldn't appear stretched and the trousers should perfectly fit around your waist.
4. Tall and Thin
You practically can wear a tuxedo under the sun. You are at an absolute ease to suit your whims and fancies. Single-breasted four button jackets to double-breasted tuxedo with broad shoulders, you can choose anything you want. One tip, make your jacket arms and trouser legs long enough because they are in big hype these days.
5. Ultimately Your Personal Style
Clothing is all about your confidence after wearing them so you should know which style and color suits you the most. It's always easy to make choice between a contemporary tuxedo and a traditional one. Mostly, people prefer to wear fashionable tuxedos, instead of going for a classic one. Although the prices of these contemporary designed tuxedos are high but you can also buy them at rent. Extra formal tuxedos should be avoided as they don't suits well and gloom away our look.