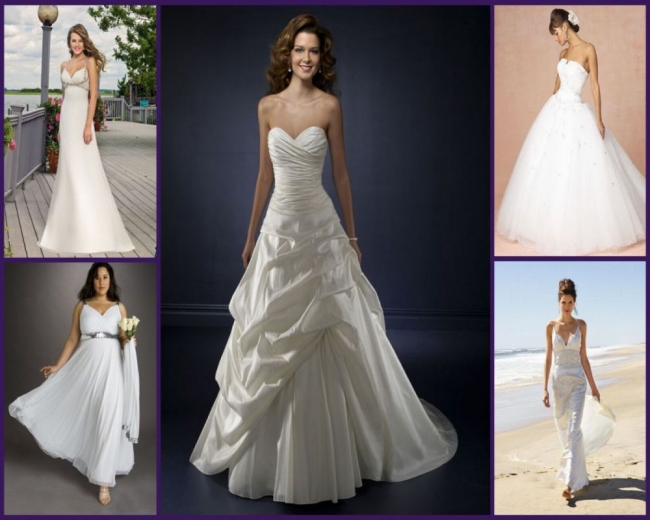 Beach weddings are most preferred for their scenic, calm and relaxed backdrop. With beaches as wedding venues, brides get a chance to experiment with the color and style of the wedding dress. Whatever the chosen venue, the basics of choosing a perfect wedding dress remains quite the same. To choose a perfectly fitted wedding dress, choose according to your physique.
1. Tall
If you are tall, opt for a silhouette. The purpose behind choosing the silhouette is to lend prominence to the natural shape you have. For this, each aspect of dressing must be taken in consideration. Starting form the lower waistline, the floor-sweeping hem must be able to reflect the longer proportion you have. The long sleeves, you are wearing, should go past the wrist. You can have too many bells and whistles including ruffles and rosettes, which can come off as cutesy, especially on the tall person.
2. Busty
If you have a busty figure, then you can pick the scooped neckline dress. This style will help you to open your face and will let you display the upper part of your dress without making visible the cleavage. Your love towards gaining the look of strapless gowns, can be fulfilled by picking a slight dip with the neckline. You should not forget that the fabric on the bodice with a sheen to it, will add extra volume to your chest.
3. Pear shaped
If your body is pear shaped, than you can look for a dress that gradually widens below the waist. It highlights the narrowness of the midsection; floating away from the hips and thighs. A duchesse satin and taffeta are sturdier fabrics. These are effective as they don't hold tight. Additionally, you can also use a spaghetti-strap garment as these will reflect a extra slenderizing upper body. But you should keep in mind that a classic silhouette A line, imparts a formal wedding. This can also be used when it is made using a more casual fabric.
4. Plus sized
For a plus sized figure, you can choose the dress which will make you look beautiful. The Empire dress in addition with a skirt would be a perfect choice for you. The skirt could be like beginning under the bust and will flow into a gradual floor-length A-line. But avoid the Empire starting on the chest and have no pleating of the fabric. This reminiscent the maternity wear. The dress should not be loose otherwise it will add pounds. To get a perfect dress, you can find dress with fabrics like satin. Rather than anything too flowy, these satin provides structure. To get a romantic airer fabric looks, you can also choose the gown with stiffer base with added embroidered tulle overlay.
5. Apple shaped
Women having apple shaped figure, should go for specially designed dresses. This dress flares out into a gradual 'A' shape and has a firm grip on the waistline. Also go for a garment, which has rich and numerous texture with it. You can opt for ruche or lace detailing also. This will hideout the extra; creating a corset like effect and will fit snugly. You should keep it as a point that a trumpet dress styles must be avoided as they will emphasize the wide body area and flare out at the legs and the knees, where your body looks slender.