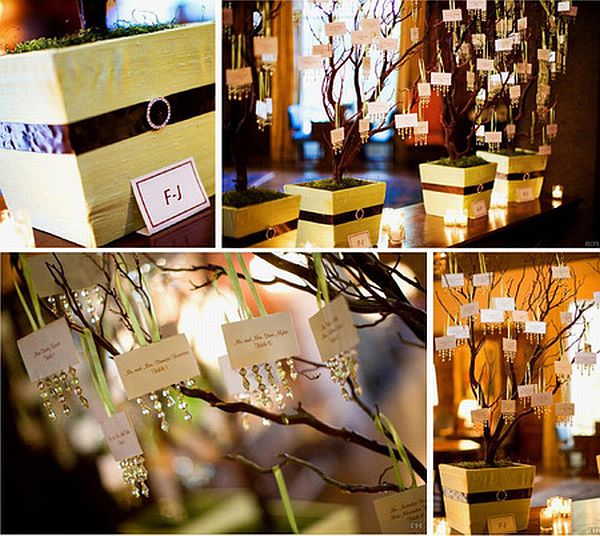 The joy of making your own wedding favors, wedding food and other items required to put a wedding together is something else. You do not need to depend on a lot of people and stress yourself out even more. You could also have a low budget wedding due to this. You do not need to spend so much when making your own items for the wedding. It also gives out a special meaning to the guests who shall be present at your wedding. At first planning a wedding yourself and preparing it might come as a terror task to you, but it is quiet simple. Read on to more on how you can plan the best DIY wedding and do not hesitate to try out new things.
1. Wedding Monograms with Stamps
Instead of spending money on designer motifs, just get a custom monogram made. This can include calligraphic initials of the bride and groom. This will save you time as well as give a personalized appeal to the wedding. You can leave your mark on almost every wedding detail, from invitations to guest book pages. You can go for different calligraphic designs if you think a single one looks boring.
Tip: You guests would be happier and intrigued to see your monogram which can be personalized according to your desires. It is quiet a neat choice and the best part is not having to spend too much money.
2. Wedding Programs
Give your wedding programs a different and unique look while still working on a budget. Wrapping paper can give your program sheet a much needed face-lift. First, choose a color matching your theme. Buy papers of different patterns in the same color. The pattern variety creates a consistent yet varied look. Buy a few rolls from a stationary shop and use them creatively with the programs.
Tip: The wedding programs could come with a lot of work, but what is needed to be written on it can be forgotten. Have a simple yet elegant wedding program, so your guests will be inspired to know what is coming up next.
3. Cocktail Napkins
You can get a simple monogram, an interesting design or your favorite quote printed on your cocktail napkins. This will add to the decorations. Once again, stick to your theme. A print Gocco machine, which you can find at most of the craft stores, allows you to print your work of art on any surface, be it a favor bag or a napkin. You can even have customized tee shirts of your wedding.
Tip: These are always cheaper and more efficiently used in a DIY wedding plan. It is better to have these as you do not have to worry about the cost of using extra napkin otherwise provided by the caterers or the venues. Buying a bunch of paper napkin s with your initials on them could allow the guests to keep it as a memoire.
4. Wedding Stationery with Pressed Flowers
You can enhance the look of your stationary by including pressed flowers in them. They give a simple yet beautiful & organic look. You can use a Microfleur microwave flower press for mechanical pressing of the flowers. This device (if not available in a shop near you) can be bought from Amazon. Alternatively, you can go for the traditional way of flower pressing i.e. pressing petals between the pages of a heavy book. Once you have the petals ready, glue them to the wedding stationary. Add the finishing touch by sealing with a spray paper adhesive.
Tip: Paper made origami is always interesting to look at and it is a good idea to have this for your wedding. Plus old flower which have been pressed and kept for long give out a vintage look and it has a certain awe about them.
5. Favor Cards with Shipping Tag
Consider the option of cheap shipping tags for the wedding favors. Even if you have already bought your wedding favors, you can personalize them with a hand-written shipping tag. You can get these tags from an office supply stores. You can either print or hand-write a message for your guests on these. It need not be long. You can also double up these tags as place cards.
Tip: Your wedding favors need not be expensive and need not have to much work done on them. You can simply go for the wedding favors with shipping tags and they are easy to find.
6. Customized Wedding Stickers
Leave your mark on everything from thank you notes to favor bags with the help of wedding stickers. You can design your own logo or even a wedding motif. Why not show off your creativity and design your own monogram. After the design or the text is finalized, these stickers could be printed at home or through websites like StickerGiant.
Tip: This might not be unique but it is still a good suggestion to have these. You could personalize them and write wonderful things about your guests too. Each wedding favor could have one of these. You can design it however you want.