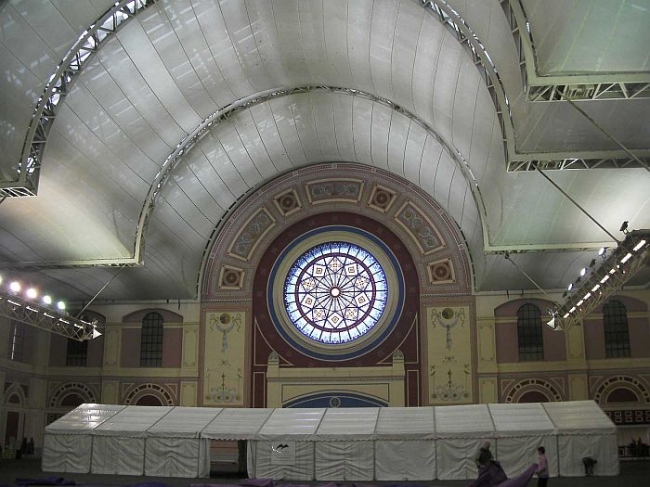 Wedding is one of the most awaited events in couple's life. In such a huge fervor, the only concern for couples is enough space to accommodate their guests and make everyone feel comfortable. The venue being spacious is one of the prerequisites of any successful wedding. Marquee weddings are a spacious answer to all the worries of the soon-to-wed couples. Marquee or a tented wedding can be molded into any size and shape according to the requirements and the number of guests. It can make space for all wedding activities like setting a dancing hall, a platform for guests to make their speeches and also a place to perform rituals for the bride and the bridegroom. Here are a few design ideas for Marquee weddings.
1. Formal Design
Formal wedding design usually gives a traditional and historic look. The best colors that go with this theme are white and ivory shades. You can furnish the Marquee with long tables and traditional looking chairs with floral decoration on them and required lighting. You can combine more colors like peach and pale pink to make it more elegant.
2. Contemporary Design
For couples preferring modern ambiance, bold colors like red, silver or black mixed with other shades can be chosen. For reception, you can also use a complete black top with sparkling star like designs to show a starry night. You can, otherwise, use different images of exotic locations and bring in a three dimensional effect.
3. Bedouin Design
A marquee decorated in Bedouin design can look very stunning. Bedouin generally means the style which is inspired by Arabian traditions and give a feel of a desert. You can use earthy shades to give this effect. The seats are generally arranged in an informal way with low couches and colorful cushions thrown on top of them. You would get plenty of Bedouin tents available in the market. You can also decorate the floor with Persian carpets.
4. Shabby Chic Design
Shabby chic design is for those who follow fashion and want their wedding to go as fashionable as their life is. To achieve this, you don't have to spend huge amount of money but little innovation is what you will need to make a shabby chic look Marquee weddings. Accessories makes a great impact on the look of the tent so vintage style accessories will be needed. An open and cheerful space for sofas will give your marquee wedding a complete different look. You can also use some traditional bunting strung across the roof as they will makes a perfect combination with vintage style accessories.
5. Blackout Design
Blackouts designed are very famous in UK and is used in most of the marriages. Walls and ceilings are done completely black and white and some sterling lighting is added to give it a royal look. You can also add some traditional ivory lining and red rose center pieces to enhance its beauty to a higher level.
6. Hobbies and Interests Inspired Design
Many couples would have come together because of their common interest. They might just use that as their theme. For example, if you have met your fiancée in a place where your favorite food is served or on a sports field, you can make use of this. The decoration would also bring back nostalgic memories and make your wedding appealing.
7. Something Really Special
Something very special design is nothing but a simple and a very less money spending design idea, which will surely increase the beauty of marquee as well as your wedding. Put some raised table centerpieces with white ball light and lit all in red with light stenciling. People are going to love it.
8. Customized Design
You can use the Marquee tent with your own creativity by not sticking to a particular theme. You can use shades of appealing colors with a touch of different decorations and comfortable sitting arrangements. This would be equally fascinating and your guests would remember it for good reasons.