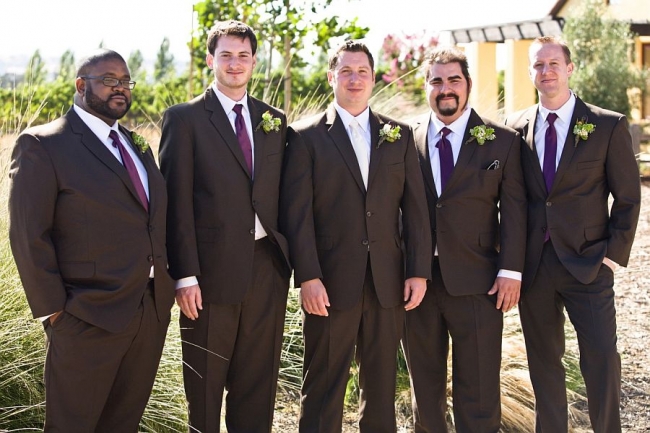 1. Buying or renting
You may want to consider first whether you want to buy a tuxedo or rent one. Generally, the groomsmen pay for their dress so it is better to gather their opinion. It may be in their best interest to rent a tux as they may not wear it often and it would be a more affordable option. It is important that the attire fits well on the groomsmen. European cut suits look great on all types of build as well as a single breasted suit. The pants with no pleat are more expensive but they look smart.
In case, the groomsmen wish to buy a tux you must check out various shops to get the best deals.
2. Tuxedo or something else
The latest fashion trends suggest that tuxedos are no longer the norm for the attire of the groomsmen. Groomsmen can look equally elegant in a blazer. For beach weddings you can also consider light khaki pants and dark color blazers to go with it. Deciding what style you want for your groomsmen's attire would depend on the theme of your wedding. Some people also like to wear khaki pants, well; it's also a great choice if you wear them with a blazer. Don't spend much money on buying irrelevant stuff. Simple attire also makes more impact if you succeed to make a perfect combination according to the wedding theme.
3. Bridesmaid dress
Before you go out shopping with your guys for tux you need to have a look at the bridesmaid dress. Your groomsmen's attire must reflect the color of the bridesmaid dress. The vest, tie or shirt can be of similar color as of the bridesmaid. It would definitely make your men stand out.
4. Color difference between Groom's and Groomsmen tux
The groom's tux should be quite contrast in color with the groomsmen dress. Your tux should be either of a lighter shade or a darker shade to make you conspicuous among your men. If you're planning on wearing a black tux, the groomsmen can be dressed in grey shade. You can also differ from the groomsmen by wearing a different color vest. You can match the color of the vest of the groomsmen with the bridesmaid dress and wear a black one yourself. It is a good idea that they all wear same color shoes and socks.
5. Accessory
The groomsmen can add their individuality to the dress by accessorizing it. They can wear cuff links, tie-pins, pocket handkerchief, watch, bow tie and cummerbund. You can further add top hat to their attire to give them a classier look. It can go well in a formal wedding with a black tux.
.