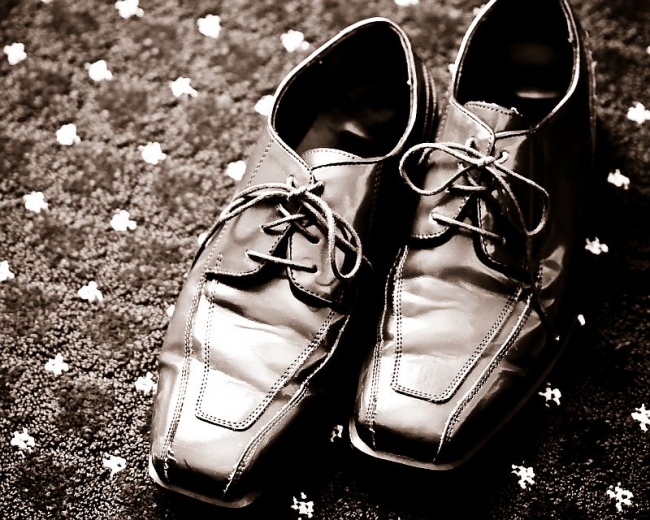 You have made a fine choice of the suit, the wedding band, the cake and the groomsmen, but you have come to the stage when you need to decide on the tricky park, your shoes. If you want the whole outfit to be impeccable then you have to take care of small nuances. If you don't want to be in a fix for a whole thirteen hours, then stop and give it a thought…. Land with despicable shoes and you are sure to be remembered that way for years to come.But anyhow, follow these steps and you are surely going to be a big hit on your wedding day.
1. Choice
The choice can range from canvas sneakers to lace-up dress shoes to slip-on leather loafers. The primary objective is to make sure that your shoes are in sync with your nuptial attire. They should match your suit. Stores which specialize in tuxedos and suits usually offer dress shoes for sale. Here, you have to consider the fit and the price of the shoes you purchase. If your dress has a very unusual color than try to choose a shoe color which can be dyed to match your tux or suit.
2. Comfort
It can give you a hard time if you are wearing smaller shoes, especially when you are doing the chicken dance. The groom and the groomsmen have to pay special attention to the comfort the shoes are providing. It is a vital factor which ensures an enjoyable event. If you have made the wrong choice with the shoe size and style, you can even end up limping pathetically. That will cut a sorry figure next to the beautiful bride. So, always remember to primarily judge your shoes by the comfort level it provides. The right fit can also be found if you carry your socks or insoles with you when you are trying out the shoes.
3. Socks
Socks also matter so make your choice between ankle length and knee high. Try them with both the suit and the tux to decide which looks better as matching socks only looks beautiful if are matching. Many grooms have a sporty taste so choose to wear tennis shoes or some canvas shoes can wear comfortable Nike or Adidas socks with these shoes. Ankle and knee high socks are two types of socks that are comfortable with these types of shoes. Also don't forget to try these socks and shoes with your suit.
4. Budget
Budget does play a vital role in making you finally set your mind on the pair. After all the pomp of shopping, it may be hard on you to invest in a new pair altogether. A nicely polished old dress shoe will also do a good job. After deciding about shoes which you are going to wear on your wedding day, you will have to take some time to break in them so as to get rid from any slipping.
5. Trial
Now that you have certain guidelines to follow, make certain that you don't wait for the ultimate day to try out your shoes. This can have grave consequences and you can also miss out on the tempting "first dance" with your beautiful wife. That would really hurt. Try out on different surfaces and on your wedding day, you will be totally comfortable with them.