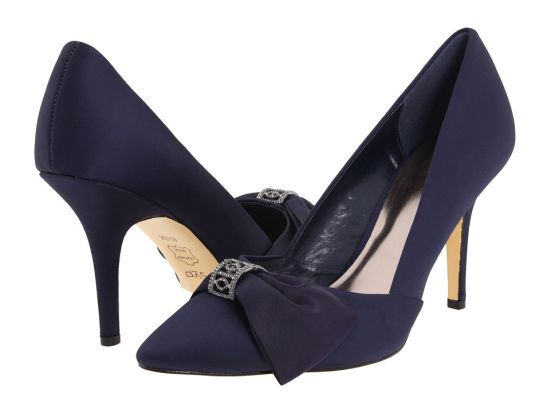 Well-designed blue shoes for wedding is a fantastic choice for the bride who wants to show off her wedding shoes. Gone are the days when brides used to keep safe and chose colors like white and ivory that would go with every dress in their wardrobe. Brides of today like to add some nice and colorful effect to their dress up. The blue shoes work really well with white or ivory colored wedding dress. Given below is a list of 10 extremely beautiful and fancy shoes for you to choose for your wedding. Have a look.

1. rsvp Teagan (SKU: #7863430 )
BRAND : rsvp
PRICE : USD 99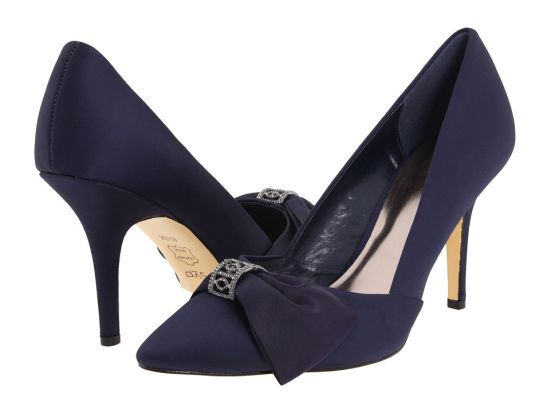 It is a beautiful pair of wedding shoes embellished with silver work in front. These are in form of pumps with high heels and sophisticated style, best to complement your graceful wedding outfit. The upper part of these shoes have been beautified using navy blue satin. They feature sparkling half bow detail on the top of satin front with silver jewel encrusted hardware. The inside is equally attractive with soft padding and smooth synthetic lining. It has 3 inches heel with matching blue covering and weighs around 8 oz and are available in many sizes.
USP
This navy blue pair of wedding shoes is decorated with beautiful half bow adorned by silver jewel.
PROS
It has a lightly padded foot bed that makes it suitable for all day long wear and is comfortable for walking.
It is made of quality leather sole to make it durable and slip free.
2. Badgley Mischka Lacie (SKU: #7764126)
BRAND : Badgley Mischka
PRICE : USD 215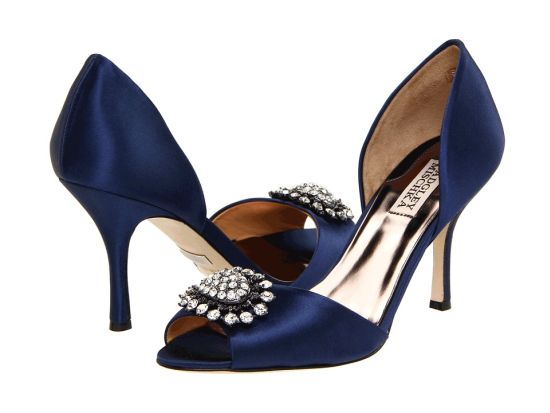 Step out in a style wearing these Badgley Mischka Lacie on your special day. It has satin or leather upper, decorated with magnificent brooch accent. It has open toe that could be used to flaunt matching nail paint. Covered heels provide nice grip while walking. Heels are around 3 inches long to make you look taller and slimmer. It has soft foot bed crafted in leather. The middle part is open to expose your well kept beautiful feet.
USP
It is a navy satin pair of shoes with open toe, accented using a big and opulent brooch in the front.
PROS
It has a leather foot bed that makes this pair stay by you for long.
This pair of shoes is definite to add spark to your splendid wedding attire.
3. Blue Wedding Shoes — Cornflower Blue Kitten Heels with Rhinestone Adornment
BRAND : DesignYourPedestal
PRICE : USD 108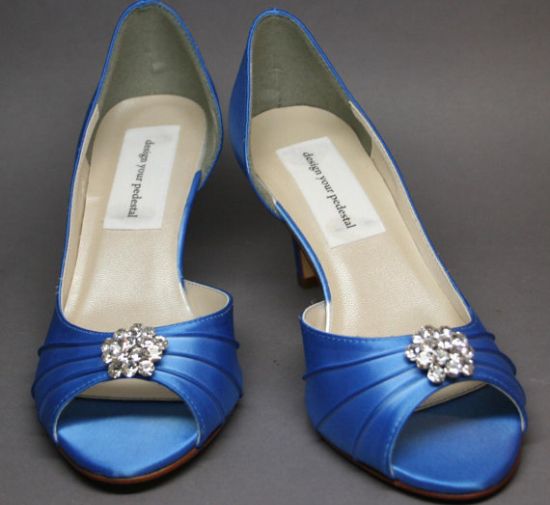 These wedding shoes are sure to look beautiful on your wedding gown. It has kitten heels crafted in cornflower blue satin and features rhinestone adornment in front which is the most attractive part of these shoes. These are available in sizes ranging from 6-10. Each and every detail of these shoes has been kept in mind as they are hand crafted by DesignYourPedestal. The inner as well as outer designing of the shoe has been done in satin to give it a shiny and soft look.
USP
It is a gorgeous handcrafted pair of shoes with kitten heels and rhinestone embellishment.
PROS
Inner part of the shoes is in silky off white that completely complements its blue crafting.
Open toe style adds more grace to its impressive design and enables you to show off your well shaped painted nails.
4. Something Blue Wedding Shoes D'Orsay Pump with vintage lace
BRAND : Beccaandlouise
PRICE : USD 125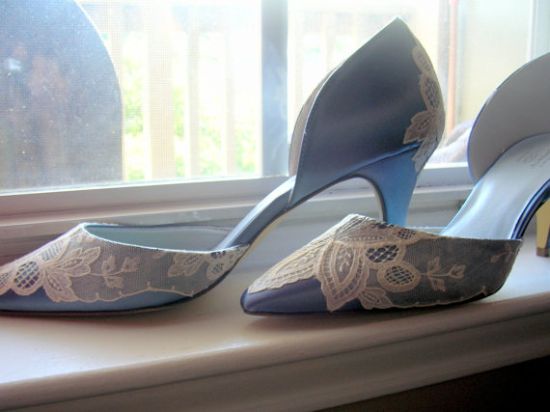 These elegant pair of wedding shoes are crafted in French blue shade. These are decorated using vintage lace which is the most attractive part of these shoes. White lace goes well with your beautiful white or blue wedding gown. Each and every corner of these shoes features an intricate stitching. Silky stain crafting with open middle design gives it a very glamorous look. These come with 2.5 inches heel, decorated with floral lace design on it.
USP
These are satin French pumps decorated with white floral lace in front as well as in the heels.
PROS
The attention seeking design presented by these shoes is very rare to find and is sure to turn heads around.
This pair of shoes has been hand crafted using fine quality material making them quite durable.
5. Poetic Licence Women's Holiday Delight Peep Toe Pump
BRAND : Poetic Licence
PRICE : USD 97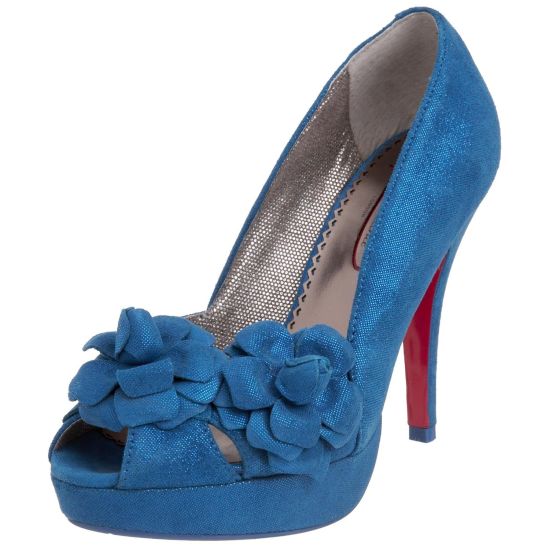 These fancy wedding shoes have been designed by Poetic Licence that was launched in 2005. These lovely shoes have been designed in UK and sold to boutiques and stores all over the world. This brand is known for creating fancy and funky designs taking inspiration from British style, culture and blend of inspirations from around the globe. These are high heeled with around 4 and a half inches heel and platform measuring around one inch. These have manmade sole and feature leather and suede crafting all over.
USP
These shimmery shoes have open toes and are decorated with oversized flowers in the front.
PROS
It features impressive silhouette to glam up your looks.
These sky-high heels are best to make you look taller and boost your confidence.
6. Ivanka Trump Linear (SKU: #7881397)
BRAND : Ivanka Trump
PRICE : USD 135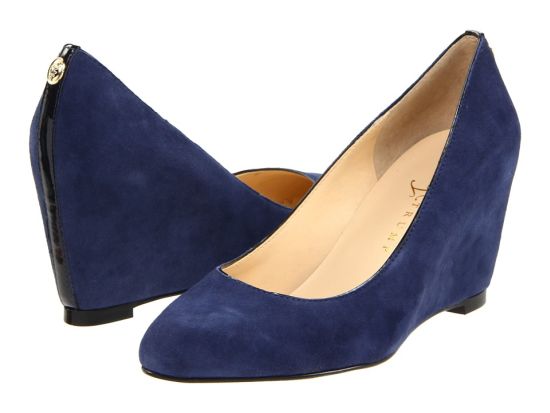 If you are looking forward to buy some impressive and stylish shoes for your wedding then these shoes won't disappoint you. This pair of shoes will make your collection unique and timeless. These are the beautiful blend of modernity and classy design created by Ivanka Trump, having an easy slip-on design with suede upper. The unique part about these shoes is that they have hardware logo embellishment in the heel counter instead of front top.
USP
These shoes are crafted in blue suede with stylish hidden wedges.
PROS
The pair has durable handmade lining with light and soft inner padding.
7. Nina Women's Oscar Pump
BRAND : Nina
PRICE : USD 81.77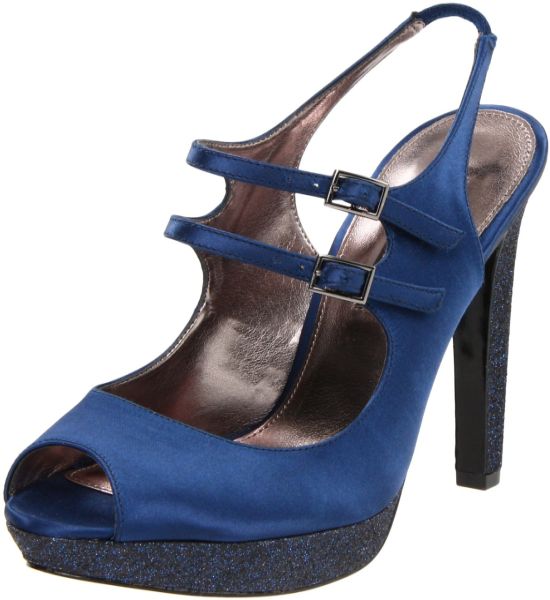 Nina footwear is a leading brand in shoe manufacturing. This company started its business in New York and entered the market by launching sexy, wood stiletto-like heels. Today, their sexy and reasonable shoes are broadly featured in fashion magazines. These dazzling Oscar High Heel Nina Shoes with bold satin upper and sleek double Mary Jane straps are perfect to own the evening. They have around 4.75 inches of heels with one inch of platform. Its platform and heel are adorned with blue glitter covering that looks very attractive.
USP
These radiant pump shoes have dual slim straps and peep-toe with gleaming platform and heel combination.
PROS
It has an elastic halter heel strap for easy wearing and taking off.
It has a soft lining made up of soft and durable faux leather.
The cushioned foot bed keeps your feet relaxed.
8. Zigi Soho Supreme Pump (Item # 235989)
BRAND : Designer Shoe Warehouse
PRICE : USD 99.95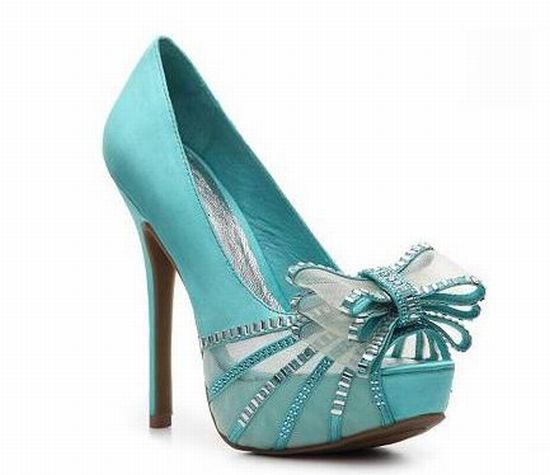 This impressive pump would definitely add worth to your feet and to your best chosen wedding dress. These are made completely in blue satin. The front portion features a mesh overlay adorned with bow and crystal embellishments.These shoes show a rare combination of Tiffany Blue decorated with silver adornment that makes it a perfect choice for the special occasion.
USP
These Tiffany blue colored wedding shoes are decorated with mesh covering in the front, topped by silver accented 3-tiered bow.
PROS
The sky-high heels makes this pair best suited for short height brides.
These imported wedding shoes are crafted with synthetic sole.
9. Coloriffics Spark (SKU: #7865422)
BRAND : Coloriffics
PRICE : USD 175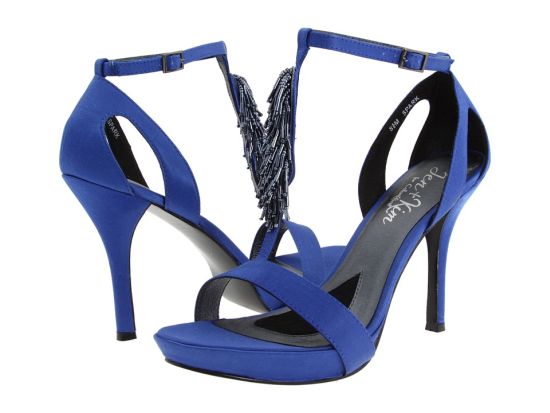 These four inches high heeled shoes are just perfect to complete your wedding dress up. These are rightly named as 'Spark' as they add a sparkling touch to your personality. These have satin upper and an adjustable buckle closure. A sleek strap extends from open toe front to the buckle closure with eye-catching beaded ornamental design all over it. It has a smooth leather lining with padded foot bed. The platform as well as the heel is covered with satin covering.The metal embellishment on the strap is the most attractive part of these shoes.
USP
These are open-toe high heeled shoes with sleek straps and eye-catchy beaded embellishment.
PROS
These have long lasting leather sole for durability.
These come with adjustable buckle closure for bride's convenience.
10. Nina Ericka (SKU: #7865180)
BRAND : Nina
PRICE : USD 99.95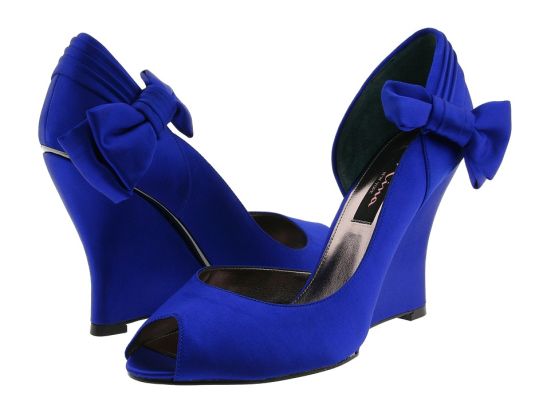 The beauty and charm of these lovely shoes are sure to make you feel magical. Perfect is the right word to describe these gorgeous wedding shoes. These have wedges and are crafted with sleek satin upper. The bow in the ankle adds to its beauty. These have slightly peep toes and feature man made lining. The entire inner portion of the feet and the outer middle part is exposed.
USP
These are gorgeous shoes with wrapped wedge heels and beautiful bow in the ankle of the heel.
PROS
These shoes are extremely beautiful with unique design and style.
Easy to slip-on for smooth and comfortable wearing and taking off.