A wedding day is being planned, but what is a wedding day without a wedding cake. You are planning on baking and decorating your own wedding cake that would be great. It would mean a lot more to you and your partner. There was a time when the cakes were never really taken into consideration, now the top tier of the cakes is also preserved by many. The shape of the wedding cakes speaks a lot about the couples. It reflects their love and dreams. Couple can go for different shapes and designs. Here are five shapes popular wedding cake shapes along with decoration tips, you might choose from, for your special day.
1. Topsy-turvy Cake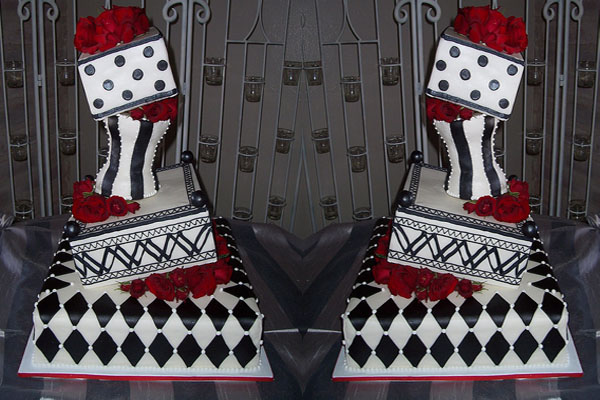 The topsy-turvy, as the name suggests, does not have a fixed shape. This is what is making it more popular among the modern day couples. This cake also symbolizes care free yet responsible attitude of today's youth. Because of its haphazard shape, this shape may not be considered in traditional, elegant ballroom kind of weddings.
Decorating tips Normally, white or off-white colors look attractive for topsy-turvy cakes. For wedding occasions, simplicity is more adorable on such cakes. In case it is a fun-filled wedding, innovative decorations can be used. Funky and bold colors with outstanding add-ons would be great on these cakes in such cases. Another great idea for this cake is diamond fondants with bold and happy colors.
2. Round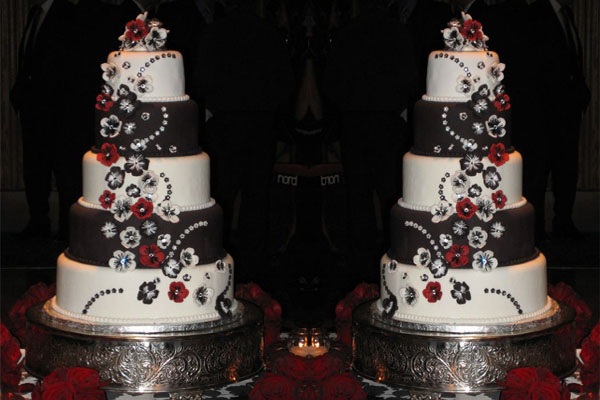 Though round shaped cake can be considered traditional, its still not lost its popularity and is desired by most of the modern couples. The round shape can serve more people as compared to the other shapes. This shape also makes decoration lively and appealing.
Decoration tips The best thing about round cakes is that any kind of decoration, simple or complex, suits it. You can select any color, mild or strong, and it will blend well with the round shape.Best patterns are quilts or fleets all over the cake. Very colorful or even white roses made of iced sugar can be another stunning idea for decorating round wedding cakes.
3. Square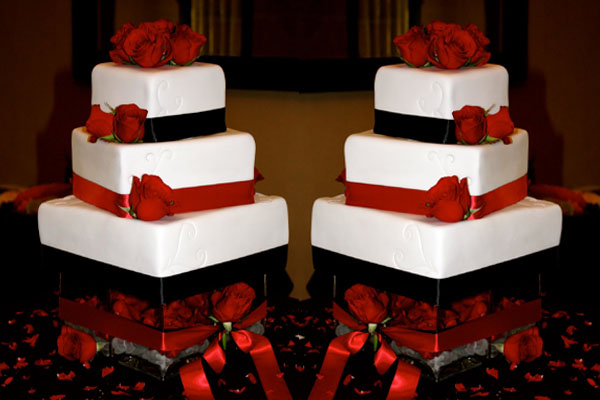 Square-shaped wedding cakes are gaining attention nowadays. They are considered more modern than round cakes. The main advantage of a square shaped cake is that you don't have to laboriously work on its decoration. Even a plain white square-shaped wedding cake can look as attractive as a decorated one. Square wedding cakes are perfect for those who are looking for something different, yet moderate and simple.
Decoration tips While preparing square wedding cakes, it is better that the edges are softened a bit so that the sharp look is avoided. Sugar flowers go along well with square cakes. Pastel colors and thin decorations also look elegant in square wedding cakes. Light colored ribbon are also in fashion. Take care of decorating the square cake with mild colors and not strong as the latter can spoil its look.
4. Hexagonal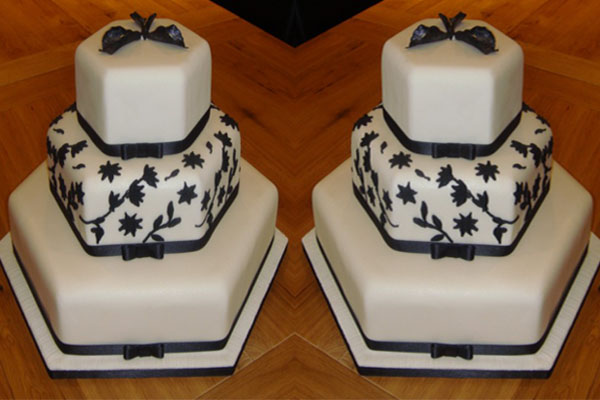 Hexagonal wedding cakes are a new concept, gaining fast recognition. Where a square cake is considered a modern version of round cake, hexagonal cake is considered a modern version of square wedding cake. Its striking appearance is what has made it so popular. Since the shape itself is a decoration in the cake, it is better to go for simple and plain decorations. There are many ways which can be used to make the hexagonal cakes look more attractive.
Decorating tips Outlining the tier in small pearls made with butter cream can be a great idea. Fresh or sugar cream flowers are another striking idea while decorating hexagonal wedding cakes. The best thing about hexagonal cake is that it can be done even without decorations or, just a sugar flower on top of the cake would be enough.
5. Petal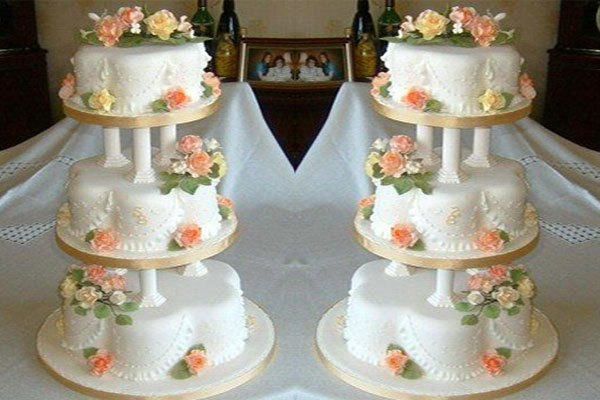 Petal-shaped wedding cakes are normally referred to as scalloped cakes. Petal cakes get their name because they resemble flowers. These types of cakes make the occasion better in garden weddings. They are a bit different from other usual shapes. There are many innovative ways to prepare scalloped cakes.
Decoration tips Petal cakes need not be fully petal shaped. The base layer of the cake can be petal shaped supporting round layers. Many innovative patterns are possible while preparing petal shaped cakes. It is also possible to make all the layers in petal shape and on top of the cake, a small layer of another shape, such as round or square. It is better to add light colored decorations so that the cake would not look too bold. Sugar flowers can go along with scalloped cakes as well.