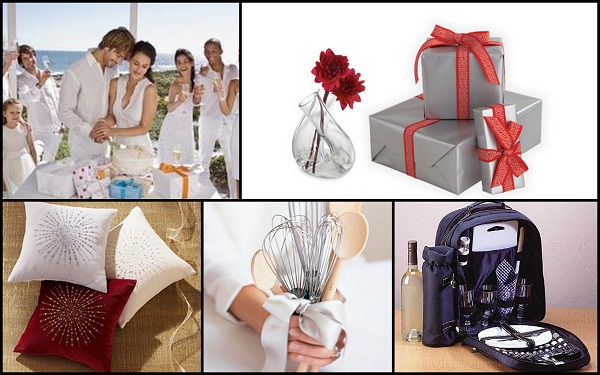 A wedding is unimaginable without gifts and guests. The gifts are wishes in disguise that guests bestow upon the newlyweds as a token of thanks and their blessings. It is often difficult to make up minds on the probable wedding gift that will outshine the gift of others and what stays in budgets. The gift has to be so unique that both the bride and the groom remember the person it was given by. Most of all it is to be a sensible gift which is hard to give at weddings. The guest would not want to be the laughing stock when presenting his/her gift. There are many evident rules of gifting wedding gifts to newly weds, but some that stand out are listed below. Have a look into the list if you are going to a wedding. Who knows you might end up gifting a treasure?
1. Home appliances or regular use products
Searching for something at the last hour? The perfect last minute gift for newlyweds are home appliances. Home appliances are the most useful and common gifts of all times. The appliances are easily available and fit your budget as well. These may include electronic gadgets or kitchen appliances as mixer-grinder, electronic steam iron, perfect to make the bride happy. In case you are running short of ideas, then the traditional dinner or tea set is always around!
2. Combined gift
It's not a bad idea to gift couples a combined or a collaborate gift. Be the gifts be collaborated with friends or employees or any social community, it is always wise to gift a combined gift. It may sound absurd to some but believe me, this way you will be able to please the couple. Imagine gifting them their honeymoon tickets which would take both of them by surprise. But this is possible only when you have a big group to support you.
3. Don't count your return charge
It's a common businessman rule that whatever you give, you tend to receive the same. In case of a wedding, that's quite common when it comes to masses where people usually compare their dinner plate charges along with the gift cost. Their gift budgets almost hang on this principle. It often feels awkward to gift some cheap gift just because the dinner rate isn't high. It's a personal suggestion to spend only the amount that your pocket permits and I am sure you will definitely gift something worth it.
4. No last minute planning
The last moment planners often tend to forget about gifts. Last moment planners often lay their hands upon whatever is available. That's the reason they usually pick up faulty or low quality gifts that may leave you embarrased. It's a bad idea to keep waiting until the last hour arrives. It's better you plan in advance and ship the product, so that you have all the sweet time to plan your attire and accessories.
5. Shopping List
Today is the online trend, everything's going online, so why not the planning? When you gift people gifts of their choice, there's nothing better than this. When you meet expectations, there's no better way to please them. People tend to focus on the shopping list of the bride and groom posted in any website where they are registered. It's quite easy to gift someone when you know his/her choice and leave them surprised. Even they feel special that you care for them and their choices. Isn't it?